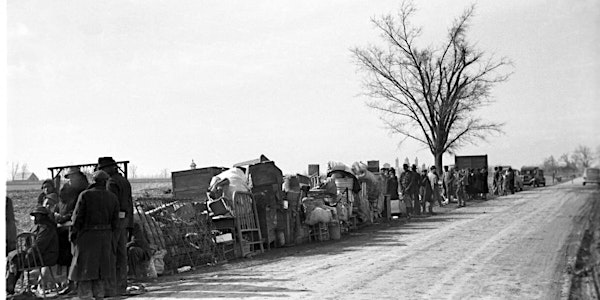 Dispossessed: A Symposium on Marxism, Culture, Extraction, and Enclosure
Location
University of Warwick
Oculus Building
Coventry
CV4 7AL
United Kingdom
A one-day, in-person interdisciplinary symposium on Marxism and cultures of dispossession at the University of Warwick
About this event
Keynote Lecture: Daniel Hartley (Durham), "Peasant Modernism: Culture, Late Marx, and the Postcolonial Georgic"
Plenary Roundtable: "Keywords for Dispossession": Nick Lawrence (Warwick), Christine Okoth (KCL), Caitlin Vandertop (Warwick), Marina Vishmidt (Goldsmiths).
Supported by the Warwick Humanities Research Centre
Capital comes into the world 'dripping from head to foot, from every pore, with blood and dirt', Marx observes in the first volume of Capital (1867), in his account of 'so-called primitive accumulation'. Responding to Marx, Rosa Luxemburg's Accumulation of Capital (1913) theorises the actuality of an ongoing primitive accumulation, ransacking the colonies to solve the problem of underconsumption in the core. Marxist feminists engaged in the housework debates of the 1970s began to conceive of women's unpaid labour as a continuous form of expropriation. In recent years, responding to neoliberalism's wave of privatisations, David Harvey, Peter Linebaugh, Massimo De Angelis, and Nancy Fraser have placed the question of an ongoing primitive accumulation (or 'accumulation by dispossession') on the agenda once more. As Ruth Wilson Gilmore points out, the viability of such accumulation relies on the racialised abandonment and management of surplus populations, land, and mechanisms of social reproduction organised by the state and capital. Jason Moore's work on the capitalist appropriation of 'cheap nature' underscores the ecological stakes of dispossession, while Brenna Bhandar and Robert Nichols have sharpened our understanding of how 'racial regimes of ownership' and logics of dispossession functioned, historically, in the settler colony.
This one-day symposium, hosted by the Department of English and Comparative Literary Studies and supported by the Humanities Research Centre, will explore what cultural analysis can contribute to this rich re-examination of the history and theory of dispossession. Join us for panel discussions on a wide-range of topics covering cultures of dispossession across different media, geographies, and periods. The day will begin with a keynote lecture from Daniel Hartley and will conclude with a plenary roundtable (speakers: Nick Lawrence, Christine Okoth, Caitlin Vandertop and Marina Vishmidt).
Please note this is an in-person event. Registration is free. To ensure a safe level of social distancing, we have decided to cap registration at 50 people. Send any enquiries to dispossessedsymposium@gmail.com.
For news about the event, follow us on twitter @dispossessive