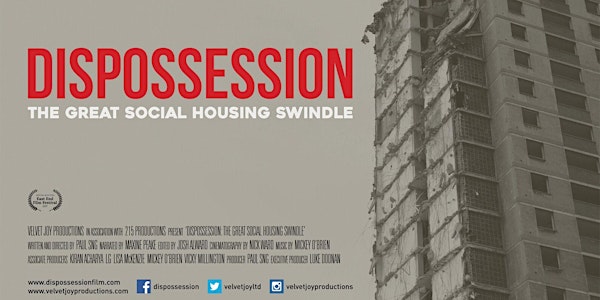 'Dispossession: The Great Social Housing Swindle' Film Screening & Discussi...
Location
The Young Foundation
18 Victoria Park Square
Bethnal Green
E2 9PF
United Kingdom
Description
As part of a new Young Foundation programme, 'Reimagining Rent', launching this autumn to support innovative ideas for addressing housing inequalities, we are collaborating with the Director of Dispossession: The Great Social Housing Swindle, to screen this critically acclaimed film.
"A timely lecture on humanity" – The Times
"A carefully balanced, clear headed study of the myriad of ways the UK property market has skewed and malfunctioned." – The Guardian
"An important and timely film." – The Observer
This exclusive screening will be followed by a Q&A session with the film's Director, Paul Sng, The Young Foundation's Head of Research, Dr Mary Hodgson, Rushanara Ali MP, and Samiah Anderson, economist and contributor to On the Ground At Grenfell, a film recording the testimonies of survivors, residents and volunteers of Grenfell that aims to show how the atmosphere on the ground is very different from what is seen on the news. A 10-minute clip from 'On the Ground' will be shown before the film.
We would be delighted if you are able to join us for this important and timely film and conversation on challenging the dominant negative perceptions and stereotypes of people living in social housing.
More about Dispossession:

In 2017 housing rose to the top of the British political agenda for the first time in a generation. But despite the media spotlight, few stories examined the catastrophic long-term failures that resulted in a chronic shortage of social housing in the United Kingdom. Dispossession: The Great Social Housing Swindle explores the agenda behind the neglect, demolition and regeneration of council estates in the U.K. over the past thirty years. The film reveals how individuals and communities are fighting against the state and private developers, as they try to save their homes from demolition, while investigating the decisions that turned a crisis into a tragedy. Dispossession is the story of people who know that housing is not an expensive luxury, but a fundamental human right.
Trailer: https://youtu.be/2AB7WR97p7s
For related enquiries please contact: hello@youngfoundation.org