Description
HP are working toward the Creation of a compelling mobile and immersive experiences that fundamentally changes how people communicate, collaborate, socialize and entertain. Developing multimedia technologies to deliver interactive, mobile, and immersive audio-visual experiences. Developing natural and intuitive forms of interaction between people and technology. They are creating the next generation of 2-D and 3-D display technologies and information surfaces for mobile and immersive environments.
Demonstrations by HP will take place on Thursday the 3rd of March with two organised sessions from 10:00 till 12:00 and 13:00 till 15:00. There will be time after the demonstrations to have a closer look at all the devices on display designed to enhance the immersive experience.

The main Immersive devices that will be demonstrated will be the HP Sprout Pro and the HPZvr. There will also be other devices on display to enhance the immersive experience.
The Sprout Pro
The Sprout is Modernizing Education for the modern classroom, Sprout Pro consolidates the PC, document camera, 2D and 3D scanners, and more into a cost effective, all-in-one solution that reinvents the way teachers and students learn, create, collaborate and share.
"Sprout Pro by HP transforms a classroom desk space into a digital and physical workspace that allows teachers to inspire in a more natural, intuitive, and creative way," said Gus Schmedlen, vice president of Education, HP Inc. "Students get a hands-on learning experience so they can take ideas from thought to expression like never before."
By leveraging Sprout's blend of tactile, visual and audio engagement, educators are offered powerful means of differentiating instruction and personalizing learning in a way no other computer can support. It provides the most modern foundation for any curricula and skill development at any level by:
Accelerating remote learning to allow students and classrooms around the globe to collaborate together on projects and assignments in real time.

Maximizing classroom IT budgets and closing the technology gap by consolidating the classroom PC, document camera, 2D and 3D scanners, and more into a cost effective, all-in-one solution

Digitizing more classrooms through savings achieved by consolidating multiple technologies into a cost effective all-in-one solution.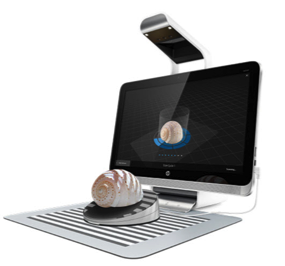 Sprout activities for the classroom
There are many learning activities that are unique to the interactive capabilities of Sprout. These activities act as an inspiration point for teachers and students to begin learning with Sprout.

• Capture 2D - Use Sprout's Capture and Doc Scan apps to produce a high-resolution, full-colour 2D image of an object on the HP Touch Mat.
• Capture 3D – Use Sprout's 3D Capture app to create a high-resolution, full-colour 3D digital model that you can manipulate any way you choose.
• Mashups & Layouts – Use Sprout's Create app to create multi-dimensional, mixed-media compilations starting with templates or a blank space.
• Stop Motion – Use Sprout's Stop Motion app to record and animate physical objects captured over time, frame by frame, to create stop motion animation videos.
• Tracing & Stencilling – Use Sprout's Light Stencil app to capture an image and then project it onto the HP Touch Mat for use as a drawing guide.
• Collaboration – Using Sprout's remote collaboration tool, HP MyRoom allows working together on projects in real-time, sharing the screen, the Touch Mat, and other applications while talking directly with others.
• Lesson Delivery – Sprout is a great lesson delivery tool. Use the External Display Mixer app to share materials, use the Touch Mat like a smartboard, and connect to a projector or large display with Sprout's third screen HDMI output.
• Video Capture – Use Sprout's three cameras— webcam, document camera, and main display screen recording capabilities —together in the Video Capture app allowing recording of multiple perspectives simultaneously.
HP Zvr - A Step Closer to True Holographic Viewing
The HP Zvr Virtual Reality Display provides for an immersive, real-time exploration and manipulation of 3D content. Imagine dissecting a frog or exploring an office complex without getting messy or leaving the desk. HP Zvr, powered by zSpace technology, is another example of HP's Blended Reality technologies that helps reduce the barriers between the digital and physical worlds, enabling users to express themselves at the speed of thought without the filters and limitations that technology currently places on them.
Users will appreciate real-time, natural interaction that allows people to work with virtual reality applications the way they are used to working today. Users interact seamlessly with a high-definition 3D stereoscopic display combined with full-motion parallax and direct interaction, delivering an intuitive user experience with lifelike realism.
The HP Zvr display is collaborative, allowing people to work together the way they would today, choosing to look at things in the real or virtual world, even while using the platform. The optional HP zView solution also allows real-time sharing of 3D models to a 2D big screen. Dual-link DVI or DisplayPort connections to an HP Z Workstation provide easy connectivity for architectural, MCAD, education, and scientific content.