Centering those bound by systems of overlapping disadvantage
About this event
This event is taking place now. Please go ahead and register and you will receive the joining instructions in the confirmation email.
Back in December 2019, LSBU's Serious Violence Research Group and Crime & Justice Research Group came together to deliver our first event focusing on 'Coercive Control'.
Since its success, we have joined forces and delivered a number of well received events and groundbreaking projects covering a variety of issues including tech abuse and the impact of COVID-19 on domestic violence. We've worked with incredible organisations and esteemed colleagues, both internal & external, and we're proud to present another event to showcase our work, our commitment & our passion to continue the many important conversations that need to take place in order to end the ongoing violence against women & girls.
In line with the theme of intersectionality, this event will acknowledge some of the issues around women and violence experienced by certain minorities. With both Refugee Week & Pride month taking place in June, we have sessions focusing on how refugee & migrant women and lesbians are impacted by abuse & violence. We will also explore disability & other intersections during the event.
We've confirmed a range of fantastic speakers from LSBU's academics to individuals from incredible external organisations all of who are working towards tacking violence against women. You can read more about them all below!
The aims of this conference are to:
Highlight the interconnected nature of violence perpetrated against women and girls
Centring the intersections and the experiences of those living with multiple disadvantages
Bring together individuals committed to ending Violence Against Women and Girls.
Increase awareness and understanding of the role intersectionality plays in the abuse of women
Provisional programme
9.30am – Welcome & zoom functionality – Neil Hudson-Basing, Corporate Events Manager, LSBU
9.35am – Intro & scene setting - Professor Taraneh (Tara) Dean, Pro Vice Chancellor, Research and Enterprise, University of Brighton
9.45am – Keynote address by Nazir Afzal OBE, National Adviser on Gender Based Violence to the Welsh Government, Independent member of Oxfam's Safeguarding & Ethics Committee & Trustee of Association of Safeguarding Partners
10.30am – Session 1: A mother & daughter's story - Rachel Picton & Aimee Picton
11.15am – Comfort break
11.30am – Session 2: Lesbian & bisexual women and street harassment & violence - Alex D'sa, House of Pride
12.15pm – Session 3: Disability & domestic abuse
Nelly Kibirige, Life Coach and member of the Domestic Abuse in Covid-19 working group at London South Bank University
Amanda Carter-Philpott, Director, Pandora Inc CIC
1.05pm – Lunch
1.30pm – Session 4: Joint session
Understanding the intersectional needs of victims and survivors of Violence Against Women and Girls - Neelam Sarkaria, Author, Rule of Law and Gender-Based Violence International Expert, NED, Professional Conduct Chair
The role of patriarchy and religion on African Women's experiences - Rose Ssali, CEO, Support and Action for Women's Network (SAWN)
2.30pm - Comfort break
2.45pm - Session 5: Refugees & migrant women and domestic abuse - Andy Hewett, Head of Advocacy, Refugee Council
3.30pm – Dissecting Difference: Women, Violence and Intersectionality
Dr. Tirion Havard, Associate Professor, Social Work, Institute of Health & Social Care, LSBU
Dr Chris Magill, Senior Lecturer, School of Law & Social Sciences, LSBU
4.15pm – Close
This event will be delivered via Zoom Webinar. You will be sent the joining instructions two days before the event takes place. Please share this event with any colleagues and networks you feel would benefit from attending.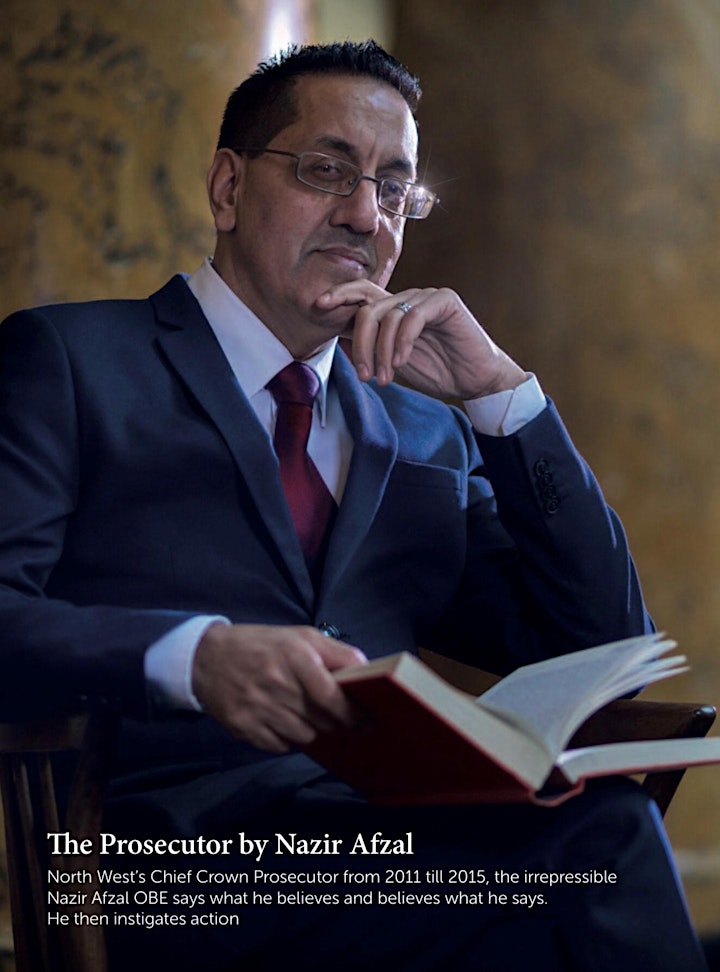 Biographies
Nazir Afzal OBE was Chief Crown Prosecutor for NW England and formerly Director in London. Most recently, he was Chief Executive of the country's Police & Crime Commissioners. During 24 year career, has prosecuted the most high profile cases in the country & advised on many others and led nationally on several legal topics including Violence against Women & Girls, child sexual abuse, and honour based violence. He had responsibility for more than 100,000 prosecutions each year. His prosecutions of the so called Rochdale grooming gang and hundreds of others were groundbreaking and drove the work that has changed the landscape of child protection. He is Chair of Hopwood Hall. He sits on the Independent Press Standards Organisation. He is National Adviser on Gender Based Violence to the Welsh Government, Independent member of Oxfam's Safeguarding & Ethics Committee & Trustee of Association of Safeguarding Partners. His memoirs "The Prosecutor" were published in 2020
Nazir is a tutor for several leadership programmes in the public and private sector. He has made presentations to dozens of diverse organisations in this country and abroad. He has given hundreds of interviews in all forms of media. Nazir gives a considerable amount of time to charitable work and is trustee & Patron of several NGOs including ServiceSix, DVAssist, Jan Trust, Samantha Sykes Foundation, Karma Nirvana, Halo Project & SaveraUK and was Chair of the Prince of Wales' Mosaic Trust.. He is an Honorary Fellow of the University of Central Lancashire and Glyndwyr University, and awarded Honorary Doctorates in Law by the University of Birmingham, Manchester University and Bradford & Leicester University. He has chaired conferences in New York, Madrid, Paris, Norway and Geneva. He has assisted the Governments of Somalia, Ukraine & Pakistan on Rule of Law reform.
Nazir's has received many accolades, in 2005, he was awarded an OBE by the Queen for his work. He has also had the honour of being the only lawyer to ever prosecute a case before the Queen. In 2007, he was named Legal Personality of the Year by the Society of Asian Lawyers, received the UK Government's Justice Award 2007 and awarded the Daily Mirror newspaper "People's award" voted for by readers. Nazir was also selected for the Asian Power 100 along with the Muslim Power 100 list, recognised as one of the 100 most influential leading Muslims and Asians in the UK. He has been listed in the Pakistan Power100 which regards him as one of the 100 most influential people of Pakistani origin in the world today. Awarded the lifetime Achievement Award by the Power 100. He was Asian Media Group's "Man of the Year 2012," and the Asian Achievers Award 2014. The acclaimed BBC Film "Three Girls" was based on his case & featured Ace Bhatti playing him
"An inspiring figure, forensically intelligent" - Times Editorial Nov 2012
"Until recently crimes encountered by pioneering prosecutor rarely troubled a courtroom, now these issues have risen to the top of the Policy agenda" – The Independent July 2012
"The authentic voice of British Justice" – New York Times Oct 2013

Biographies (continued)
Rachel Picton joined London South Bank University in Autumn 2017 following her time at Barts Health NHS Trust where she was the Associate Director of Education for the Allied Health Professions. Prior to this, Rachel worked extensively in clinical and leadership roles across the health sector in the UK and Cameroon, West Africa.
Rachel has held the roles of Associate Professor for Diagnostic Radiography, Head of Department, Deputy Dean and now Dean of the new School of Allied and Community Health since Dec 2020.
In 2010, life suddenly changed from a seemingly normal and stable suburban existence to one involving the police, social services and community leaders on many occasions. Their precious eldest daughter became embroiled in a dark life of domestic abuse, leaving long lasting damage in its wake. Rachel has tried to help other parents facing such unexpected and overwhelming parental storms where often there is only space for questions and little room for answers.
Aimee Picton is a survivor of grooming and domestic violence which she faced as a young teenager aged 16, lasting 6 years'. Aimee found herself losing her friends, dreams of becoming a professional footballer and confidence. Her life spiralled down a very dark and dangerous path. After escaping this violent relationship with her young son at the time, Aimee was able to use her story to bring awareness across schools in the UK and has had the opportunity to share her story both in the UK and abroad. She is passionate about working alongside vulnerable young people and seeing them reach their full potential'
________________________________________________________________________________________________
Alex D'sa, House of Pride, is an out lesbian, South Asian actress and entrepreneur. As an actress her credits include Clink (Channel 5), Ackley Bridge (Channel 4/Netflix), The Bay (ITV), and Eastenders (BBC). She is cofounder of SHADES, a platform for South Asian creatives in the UK, and House of Pride. The main aim of House of Pride is to build LGBT+ lifestyle spaces around the world to celebrate queer excellence and to help the community grow personally, professionally, and creatively.
Alexandra also has a background in Financial Services and Technology. Her current role is Head of Programs at the mentoring and leadership company, WERKIN. In 2021 she was recognised as one of INvolve's Top 100 LGBT+ Future Leaders, and DIVA's Visible 100, Top 10 LGBTQ+ Women in Tech. She studied English Literature at The University of Exeter and Vassar College, New York, and Acting at Mountview Academy of Theatre Arts. She spent a lot of that time brushing up on Queer Theory, too.
House of Pride is an eclectic community celebrating queer excellence, centred on women and non binary people. The company strives to be as inclusive as possible. Focused particularly on the queer female and non binary community, House of Pride is keen to hear from voices from all across the (mainly LGBT+) spectrum. We want everyone to feel welcome at our events, and represented in our projects, but to understand that they are safe spaces for this community; anyone else who comes along is very welcome, but needs to be a respectful guest. House of Pride are working towards building these spaces for you, and are starting by hosting unique events all over the world and creating those safe spaces in your workplaces.
________________________________________________________________________________________________
Nelly Kibirige - "As an active member of the Domestic abuse in Covid-19 working group of London South Bank university, I have had the opportunity to work with senior lecturers and research experts in the field of domestic abuse and violence for nearly two years. A responsibility I was initially invited to because of my role as President of the Students' Union at LSBU, but was then, due to my proactivity, engagement and contributions in the creation of policies and awareness of this grievous harm, asked to stay on the group even after my role ended.
Moreover, as a DA survivor with lived-experience of domestic abuse, I have not only first hand knowledge of the effects of domestic abuse on society, but also the challenges faced by the individuals involved including perpetrators. I successfully, luckily managed to flee the situation before what statistics sadly show happens to most individuals in domestic abuse situations, and can contextualise my experience and research to deliver engaging sessions on the subject to support others.
I have a level 7 life coaching qualification with experience of supporting individuals in domestic abuse households, plus the steps taken to resettle them into society once they leave toxic environments, as well as signpost resources to support them with administrative tasks like filing police reports, attending courts, rehousing and/or ongoing support moving forward."
_______________________________________________________________________________________
Amanda Carter-Philpott - "As a disabled professional, I have had over 30 years in the social welfare/criminal justice field both as a social worker and senior probation officer in Milton Keynes and surrounding counties. I was part of a group to set up specialist Domestic Violence courts in Milton Keynes in 2008.
As a trainer, educator, public speaker and activist in the disability community, I engage with many diverse audiences sharing my dynamic approach to life with optimism and a dry sense of humour. My approach is totally inclusive and is at the core of my business model as a director of Pandora Inc CIC which stands for: Promoting Achievement Nurturing Diversity Openly Respecting Ability. Pandora was set up to work with those on the margins of society and give a voice to the voiceless.
I am also the disability representative on the Independent Advisory Group to the Police in Milton Keynes, and Chair of Soroptimists MK as well as Comms in the Womens Equality Party MK where I write a weekly blast. I am a member of the Disability Caucus for the national Womens Equality Party where I have recently designed a new disability awareness course and trained several members of the caucus to roll out the training to all WEP branches this year."
_______________________________________________________________________________________
Neelam Sarkaria is a former senior prosecutor and senior policy official working across Whitehall to deliver criminal justice change and violence against women and girls policy. She now works as an independent criminal justice consultant currently with UN agencies internationally and justice partners in the UK, with specific expertise in gender-based violence, harmful traditional practices and rule of law development. She also sits as a fee-paid Tribunal Judge on social security cases and chairs professional conduct hearings and the Investigation and Assessment Committee for the British Association of Counselling and Psychotherapy (BACP). Neelam is a Non-Executive Director at the Civil Nuclear Constabulary and also the Ministry of Defence Police with expertise in People issues and gender.
_______________________________________________________________________________________
Andy Hewett has over 15 years' experience of working to support the rights of refugees in the UK. He has held roles at the British Red Cross, the Asylum Support Appeals Project and is currently Head of Advocacy at the Refugee Council. Having worked across both operational and advocacy/policy roles, Andy has developed a deep understanding of asylum and refugee policy and the impact these have on refugees. The Refugee Council stands up for the rights of refugees and those who are seeking safety in Britain. For 70 years, we have directly supported and empowered refugees in Britain to lead safe, dignified and fulfilling lives. For more information and support our work, go to www.refugeecouncil.org.uk