Description
Enter an Afrofuturist, mythical landscape that explores what it's like to see the world through someone else's eyes.
Intimacy/Touch/Tingles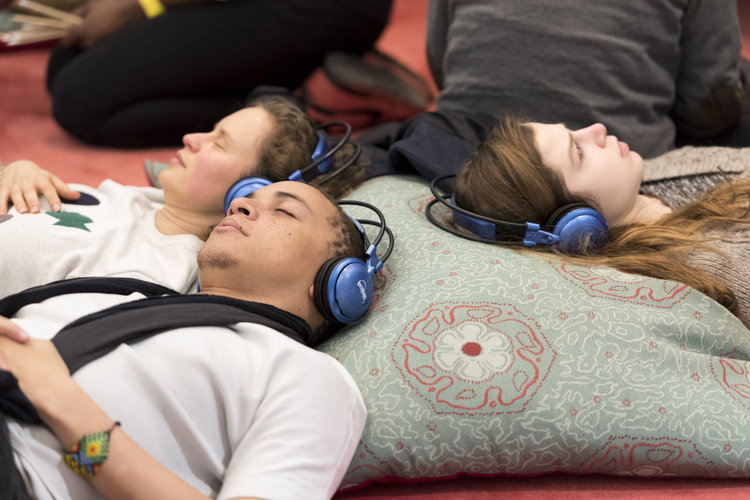 Is the future neurodiverse? To celebrate the closing of Distorted Constellations, join us for a night of live music, intimate performance and discussion.
Intimacy/Touch/Tingles is a relaxing, immersive performance exploring Autonomous Sensory Meridian Response in an intimate setting. Storytelling, touch and movement provide a journey into the psyche to find out if you experience ASMR - a relaxing, tingling sensation across the scalp and spine in response to particular triggers.
The World of Visual Snow, talk
In 2014, Nwando Ebizie became aware that she experienced a different reality to that of everybody around her. She realised that she was the only one who constantly saw the space around her full of swirling coloured, translucent dots (like a George Seurat painting), glowing lines, auras, light bursts and halos. She realised that she had Visual Snow - a seemingly rare neurological disorder that the science community is just beginning to understand.
Join Neuroscientist Dr Francesca Puledda for an exploration of the rare neurological syndrome, Visual Snow. The condition causes people to experience reality overlaid with 'tv static', halos, auras and non-visual symptoms including tinnitus. Francesca and Nwando particularly invite those with Visual Snow and other neurodiverse people to experience the installation and attend this talk.
Closing Party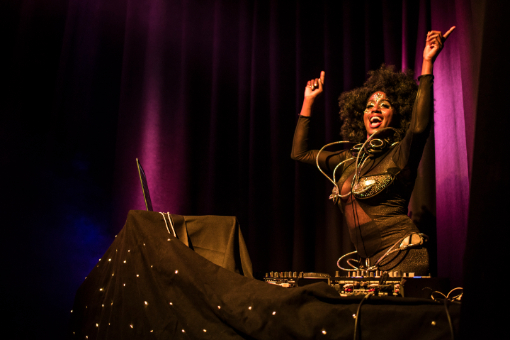 The night will close with a DJ set by Nwando/Lady Vendred's alter ego – Nwa-Kpa-Kpa-Ndo
Distorted Constellations
Distorted Constellations is an exhibition that uses sound, projections and holograms to immerse the audience in the imagined landscape of the artist's brain. The work is inspired by Ebizie's rare neurological disorder Visual Snow*, which causes visual distortions such as flickering dots, auras and glowing lines. The audience will experience a mythical version of the disorder, entering an alternate Afrofuturist (a black perspective on the politics and culture of science fiction and technology) reality, inspired by research into the neuroscience of perception and drawing on rituals of African origin.
In the exhibition, partitions, screens and threads will create a labyrinth through the space, with walls doubling up as screens where holograms and videos are projected. These architectural elements will guide the audience through the space, and create the experience of Visual Snow.
Distorted Constellations​ is an interdisciplinary exhibition that combines art and science, and aims to increase our understanding of rare neurological disorders and the subjective nature of sense perception. It is part of a 3-year research period for Ebizie in collaboration with neuroscientists, immersive technologists and artists.
Access Info
Distorted Constellations consists of a reception area, and two rooms. The rooms are called Install environment and Sensory Antechamber.
All spaces are wheelchair accessible. The install is accessible via a lift.
Sensory antechamber
During Distorted Constellations one of our ground floor spaces will be transformed into a sensory antechamber, designed to complement the main installation. Feel free to spend time there before or after visiting the installation. The sensory space has been designed with the needs of neurodivergent people, including autistic people, in mind.
The exhibition will be accompanied by a series of performances and public science experiments.
*Visual Snow is a little known, often debilitating condition suffered by people the world over. The artist is supporting Visual Snow Initiative raising money to fund research into finding a cure. For more information on Visual Snow go to: Visual Snow initiative / Visual Snow Foundation

---
Distorted Constellations is co-presented by Lighthouse and Brighton Festival, with support from Re-Imagine Europe, co-funded by the Creative Europe programme of the European Union.

Distorted Constellations was originally commissioned by Eclipse and HOME as part of Slate: Black. Arts. World. Funded by Wellcome Trust and Unlimited, celebrating the work of disabled artists with funding support from Arts Council England.
Supported by the South West Creative Technology Network