Divaldo Franco - "3rd Peace and You Movement" 2019

Wednesday, 15 May 2019 from 18:30 to 21:30 (BST)
Event Details
3rd Peace and You Movement 2019
 We have the pleasure of inviting you to an event at the Bloomsbury Central Baptist Church on May 15th with world-renowned medium and spiritist speaker Divaldo Pereira Franco, Dr. Peter Fenwick from UK and Juan Danilo from Brazil 
This is the 3rd Peace & You Movement, an international movement that began in Brazil 21 years ago. 
We hope you can join us for an evening of live music, and a message of peace, which starts within you and me. 
Come and join us for this unique opportunity to learn and understand valuable lessons of happiness and spirituality. 
Lecturers:
Divaldo Franco – Brazil
Dr. Peter Fenwick - UK
Juan Danilo – Brazil


Admission by tickets only
Ticket prices: £15.00
Children (under 12 years) - FREE
Youth and Adults - £15 
About Divaldo Franco:  
Divaldo Franco: Medium, Teacher, Lecturer, Writer 
Professor Divaldo Franco was born in Feira de Santana, Bahia, Brazil. From an early age, he displayed clairvoyance and clairaudience abilities, often playing with friends that were invisible to others. In 1947 together with his lifelong friend Nilson Pereira, he founded the Caminho da Redenção (Path to Redemption) Spiritist Centre. 
Divaldo worked as a medium for over 70 years and has co-authored more than 170 books through psychography (automatic writing), working with over 217 spiritual authors but mostly with his spiritual guide Joanna de Ângelis. He has also received thousands of messages in Afrikaans, French, German, Italian and Castilian Spanish, languages that Professor Franco does not speak. In fact, he published the book Hacia Las Estrellas, which was the first book to have ever been written through automatic writing in a language other than the medium's own. He has also received messages back-to-front in languages that he does not speak. 
About Peter Fenwick 
Dr. Peter Fenwick, M.D., F.R.C.PsychUK was formerly Consultant in charge of the neuropsychiatric and epilepsy unit at the Maudsley Hospital.He is Co-Director of research at the Department of Neurophysiology, Broadmoor Hospital and Consultant neuropsychiatrist at the London Sleep Centre, running a clinical and forensic practice.For the last nine years he has been studying magnetic field tomography at the RIKEN Neuroscience Institute, Japan. In the UK, he is researching near death experiences in coronary care units and surveying approaching death experiences in hospices and nursing homes in southern England.
About Dr. Juan Danilo   
Juan Danilo Rodriguez, is a Medical Doctor, a Holistic Homeopath and Transpersonal Psychologist. He was born in 1974 in Ambato, Ecuador.  He is the creator of the Alliyana Holistic Therapy. He is the founder and President of the of the "Luz Fraterna" Foundation, which has a programme of support and therapeutic work for young people within the Autism Spectrum Disorder.  He is also the founder and director of the Spiritist Centre Francisco de Assisi, which teaches the Spiritism through their many activities..
About Mansão do Caminho 
Mansão do Caminho also provides shelter and care for the elderly. The work continues and grows day by day and has a new maternity and pre-natal unit to care for poor women who otherwise would have no assistance. In all, nearly five thousand people are fed there every day. 
Today Mansão do Caminho has become a deeply respected educational institution offering courses, from elementary school to professional training, as well as giving the children guidance and help with jobs once they leave. To this day more than 30,000 children have received care and education there.  
 Come and join them in London on 15th May 2019 
BUSS - British Union of Spiritist Societies
E-mail: office@buss.org.uk
www.buss.org.uk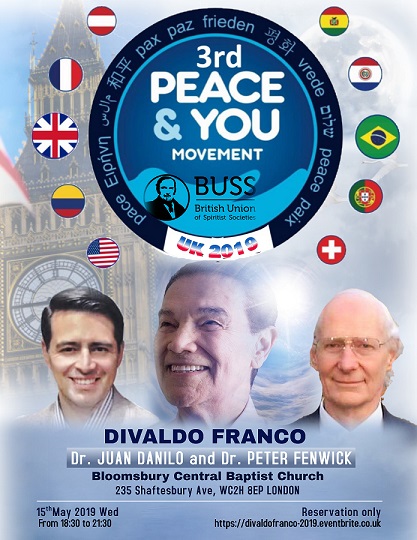 When & Where

Bloomsbury Central Baptist Church
235 Shaftesbury Ave
WC2H 8EP LONDON
United Kingdom


Wednesday, 15 May 2019 from 18:30 to 21:30 (BST)
Add to my calendar
Organiser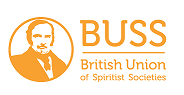 About the BRITISH UNION OF SPIRITIST SOCIETIES
BUSS was established on 5th August 1994 and aims to unite Spiritist groups in the United Kingdom, to promote the Spiritist Teachings, as codified by Allan Kardec, and to enable the coordination and completion of projects and activities on a large scale for the purpose of spreading the Spiritist Teachings. BUSS is a member of the International Spiritist Council. BUSS is a registered UK Charity. UK Charity No. 1136512 Address:  British Union of Spiritist Societies – BUSS. Room 4.
Email: office@buss.org.uk