Event Information
Refund Policy
Refunds up to 30 days before event
Eventbrite's fee is nonrefundable.
Our first Diverse Educators event in the Midlands, and our first one focused on Early Career Teachers!
About this Event
Join us for the 1st Diverse Educators event in the Midlands. Plus our first one with a focus on Early Career Teachers.
Our #DiverseEd event will be hosted at a school or university in the Midlands and we will build on the celebration and showcasing of diversity, equality and inclusion in education.
Theme: Belonging
Tickets: £20 for delegates and £50 for exhibitors
Schedule: If the event is able to be face-to-face, it will become a full day
If the event becomes a virtual one, conversations will run from 9am-1pm.
Speakers: If you are interested at speaking at this #DiverseEd or a future one please pop your details here: https://forms.gle/YQy4mxSo475oDhG26
9.00-9.45am: Diverse Children
Gayathiri Kamalakanthan - Queer Inclusive Language within the Classroom
James Clarke - Empowering the Student Voice
Josephine Burn - Beyond the Behaviour, Beyond the Label
Virginia Mendez - Fighting Gender Stereotypes in Childhood
Partner Speaker - Lyfta
10.00-10.45am: Diverse Curriculum
Beckie West - Intersectionality: Sexual Orientation and Autism
Halil Tamgumus - Ethnicity in the Curriculum
Julie Cassiano - Working in Schools with Mental Health
Penny Rabiger - Decolonising the Curriculum
Partner Speaker - Carnegie Education
11.00-11.45: Diverse Staff
Amy Ferguson - Your Teacher Identity
Aretha Banton - Empowering BAME Women in Education
Ben Hobbis - Inclusive Allyship for Early Career Teachers
Charlotte Ellen Marshall - The Fear of Being Fired
Partner Speaker - Teaglo
12.00-12.45: Diverse Schools
Deb Outhwaite - Gender and Privilege
Emma Sheppard - Pregnancy, Maternity, Parenthood and Teaching
Paula Delaney - Labelling, Stereotyping and Self-fulfilling Prophecies
Sabrina Edwards - Creating Anti-racist, Gender Equal Schools
Partner Speaker - GEC
If we go virtual, the event will be live broadcast via Streamyard to Twitter, Periscope and Youtube - links to follow.
Social Media: Join the conversation on Twitter @DiverseEd2020 #DiverseEd
Check out the new website: www.diverseeducators.co.uk and sign up for the newsletter.
We are also on LinkedIn, Facebook, Instagram, Youtube and Periscope.
#DiverseEd dates for 2020-21 diaries:
Saturday 17th October - Virtual
Saturday 16th January - South/ Slough
Saturday 10th April - Early Career Teachers/ Midlands
Saturday 12th June - North/ Leeds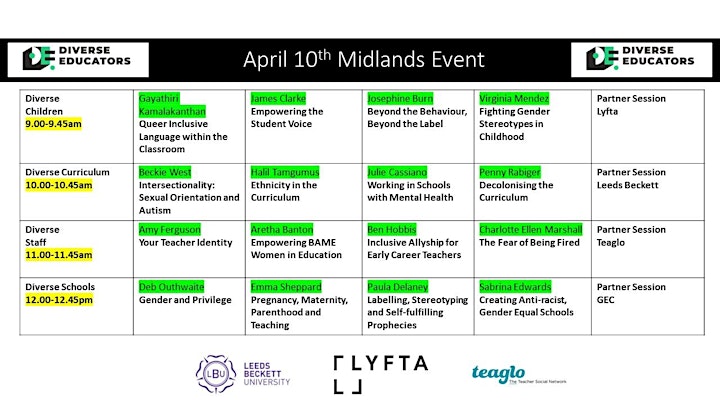 Date and Time
Location
Refund Policy
Refunds up to 30 days before event
Eventbrite's fee is nonrefundable.