We are holding the 6th Virtual #DiverseEd on January 22nd 2022.
About this event
Join us for our first Diverse Educators event in 2022 on January 22nd. We were due to be face-to-face with our friends Pioneer Education Trust in Slough but we are going virtual to keep us all safe.
Our  #DiverseEd event will build on panel discussions in previous virtual events but our format will be a series of mini-talks.
Theme: Representation
Tickets: Free!
Schedule:  9am-1pm
9.00am - Serdar Ferit (Lyfta) and students from Upton Court Grammar School - The Impact of Diverse Narratives in the Curriculum
9.10am - Q&A with Serdar and students from Upton Court Grammar School
9.15am - Emily Meadows - Designing LGBTQ+ Equitable Schools
9.25am - Q&A with Emily
9.30am - Antonia Spinks - How Destigmatising Flexible Working Can Support Equality
9.40am - Q&A with Antonia
9.45am - Albert Adeyemi and Johnoi Josephs (Black Men Teach) - Black Men in Ed: Wanted, Needed or Both?
9.55am - Q&A with Albert and Johnoi
10.00am - comfort break
10.15am - Nadine Bernard and Ethan Bernard (Aspiring Heads) - Systemic Stories - Addressing Racial Inequalities
10.25am - Q&A with Nadine and Ethan
10.30am - Jo Brassington (Pride Progress podcast) - Identity: An Infinite Jigsaw
10.40am - Q&A with Jo
10.45am - Malarvilie Krishnasamy - What's in a Name?
10.55am - Q&A with Mal
11.00am - comfort break
11.15am - Shonagh Reid - The Additional Workload of Representation
11.25am - Q&A with Shonagh
11.30am - Dr Shrehan Lynch (Phys Equity) - PhysEquity: Driving Representative Change in PE
11.40am - Q&A with Shrehan
11.45am - Rhia Gibbs (Black Teachers Connect) - Stop Talking Representation and Start Doing
11.55am - Q&A with Rhia
12.00pm - comfort break
12.15pm - Dr Anna Carlile - LGBTQ Inclusive Education in Schools Serving Faith Communities
12.25pm - Q&A with Anna
12.30pm - Laura McConnell - Practical PDA: Strategies to Support Demand Avoidance
12.40pm - Q&A with Laura
12.45pm - Mahlon Evans-Sinclair (Educating While Black podcast) - Visibility and Control of the Narrative: The Value of a Virtual Black Staffroom
12.55pm - Q&A with Mahlon
1.00pm - #DiverseEd Pledges
Event finishes
The event will be a live broadcast via Streamyard to Twitter and Youtube - links will be shared a few days beforehand.
Social Media: Join the conversation on Twitter @DiverseEd2020 #DiverseEd
Check out the website: www.diverseeducators.co.uk and sign up for the newsletter.
We are also on LinkedIn, Facebook, Instagram and Youtube.
For more information contact hannah@diverseeducators.co.uk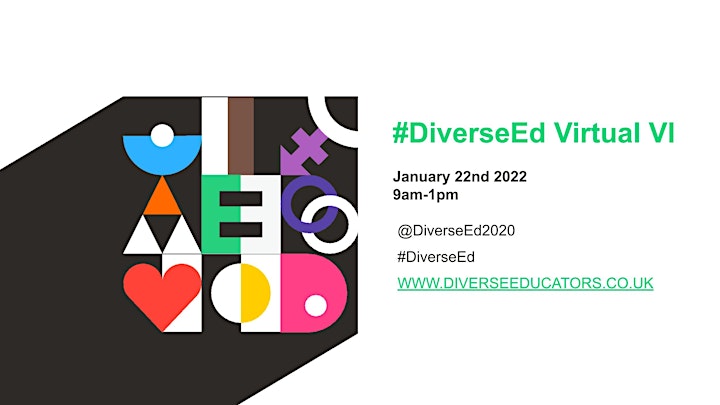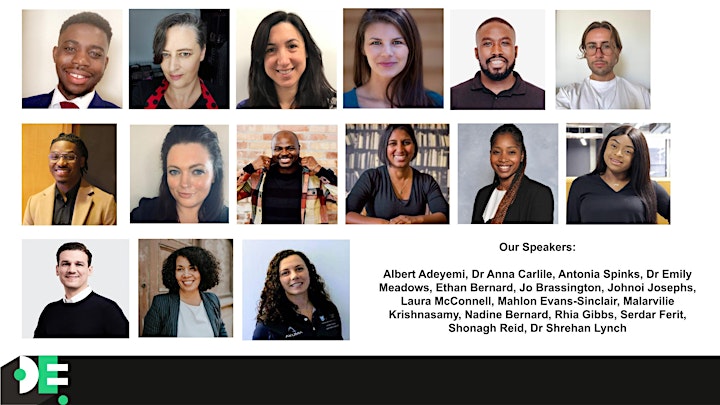 Organiser of #DiverseEd Virtual VI