DIVERSITY AND INCLUSION ACROSS CULTURES: INSIGHTS INTO INDIA, MEXICO AND RUSSIA
About this event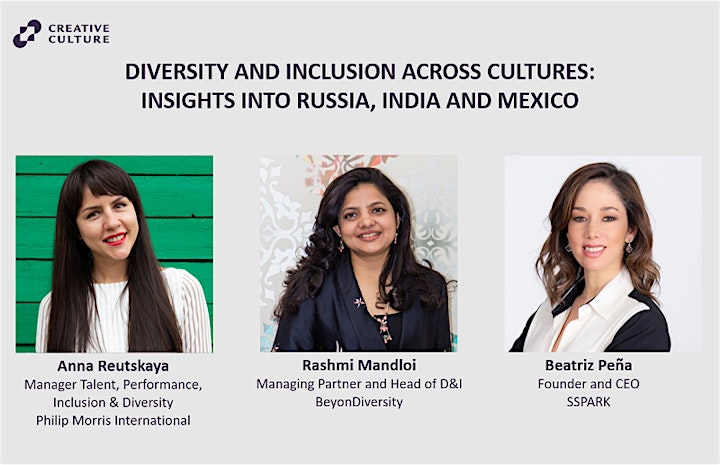 27 May 2021 at 2pm UK time/BST
Following on from our very successful first webinar exploring the D&I landscape in Brazil, Japan, South Africa, and the US, we are now hosting the second webinar in our "I is for Invitation" series. In the current climate, ensuring sensitivity, appropriateness and inclusivity is more important than ever. Brands are more and more at risk of being called out and criticised for posting problematic content, delivering the wrong messages, or even making empty claims.
When evolving at an international level, there are risks associated with pushing the D&I agenda without thinking of local cultural sensitivities.
So what does diversity and inclusion look like across different nations and cultures? What are the priorities, sensitive areas, and can a global framework meet all local requirements?
Join our panel of experts from India, Mexico and Russia who will answer some of those questions and provide insights into the diversity and inclusion landscape in their markets.
Feel free to share your questions and areas of interest in the form made available at registration in order to feed the conversation on the day.
More about our experts:
Anna Reutskaya, Manager Talent, Performance, Inclusion & Diversity at Philip Morris International
Anna has worked for Philip Morris for the past 13 years, initially within their procurement department in Moscow, before joining their HR team in Switzerland a few years ago. She currently manages their Inclusion & Diversity initiatives for the Russian market, and she will share insights on the current DEI situation in the country.
Rashmi Mandloi, Managing Partner and Head of D&I at BeyonDiversity
Rashmi's professional experience spans over 20 years with multinational organizations across South Asia such as Deutsche Bank, Convergys India Services, and Standard Chartered Bank, making her a leading Inclusion Leader in APAC. Her work with Fortune100 clients has helped them to enable and embrace Inclusion at the workplace. Furthermore, she has mentored and coached over 5000+ women and published DEI seminal research over the past 7 years on the Indian subcontinent.
Beatriz Peña, Founder and CEO of SSPARK Human Innovation
Beatriz is the founder and CEO of SSPARK, a Human Innovation Company focused on coaching and leadership, with the goal of promoting a cultural change in D&I in Mexico. She has extensive experience as a consultant and speaker for AbogadasMX, where she has trained more than 300 mentors focused on gender challenges in the legal sector, as well as the D&I Coca-Cola committee for Latam. She has also worked as a specialist coach for McKinsey&Co Mexico for over four years and has designed and implemented projects for companies including Bayer, HSBC, Mattel, and Uber.