An opportunity to network and share experiences with other local D&I professionals
About this event
The branch Diversity & Inclusion group will be holding its next meeting on Tuesday 14 December (plesae note change of date), this will be an online event. 
The theme this time will be reflections from 2021, we will hear from a panel of speakers who will share what their challenges have been for Equality, Diversity, Inclusion and Belonging this year and what they see as the themes and areas of focus for 2022.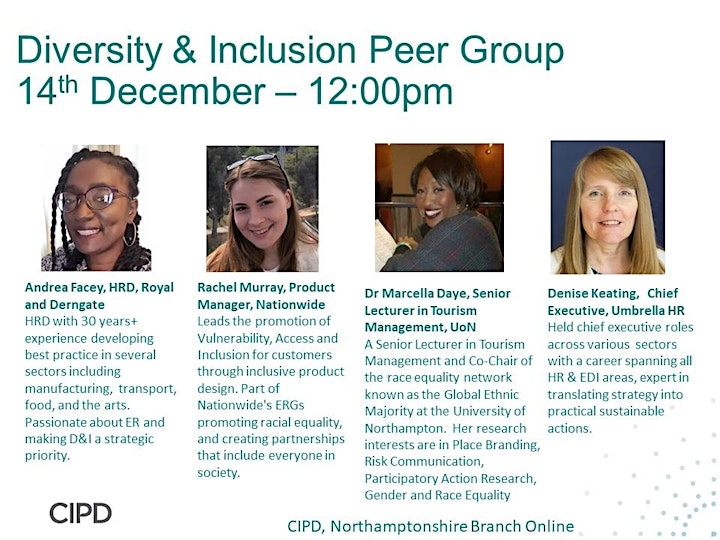 If you would like to attend this event please register here and you will receive online joining details in the booking confirmation.
Organiser of Diversity and Inclusion Peer Support Group
The CIPD Northamptonshire branch provides opportunities for its 1750 members to network with local HR and L& D professionals, to continue with their professional development and remain up to date with HR issues. There is an active programme of events through the year and you can find details of the upcoming events listed below. For further details just click on the event you are interested in and you can then book your place online.

Unless otherwise stated branch events are free for CIPD members to attend, and there is a non-member fee of £12 which must be paid online when booking.
The CIPD Northamptonshire branch committee look forward to seeing you at our events and if you would like any further information please contact the Regional Branch Executive Eleanor Lloyd Jones on e.lloydjones@cipd.co.uk or 0116 235 7992
Northamptonshire branch is part of the CIPD Midlands Area Partnership (MAP) which holds an Annual Midlands Event in October, and a Student Conference every March.   You can find out more at cipd.co.uk/map
To keep up to date with our branch events please sign up to our branch newsletters