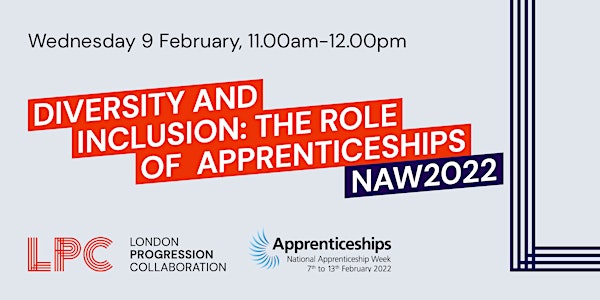 Diversity and inclusion: the role of apprenticeships
A panel discussion around the role of apprenticeships in achieving greater diversity and inclusion
About this event
Evidence shows that apprenticeships have a vital role to play in leveling the playing field for learners from under-represented groups. But how can we make the apprenticeship system more accessible and inclusive?
In this discussion with our expert panel, we'll be exploring inclusive recruitment practices and the role of apprenticeships in building a pipeline of diverse talent. We will also be speaking to an apprentice and learning about their experiences.
Our panel includes:
Stephen Ram Kissun - Senior Account Manager, London Progression Collaboration (chair)
Isa Mutlib - CEO, BAME Apprenticeship Alliance
Mariana Stefani - Associate Consultant, Pracedo and currently an apprentice
James Adeleke - Chief Executive, Generation Success
Lauren Dutnall - Chief of Staff, Vorboss
Who should attend this event?
This event is open to all employers who are interested in understanding the need to increase diversity as part of their recruitment activities.
About the London Progression Collaboration
This event is hosted by the London Progression Collaboration - a not-for-profit initiative supporting London businesses to create new apprenticeship opportunities for low-paid Londoners. To find our more about our work, visit www.thelpc.uk.