Description
Event Details:
Want to hear from the experts on how to improve diversity in your workplace? Want to ask the burning questions from our expert panel on what diversity and inclusion means or what the future holds?
Then this event is perfect for you. We have gathered a panel of experts from the public, private and charity sector to come and answer your questions on Diversity and Inclusion – no topic is bared so hopefully we'll be in for a lively debate.
If you have questions you would like to submit for the panel please put these in the comments box on Eventbrite or contact the organisers before the night. You'll also have the opportunity to put your question forward on the evening where we have time.
Speakers:

Dr Jill Miller - D&I Public Policy Advisor, CIPD
Dr Jill Miller is the CIPD's Policy Adviser for Diversity and Inclusion, supporting the development of more flexible and inclusive workplaces with fair and equal opportunity for everyone to access and progress in work. Her role is a combination of rigorous research and active engagement with policymakers, academics and practitioners to inform projects and shape thinking. She frequently presents on key people management issues, leads discussions and workshops, and is invited to offer comment to journalists.

Roianne Nedd - Head of Programmes and Research
Roianne is a passionate advocate for diversity and inclusion and is a self-confessed amplifier of female voices. Over the past 18 years, Roianne has worked with organisations across the public, private and charitable sectors on diversity strategy, policy and performance. A strong believer that measurement is the most fundamental part of delivering a strong approach to diversity and inclusion Roianne has led numerous projects on data collection and self-identification, diversity auditing and impact assessing and embedding diversity and inclusion into business processes.
A seasoned professional across all diversity strands and protected characteristics Roianne specialises in inclusion training, policy evaluation and development and senior leadership equality coaching. Her status as a Chartered Accountant ensures that the work she does represents value for money and highlights the likely return on investment.
In March 2017, she joined OUTstanding as Head of Research and Programmes where she brings together her skills and experience to deliver innovative leadership and development programmes and products and services to support the development of inclusive organisations and diverse leadership teams and boards with a specific focus on LGBT+, Gender and ethnic minority inclusion.

Vicky Hayden - Head of Private Sector Membership Programmes, Stonewall
Vicky Hayden is the Head of Private Sector Membership Programmes at Stonewall and has been at the charity for 4 years. As the strategic lead for Europe's largest LGBT workplace inclusion programme, Vicky has seen first-hand the positive impact that a truly inclusive workplace can have on individual and organisational performance. Her specialist subjects are; LGBT inclusion in workplaces in the UK and abroad, empowerment and inclusive leadership.

Mark Lomas - Head of Equality, Diversity & Inclusion at HS2 (High Speed Rail 2)
Mark has delivered numerous diversity and inclusion projects for organisations across a wide variety of sectors, including The Financial Reporting Council, Groupama Insurance, The BBC, Sheffield University, NHS Clinical Commissioning Group Boards, Highways England, ITV, The Bermuda Human Rights Commission and The Law Society.
Mark's work on procurement in the legal sector won the ENEI Inclusive Procurement Award in 2012.
Mark is a published author on the topic of Equality and Diversity having authored the Law Society E&D Risk & Compliance Toolkit which assists law firms to comply with regulation and is the co-author of research published for Arts Council England on Goal 5: Equality & Diversity for Young People in the arts.
Mark is an executive committee member of the R.I.D.I. (Recruitment Industry Disability Initiative) campaign and is a trustee for the Mama Youth Project which trains disadvantaged young people to access careers in media. In January 2016 Mark took up the role as Head of Equality, Diversity & Inclusion for HS2 & recently won 2017 ENEI Awards for Inclusive Procurement, Innovation with impact and Overall Public Sector Winner categories.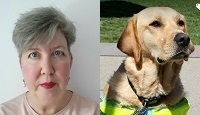 Jane Manley (with her guide dog Rosie)
Jane Manley joined RNIB as a volunteer in September 2016 following a long career in insurance specialising in catastrophic injury and disease claims. Jane was the technical specialist manager at RSA Horsham for Abuse claims relating to children and vulnerable adults and led on the main cases that altered the legal landscape in this arena. Following time away from work following a transplant, Jane joined the RNIB looking to change her career direction into the charity sector. In October 2017 Jane took a permanent role within the Organisational Development and Learning team spearheading the RNIB Apprenticeship programme, with additional responsibilities for disability awareness and accessibility and inclusion matters.
Jane is a life vice president of the Insurance Institute of Guildford.
Away from work Jane enjoys walking, baking (thanks to the Be My Eyes app) and is an avid rugby union fan.
Rosie the Guide Dog
Rosie (more often called Rose) is a qualified guide dog (mobility plus grade) who began working with Jane Manley on the 27th June 2016. Prior to working with Jane, Rosie studied dog obedience to advanced level, passed top of her litter for Intellectual Disobedience and Route Memory and discovered a love in the form of a stuffed giraffe. In terms of route memory, Rosie has a current lifetime best of 3 hours 10 minutes on a new outward journey then turning after a 30 minute break to repeat the return trip with only 2 pauses.
Out of her litter of 6, only 2 became guide dogs with one moving on to be a companion dog for a young blind child to help them learn to live with a dog in preparation for their own guide dog when they're older. Two became assistance dogs, and one has gone on to be a customs drug search dog.
When not in harness and working, Rosie enjoys licking her cat, manipulating complete strangers into feeling they need to stroke her tummy, and running.

Timings:
18:00 - arrival & refreshments
18:30 - welcome and start of presentation
20:00/20:30 - finish & departure
---
Cancellations and Refunds Policy
If you are unable to attend an event please give at least 1 working day notice and we will be happy to refund 100% of your booking fee or book you on to a subsequent event to the same value. Cancellations received after this time will be non-transferable and non-refundable.
---
Professional photography and video production may be taking place at the event, and these images may be used in future promotional materials for CIPD. Please note that by attending the event, you are giving your consent for your image to be used on any CIPD promotional materials.