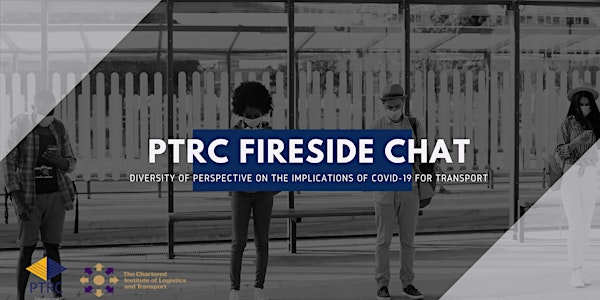 Diversity of perspective on the implications of COVID-19 for transport
A PTRC Fireside Chat






Jannat Alkhanizi

Transport Consultant at Mott MacDonald and Associate, RTPI

Sarah Barnes

Government Partnership, Lyft, Author of Along for the Ride

Stephen Cragg

Head of Appraisal and Model Development, Transport Scotland

Glenn Lyons

Mott MacDonald Professor of Future Mobility, UWE

Nishma Mistry

Safety, Health & Environment Business Partner, Transport for London

Georgia Yexley

Head of Cities UK & IRE, TIER
About this event
You're a white man in the transport sector. You stand on the shoulders of other white men before you, presiding over a transport system designed predominantly by white men for white men in a society that is made up predominantly of…..people who are not white men.
March 2021 marks the month of the latest census for England and Wales. What will it reveal about our evolving society as we stutter and stumble towards the other side of the pandemic? This remains to be seen, but the story told by previous census data is as follows. Women and girls made up 51% of the population. 14% of the population were not white (nearly 8 million people): 3.3% were black and 7.5% were Asian (in both cases over 50% higher as a proportion of the total population than ten years before).
On International Women's Day (8 March 2021) the All-Party Parliamentary Group (APPG) for Women in Transport and the industry group Women in Transport launched a new White Paper "Gender Perceptions and Experiences Working in Transport". This reflects upon 2021 survey data that reveals nearly 70% of female respondents agreed/strongly agreed that transport is seen to have a macho culture; and just over half of women agreed that women from ethnic minority backgrounds experience particular problems progressing their career in transport. Not surprisingly, women agreed more than men that there is an unconscious bias issue against women in transport.
In her recent book "Invisible Women: Exposing Data Bias in a World Designed for Men", Caroline Criado Perez reminds us that "women have much more complicated travel patterns... on the whole, transport authorities aren't interested in women's 'atypical' travel habits". What consideration, one may ask, is given to women and girls of colour, if any?
Imagine not being white and not being male as a transport professional and/or as someone using the transport system. Can you? What you probably can bring to mind is the common (though hopefully dwindling) occurrence of an all-male (white) panel at a transport industry event. If we have any serious interest in shaping a better transport future as we emerge from COVID-19 then it just doesn't add up. We need to truly embrace a diversity of perspective in addressing the many interwoven challenges and opportunities that lie before us if intent to be inclusive features in policy objectives.
This 90-minute panel debate is the nineth in a series of PTRC Fireside Chats prompted by COVID-19 that consider implications for transport. The event will look at those implications from the perspective of race and gender. Reflecting upon the many other areas covered in the Fireside Chat series, our panel will consider how race in particular intersects with such areas.
To frame this Fireside Chat are the following questions:
1. How visible or invisible have issues of race seemed during the pandemic and consideration of its implications for transport?
2. Will the pandemic have helped or hindered career prospects for women of colour in the transport sector and why?
3. In a 'recovery' from the pandemic, is there a risk that the race/gender data gap could have adverse consequences for the majority of the population?
4. What needs to change to open up conversations about race and racism as we look to a future of transport beyond the pandemic?
5. Is there cause for optimism regarding diversity and inclusion when considering the evolving nature of the transport sector?
Our panel will explore such questions and more and we look forward to you joining us with the opportunity for raising your own issues and questions for the panel to respond to.
Speakers
Sarah Barnes, Government Partnership, Lyft, Author of Along for the Ride
Sarah manages government partnerships for Lyft's bikeshare and scooter services. Previously, she worked at Beryl, a London-based micromobility provider, as Business Development and Research Manager. Sarah also writes a weekly newsletter on autonomous vehicles and urbanisation, a platform to provide new perspectives on an industry dominated with technocratic rhetoric. Her research has been published by the UN, Siemens, and presented at the World Cities Summit in Singapore. Sarah holds a Masters in City Design and Social Sciences from the London School of Economics. In her spare time, Sarah is often found exploring cities on her bike, Mildred, swimming in ponds and natural bodies of water, and embracing a car-free lifestyle.
Georgia Yexley, Head of Cities UK & IRE, TIER
Georgia has worked in partnership with cities internationally to reach their active and sustainable transport goals. A firm believer that collaboration and partnership underpin sustainable services. Georgia was part of the founding international team at unicorn operator Mobike, is responsible for driving the early stage growth strategy behind Beryl's micro-mobility services and is currently leading TIERs partnership with cities in the UK & Ireland as Head of Cities. An advocate for inclusion and accessibility, Georgia regularly contributes to raising the volume of women and underrepresented groups in tech. www.georgiayexley.com
Jannat Alkhanizi, Transport Consultant, Associate RTPI
Jannat Alkhanizi is a Transport Consultant from Mott MacDonald with five years of professional experience in Strategic Planning, Future Mobility and Transport Demand Management and exposure to Transport Modelling and Engineering. Jannat has worked in various global settings including London, Dubai and Singapore and has delivered projects for local developers as well as national transport agencies such as the UK Department for Transport. Jannat is an Associate member of the Royal Town Planning Institution (RTPI) and has participated in various panel discussions and shared papers in international conferences including the Transport Practitioner's Meeting and the Transport Planning Society Bursary Competition. Jannat in interested in offering a perspective of diversity in the Transportation Industry from an international perspective.
Stephen Cragg, Head of Appraisal and Model Development, Transport Scotland
In 1997, Stephen accidentally became a traffic modeller after deciding that neither teaching, selling loans nor making bombs were for him. He graduated from Napier University with an MSc in Transportation Engineering in 2001. In 2006, he was seconded into Transport Scotland working in the Strategic Transport Planning team for 14 years before becoming Head of Appraisal and Model Development in 2020. Outside of work, he's convenor of Dundee's Outdoor Access Forum and likes to spend his weekends doing practical conservation volunteering.
Nishma Mistry, Safety, Health & Environment Business Partner, Transport for London
Nishma Mistry is a Safety, Health and Environment Business Partner at Transport for London (TfL). Nishma's role includes leading change to deliver reduction in road risk in line with the Mayors Vision Zero Strategy, that, by 2041, all deaths and serious injuries will be eliminated from London's transport network.
Diversity and inclusion are values that are so important to Nishma, she pledges to help drive change to celebrate diversity, build collaborative and supportive networks, break down barriers and create a safe community where everyone belongs and thrives. "We are all unique and special in our own ways. I believe we should all be treated with respect with no barriers put in front of us to achieve our dreams. If anything, we should help support each other and strive for a fully inclusive world"
The Fireside Chat will be chaired by Glenn Lyons (Mott MacDonald Professor of Future Mobility at UWE Bristol). Glenn is a white, middle-aged middle-class male who is embarrassed to find himself learning properly about gender and race bias in society and in the transport sector so far into his career. "How our male-dominated sector has failed to properly introduce education on diversity and inclusion into university curricula and continuing professional development is something that should trouble us all" he says.