Diversity & Partnerships / التنوع والشراكات / Diversité et partenariats / Diversidad y asociaciones
About this event
* English ↓ * العربية ↓* En français ↓ * En español ↓ *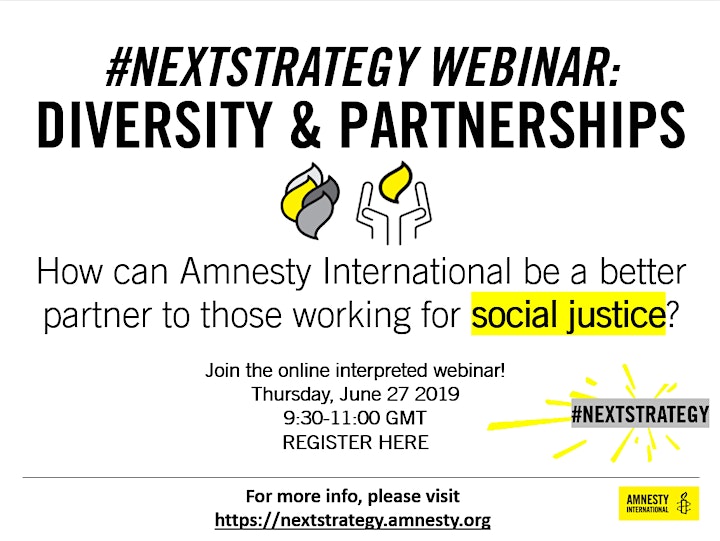 From new feminist and labour activism all the way to the struggles for racial and climate justice, we see social justice movements gathering pace around the world and inspiring a new generation of activists. It is essential that Amnesty International take a closer look at how it can be more inclusive and accessible to link with and learn from those fighting for social justice. How can Amnesty be a better partner to those working for social justice? What themes does Amnesty need to embrace to be relevant to those most marginalised? What activism model will make us more inclusive to diverse groups and shift power/voice to those that don't have it? Join us in our online multilingual webinar on June 27 from 9:30-11:00 GMT!
Speakers include:
التنوع والشراكات - كيف يمكن لمنظمة العفو الدولية أن تكون شريكاً أفضل للجهات التي تعمل من أجل تحقيق العدالة الاجتماعية؟
بدءاً بالنضال النسوي والعمّالي الجديد وصولاً إلى النضال من أجل تحقيق العدالة المناخية والعرقية، فإننا نرى حركات العدالة الاجتماعية تتسارع في جميع أنحاء العالم وتلهم جيلًا جديدًا من الناشطين. ومن الضروري أن تلقي منظمة العفو الدولية نظرة عن قرب لتعرف كيف يمكن أن تكون أكثر شمولية وتتيح الوصول إليها من أجل التواصل مع أولئك الذين يناضلون من أجل العدالة الاجتماعية والتعلم منهم. كيف يمكن لمنظمة العفو الدولية أن تكون شريكاً أفضل للجهات التي تعمل من أجل تحقيق العدالة الاجتماعية؟ ما هي الموضوعات التي تحتاج منظمة العفو الدولية إلى تبنيها من أجل أن تصبح متاحة وذات صلة للفئات الأكثر تهميشاً؟ ما هو النموذج الأفضل للنضال الذي سيجعلنا حركة أكثر شمولاً أكثر للمجموعات المتنوعة وتحول القوة / الصوت إلى من لا يملكونها؟ انضموا إلى ندوتنا عبر الانترنت المتاحة بعدة لغات في 27 يونيو/حزيران من الساعة 9:30 صباحاً إلى 11:00 قبل الظهر بتوقيت غرينتش.
من المتكلمين في الندوة:
سيزار رودريغيز- غارافيتو مدير الندوة - مؤسس JustLabs والأكاديمي في التغيير الاجتماعي
دوميسو غاتشا - المؤسس المشارك لمنظمة ساكس كابيتال غير الحكومية، التي تركز على حقوق الصحة الإنجابية والجنسية وحقوق المثليين في بوتسوانا
باشتانا دراني - أحد مؤسسي LEARN Afg التي تركز على حقوق التعليم للفتيات الأفغانيات ، وتركز على حقوق التعليم والصحة الخاصة باللاجئين بشكل خاص، وهي الآن جزء من التجمع العالمي للشباب في منظمة العفو الدولية
كومي نايدو، الأمين العام لمنظمة العفو الدولية
سنرسل إليكم آخر المستجدات عندما يؤكد المزيد من المتكلمين حضورهم.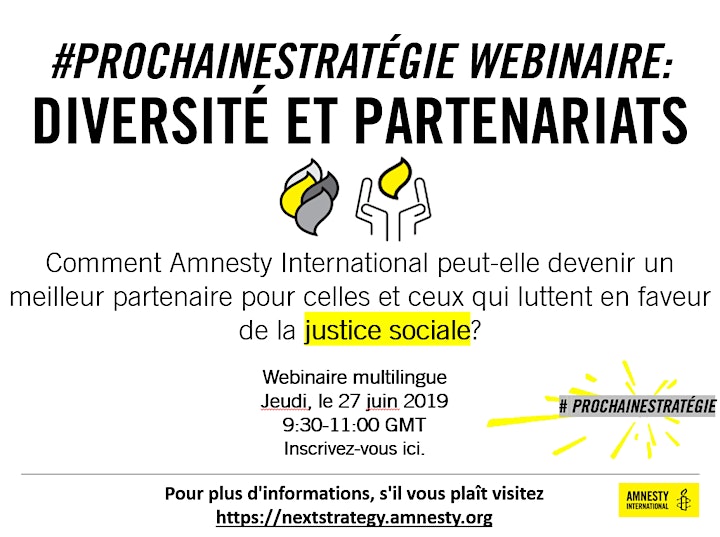 Des nouveaux combats féministes à ceux des travailleurs en passant par les luttes pour la justice raciale et climatique, nous constatons que des mouvements en faveur de la justice sociale prennent de l'ampleur dans le monde et inspirent une nouvelle génération de militant·e·s. Il est essentiel qu'Amnesty International se demande comment être plus inclusive et plus accessible pour tisser des liens avec celles et ceux qui se battent pour la justice sociale et pour apprendre de ces personnes. Comment Amnesty peut-elle devenir un meilleur partenaire pour celles et ceux qui luttent pour la justice sociale ? Quels sont les thèmes auxquels Amnesty doit s'ouvrir pour être utile aux personnes les plus marginalisées ? Quel modèle de militantisme nous rendra plus ouverts à la diversité et permettra de donner une voix/du pouvoir à celles et ceux qui n'en ont pas ? Participez à notre webinaire multilingue le 27 juin de 9 h 30 à 11 h 00 GMT!
Liste des intervenant·e·s :
Nous vous tiendrons informé·e à mesure que de nouveaux intervenant·e·s auront confirmé leur présence.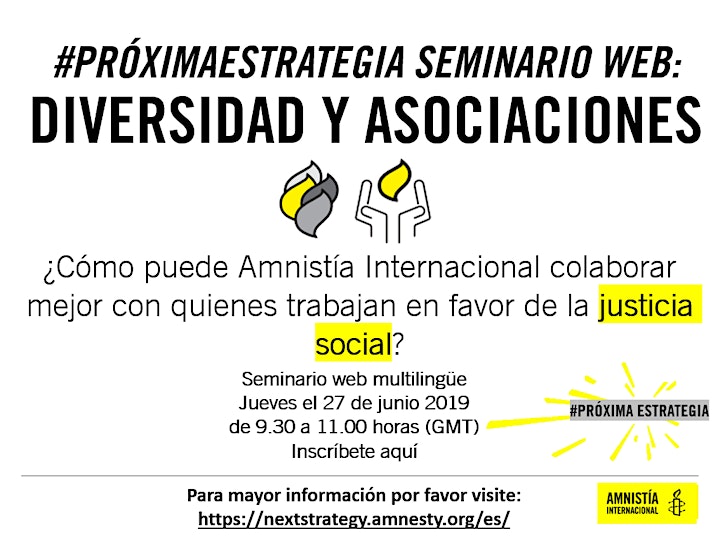 Desde el nuevo feminismo hasta el activismo laboral, pasando por las luchas en aras de la justicia racial y climática, en todo el mundo se observa cómo cobran fuerza movimientos en favor de la justicia social que inspiran a una nueva generación de activistas. Es fundamental que Amnistía Internacional analice más detalladamente cómo ser una organización más inclusiva y accesible que conecte con las personas que luchan por la justicia social y aprenda de ellas. ¿Cómo puede Amnistía Internacional colaborar mejor con quienes trabajan en favor de la justicia social? ¿Qué temas debe abarcar Amnistía Internacional a fin de ser relevante para las personas más marginadas? ¿Qué modelo de activismo nos hará más inclusivos con diversos grupos y trasladará el poder / dará voz a quienes no tienen? Participa en nuestro seminario web multilingüe el 27 de junio de 9.30 a 11.00 horas (GMT).
Intervendrán:
Te informaremos tan pronto se confirme la intervención de otras personas.
Organiser of Diversity & Partnerships - #NextStrategy Webinar - Amnesty International