Learn about the importance of and how to implement an inclusive recruitment strategy to hire and attract top, diverse talent.
About this event
Inclusive recruitment is an essential part of a truly effective D&I strategy. Ensuring that your vacancies appeal to individuals from all backgrounds, as well as making it easy for them to find and apply to them, is the first step in creating an inclusive culture that people want to be a part of.
Building a diverse and inclusive workplace is a requirement for the modern organisation's success. Not only does it help foster innovation and increased performance, it also creates an environment that will enable you attract top talent.
In this webinar you will learn about the various elements of an inclusive recruitment strategy, including how and why you should implement one to attract and retain the best talent.
Who should attend this webinar?
HR professionals
Internal recruiters
Hiring managers
Resourcers
Diversity & inclusion professionals
Anyone with an interest in building a diverse and inclusive workplace
The format of this session will be a panel discussion. The online event will last one hour with 10 minutes for Q&A at the end.
Our Speakers
Amarjit Singh-Basi
Amarjit is an Executive and a founder member of the recently formed Black Further Education Leadership Group (BFELG) which was set up in late 2020 to address the challenges associated with systemic racism in Further Education. As part of this campaign the BFELG has developed a '10 Point Plan' which outlines how college senior leadership teams and their boards can implement this plan as a 'Toolkit' for bringing about real and sustainable change across their institutions, to ensure an anti-racist Further Education system.
Over the course of his career Amarjit has held a number of senior leadership roles in Further Education/ Higher Education institutions, all operating in widening participation contexts. These include Principal & CEO posts at Cornwall College, New College Nottingham, Walsall College and Ealing, Hammersmith & West London College. A number of these institutions attained outstanding accreditations through public regulatory frameworks for further and higher education, alongside receiving Queen's Anniversary Prizes for innovation and quality in the provision of training and skills.
He also held Board membership roles with Pearson Education Limited (a subsidiary board of Pearson plc), Cogent (the talent and skills partner for the science industries) and Engineering UK (the national organisation responsible for the promotion of careers in engineering).
Ann Allcock
Ann is Head of Diversity at Marshall E-Learning Consultancy. In this role her aim is to support clients with their strategy and actions to increase employee knowledge and understanding of diversity and inclusion, and to encourage everyone to play their part in creating workplaces where all can thrive. She also helps those who lead organisations to understand the corporate culture and what this means for the everyday experiences of staff.
Ann has spent her career in equality, diversity and inclusion. Over the past 30 years she has had in-house diversity roles at several public sector organisations and universities, and has more recently advised some of the UK's largest employers and brands on EDI (including the UK Security Services and other central government departments), through her role at Prince's charity Business in the Community, where she led the team of Diversity and Inclusion Advisors. Ann also ran her own successful EDI consultancy for several years.
Kira van Niekerk
As the Head of Training & Education at Thomas International, Kira supports their global training team in a variety of ways. Whether it is the creation of new and updated content or collating the great insight from their international training experts, her job is to leverage the talent at Thomas International to provide the best training experience that enables their customers.
Kira is also part of the Diversity and Inclusion team at Thomas International, for which she leads the short-term initiatives workstream. As part of this work, she organises speakers, creates resources and promotes discussion around D&I in Thomas.
She is a registered psychometrist who has a passion for people excellence and the promotion of self-awareness at the individual, team and organisational level. Kira also has experience facilitating team workshops and awareness sessions, with a focus on positive psychology and personal effectiveness. Throughout her time at Thomas she has worked with a variety of clients in different industries and has experience in the industrial, clinical and medicolegal fields. Kira is also a certified mindfulness life coach.
Our Host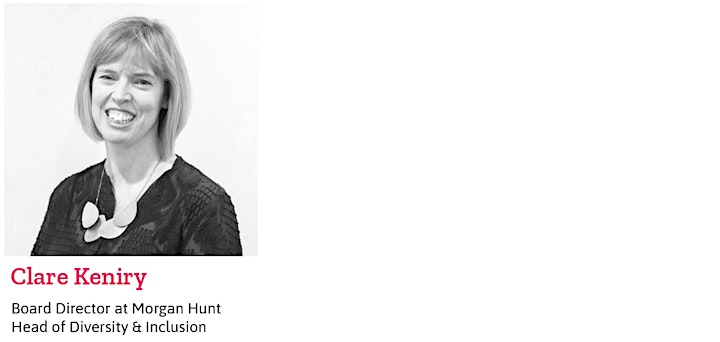 Clare Keniry
Clare Keniry is Head of Diversity & Inclusion at Morgan Hunt, working with clients to ensure that their recruitment strategies are diverse and inclusive. The recruitment process is a critical element of bringing diverse talent into an organisation and helps organisations ensure that every step is as consciously inclusive as possible. Within Morgan Hunt, she leads the development of a diverse & inclusive culture.
As a board Director she oversees the Morgan Hunt Technology recruitment business and has over 20 years' experience working within the recruitment industry with extensive networks spanning both the private, public and not for profit markets, having worked across the UK and Australia. Diversity & inclusion is one of the biggest challenges facing the tech industry today and Morgan Hunt Technology works with organisations to support the development of a truly diverse and inclusive workplace.
Organiser of Diversity recruitment: Developing an inclusive hiring strategy
About us
 Morgan Hunt is a nationwide recruitment business with a quality-assured reputation for staffing solutions that result in placing talented people into the UK public, private, and not for profit sectors. We bring together people and employers who look for a sense of purpose in the work they do. From managed service to contingent recruitment methods we deliver our clients value in nine key sectors including charity, education, finance, housing, government, professional services, property & construction, social care & health, and technology.
Founded in 1994, Morgan Hunt is a trusted recruitment partner inspiring working lives through purpose and opportunity.