Led by Vaz Sriharan, Adya Nova
About this event
This Divine I AM Training takes place Remotely via connecting Online. This is given over 2 days (See timings below).
Timings (given in UK - BST): 9am - 11am & 1pm - 3pm each day
The Divine I AM Transmission Model is an open, intuitive model designed and channelled by Vaz Sriharan during many years of learning, working with energy. This system allows an individual to act as a Channel to TRANSMIT energies for Healing, Transformation, Awakening, Activation.
This is an incredibly powerful system, reflecting our evolution with healing in general. During these times where our spiritual growth has become more relevant, more refined models of healing are available.
This particular training additionally allows each practitioner to develop their own unique transmission healing method. Essentially this is what it means to become an Intuitive Channel for Transmission energies - you are discovering - or re-discovering your skills as a Healer. 
This is a Training Experience, where you will:
Be Activated through a series of Attunements, to attune your Higher Chakras, Physical Chakras, Physical Body with the Planetary Light Grids - to Channel & Transmit Frequencies for Healing, Transformation and Growth  
Learn How to Channel Using Intention
How to Develop your own Unique Channelled Healing System
Working with the Planetary Light Grid / Crystalline Grid of the Planet
Reconnect to your Multidimensional Selves (Ancient Civilisation, Galactic heritage) through Activational Attunements
Participate in practical work with others to develop your own unique way of channelling
Ability to hold Individual or Group Transmissions  energetically & with love
Receive Powerful Transmission Attunements to access and channel higher frequencies of love, light for Spiritual Transformation
Certification as a Divine I AM Transmission Practitioner
Receive a Training Manual & Certification in Divine I AM Transmissions Practitioner
Upgrade all your Healing Work in a profound ever-lasting way
INVESTMENT
£333 Early Bird
£400 Standard
BONUS: Course Content! Learn how to Hold Space & Access a Range of Vaz's Live Recorded Transmissions (not public) to learn from
You may use the Eventbrite (with fees) or make a UK bank transfer - please contact Vaz for details
DAY TIMINGS:
Timings (given in UK - BST): 9am - 11am & 1pm - 3pm each day
"Everyone can heal and everyone can channel. I have been trained in multiple Transmission techniques as well as developing my own channeling system.
I am passionate about spreading this incredibly beautiful form of healing. I will be sharing what I have learned from 20 years of energy healing. In addition to the attunements, activations I will be giving practical training & guidance on how to actually channel energies using Intention, Creating Space and Understanding Group Energy."
WHAT ARE TRANSMISSIONS?
Transmission Facilitation is a relatively new form of Energy Healing Transformation, yet has very ancient mystical roots. It involves the channelling of energies into an open space (a room for example) directly from the Source that is being accessed - through Intention, Voice, Sound.Transmissions are incredibly powerful as they accelerate transformation and allow for quantum leaps in growth for participants. During a Transmission the Channel harnesses Higher Energies - Frequencies of Light, Codes, Wisdoms, Unconditional Love - into the space for Clearing and Activation.Transmissions work through all layers of the auric body - Physical, Emotional, Mental and Spiritual (Energetic). From the cellular level (releasing emotions, memories) to the multidimensional level (activating energy centers). 
DIVINE I AM TRANSMISSIONS
 The Divine I AM Transmission Model is an open, intuitive model that allows the Channel to connect with Gaia (Mother Earth), the Planetary Grid and merge energies within the Integration point of the Soul (Divine I AM Presence). This groundedness and structure allows for the Channel to work incredibly intuitive within the session. Additionally it provides each Practitioner the ability to develop their own radically unique system of Transmission, which is highly encouraged.
During this Weekend you will be attuned and trained in the beautiful art of offering Transmissions for Individual and/or Group Sessions.
TRANSMISSION BENEFITS 
Transmissions work to clear denser energies, emotions, patterns, beliefs within the physical and non-physical bodies. Allowing for quantum leaps in release/transformation. The transmission is also designed to awaken gateways to access our own inner guidance, love, wisdom.  
For many these sessions have led to phenomenal shifts in awareness, growth, happiness, love, joy, spiritual connection, realisations, synchronicities and inner peace. Some have immense transformations, others feel immense peace. Additionally there may not be anything consciously understood during the session and yet deeper unconscious work occurring. I work with the principle that everyone receives what they truly require on a soul level. 
READ MORE ABOUT THE PLANETARY LIGHT GRIDS: www.vazsriharan.com 
TESTIMONIALS
"Excellent delivery with unwavering respect and support for individually intuited learning within a tested framework. Highly recommended" N
"Brilliant. I highly recommend this training for anyone interested in connecting with/transmitting very high frequencies. This technique has a broad range of applications. Great facilitation. Vaz leads from the heart" Steve Nobel
"It was an amazing experience! Vaz led me to a different dimension of spirituality. Meditation, Transmission, Healing... whatever we call it, I now clearly know that there are no barriers among them. Another reconfirmation for me was that communication methods/tools to connect with the Source (my and your higher-self) are limitless, i.e. language barriers only exist in human level. Thank you very much, Vaz! It was lovely spending weekend with like-minded people. Thank you all !!! xxx" Y
YOUR FACILITATOR: VAZ SRIHARAN
Vaz works as an Intuitive Channel, continuously evolving his connection through inner spiritual development, growth and exploration. Vaz has been open to spirit since a child and also emerged from many years of depression through spiritual growth. 
Vaz channelled and created the Divine I AM Transmissions System in 2012, assisted from learning many beautiful healing arts over the course of 20 years. His frequent visits to Mt Shasta accumulated a system over time which appeared in a moment of channelled inspiration, something Vaz believes we all have access to in our lives and every now and then we will have moments of intense ephinanies. 
Vaz works very closely with Gaia and the Planetary Grids of the Earth - the Cosmic and Earthy Connection providing a beautiful holistic and held system for Healing the Self and the Whole.
Vaz has been working with, exploring and practicing energy healing all his life and am passionate about continuously evolving the way he works. He has a deep love for Gaia, having travelled to and lived in many of the planet's sacred power spots, energies of which he uses in all his work.
Founder of Divine I AM Transmissions, Usui & Tera Mai Reiki Master, Light Grids Practitioner. Background in Transpersonal Psychotherapy. Founder of the London College of Spirituality and author of Infinite Being.
www.vazsriharan.com
CO - FACILITATOR: ADYA NOVA
Adya is a Visionary Artist, Intuitive Channel and Energy Healer (Reiki Master & Divine I AM Transmission Facilitator). She is a co-organiser and facilitator at the London College of Spirituality founded by her fiancé Vaz Sriharan.
She devotes all her work to Divine Consciousness, bridging multidimensional realms and bringing through healing frequencies and the light of Great Spirit through her work.
Adya is a catalyst for others to remember their Divinity & Essence, aligning to clarity and opening up to the ever present Magic in life.
www.adyanova.com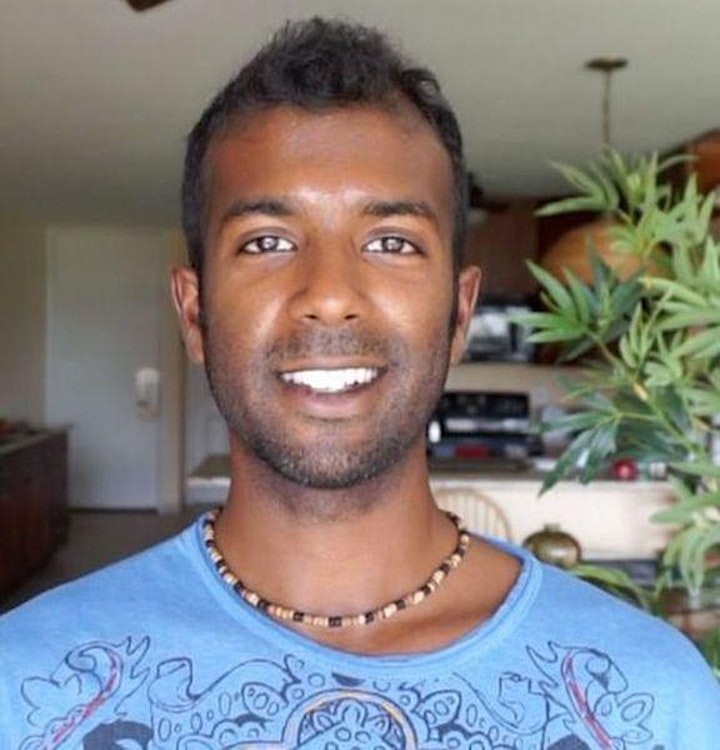 Date and time
Location
Refund policy
Organiser of Divine I AM Transmission Training- Online (UK/Europe)
London College of Spirituality, offering transformational courses, interactive trainings, healing transmissions, activations & experiences. We serve all those who are on the Awakening path of Spirituality as well as those who are actively seeking to discover their Gifts so they can also serve others.