Event Information
Refund policy
Contact the organiser to request a refund.
Eventbrite's fee is nonrefundable.
Light up your day by joining Sangam in celebrating Diwali Festival, the Festival of Lights!
About this event
Join the Sangam Team as they celebrate Diwali, the Festival of lights, where the streets are illuminated with rows of clay lamps and homes are decorated with colours and candles. This festival is celebrated with new clothes, spectacular firecrackers and a variety of sweets in the company of family and friends. Learn more about this origins and traditions surround this exciting festival.
Join the amazing Sangam team in the kitchen for a 2 hour long very special Diwali Festival special menu. Let your taste buds wander as the Sangam staff explore different spices and give practical demonstrations that will help you whip up a delicious storm in your own home!  
Session length: 120 mins 
Age: All ages
We will be selling a World Centres Virtual Programmes badge, which will be available to all those who join an online virtual event with us. The link for purchase will be available in the email communication after your event.
Minimum numbers:
Important note: This session requires a minimum of 10 participants (excluding free leader places) to run. If there are fewer than 10 participants booked 24 hours before the start time the session will be cancelled.
Age requirements:
All participants under 16 need to be accompanied by an adult to join the session.
If you are booking as a Unit/Troop this must be booked by a leader aged 18+. At least two adult leaders will need to attend the session. Two leaders may attend for free – simply book the number of tickets needed for your youth participants and any additional leaders. You do not need tickets for the two free leaders.
Individuals under age 16 who are not attending with a Unit/Troop need to be booked by an adult age 18+ and an adult must attend the session with them.
Individuals aged 16+ who are not attending with a Unit/Troop may book themselves onto a session and do not need an adult to attend with them.
Private events:
We understand some Units/Troops would like a private session just for their group, and during 2020 some World Centres were able to offer these sessions. However, due to limited resources and staffing at the World Centres during 2021, we have created fixed dates and times so that we can ensure the Centres can reach as many people as possible. This does mean that we are unable to offer sessions outside of those advertised on Eventbrite.
If you would like to guarantee a session will be attended only by your Unit/Troop, you can book all the tickets for that session. We do encourage attendees of free events not to block tickets which may not be used.
Other important information:
Sessions are delivered in English unless otherwise stated. We are working on having sessions delivered in other languages in the future.
Please note this event is only for members associated with a Girl Guide/Girl Scout Organisation – this includes but not limited to Youth and Adult Members (please check the age guideline for each event), Unit/Troop Helpers, Membership Organisation Volunteers, and youth Parents/Guardians.
We have a Frequently Asked Questions page on the WAGGGS website, you can find it here: https://www.wagggs.org/en/our-world/world-centres/faq-world-centres-virtual-programme/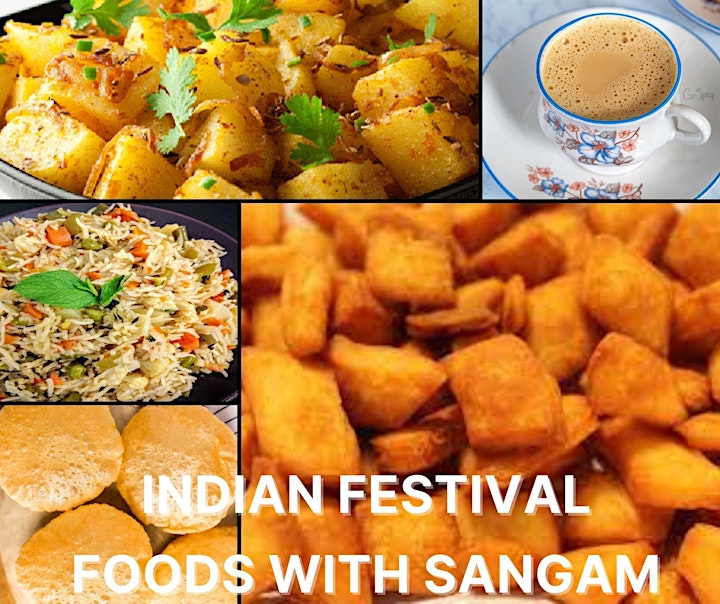 Date and time
Location
Refund policy
Contact the organiser to request a refund.
Eventbrite's fee is nonrefundable.
Organiser of Diwali Festival Special Menu with Sangam