Description
A one-day symposium and book launch examining do-it-yourself citizenship in making, activism and design.
Wednesday 28th May, 10am - 6pm
Hosted by UWE Bristol's Digital Cultures Research Centre at the Pervasive Media Studio, Watershed, Bristol
---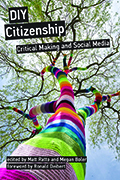 To mark the UK launch of DIY Citizenship: Critical Making and Social Media (MIT Press), this one-day symposium welcomes DIY Citizenship co-editor Professor Megan Boler - University of Toronto for a keynote and discussion with Professor Ian Hargreaves - Cardiff University - PI on the UK Creative Citizens research project, followed by a day of dialogue about DIY citizenship in making, activism and design.
Boler and Hargreaves will be joined by contributors to the DIY Citizenship collection, researchers and active participants in DIY culture in the UK to critically examine forms of DIY citizenship that have emerged in recent years.
Sessions will look at:
DIY Making - Shawn Sobers and Mandy Rose (DCRC/UWE Bristol) and Matt Ratto (Univ. of Toronto)

DIY Design - Joel McKim (Birkbeck), Ann Light (Northumbria University) and Katerina Alexiou (Open University)
DIY Activism - Red Chidgey (King's College London) Hannah Nicklin (DCRC/UWE Bristol) and Amy Spencer, author of DIY: the rise of lo-fi culture
---
The DIY Citizenship Symposium is convened by Mandy Rose and Amy Spencer for the DCRC
Any questions please get in touch via: diycitizens@gmail.com
Organiser of DIY Citizenship symposium
The Digital Cultures Research Centre (DCRC) is a space for research into the practices and socio-cultural meanings of emerging media. In a context of transforming media cultures, in which established methods of producing and understanding media are undergoing rapid change, we study the application, processes and politics of digital creative technologies. We map and contextualise emerging practices. We critically reflect on their aesthetics, ethics and impacts.