DIY Mini Synth Kit Workshop

Wednesday, 28 May 2014 from 19:00 to 21:00 (BST)
Event Details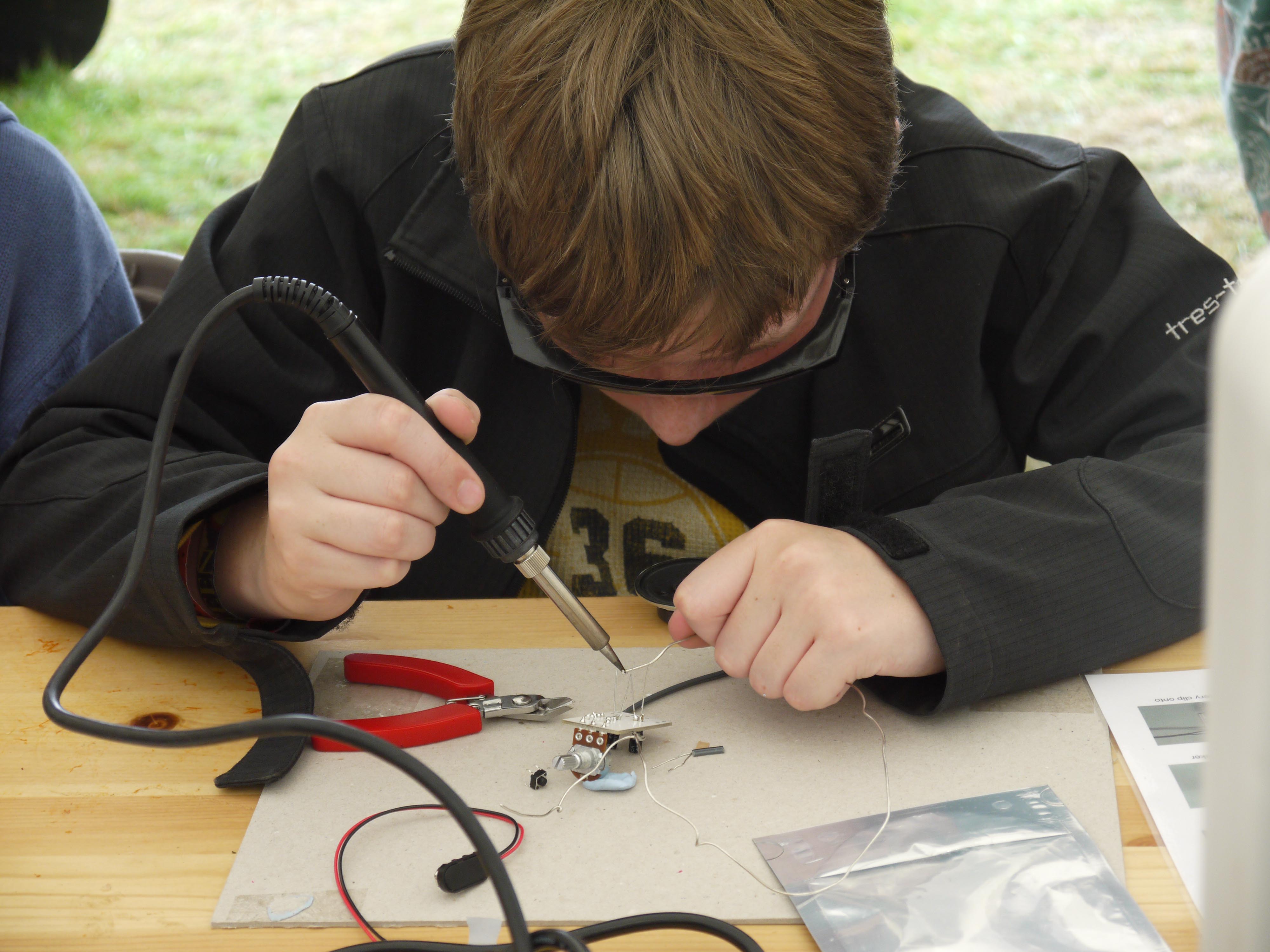 Do you love sound? Have you always wanted to build your own audio electronics? Explore the world of synthesisers, noise makers and pulse generators by making your very own DIY Mini Synth! 
You will use basic circuitry to create an amazing DIY electronic synth that will give you an introduction to playing with electronics and the components that make up most of the technology in our lives. 
You will learn the art of soldering and discover how pressing a button can create a beat and how turning a potentiometer you can discover the wonderful sounds of electronic synthesisers. Then you will turn the box into your very own case and gt creative with an area of craft materials to personlise it and make it your own. 
So whether you want to teach your kids about electronics or you want a new and easy way to learn the basic principles of electornics and circuitry come and join us.
You will leave with some great skills and some great objects and an understanding of how to start making and inventing with electronics.
This workshop is suitable for children aged 8 and up.
When & Where

Rough Trade East
91 Brick Ln
Dray Walk
E1 6QL Old Truman Brewery
United Kingdom


Wednesday, 28 May 2014 from 19:00 to 21:00 (BST)
Add to my calendar
Organiser
Technology Will Save Us is one of the UK's most exciting design-led, technology start-ups focused on learning. We are on a mission to provide families, educators and young people new opportunities to learn and create using technology. Based in Hackney, East London, we are establishing the most accessible ecosystem for hands on learning with technology that includes DIY Gadget kits, activities and online resources. All of our products are vehicles for education that encourage everyone to make, play, code and invent with technology. Using everyday life as inspiration, our kits tap into the hobbies and passions that we love - music, gardening, cycling and gaming. Everyone learns more when they care about what they are making. Founder and CEO Bethany Koby believes 'Making things in the real world using technology provides more immediate satisfaction, emotional and intellectual awareness and a deeper understanding of the skills learned." Our aim is to inspire a new creative generation that see technology as a tool for solving problems and making things with; equipping them with the skills - soldering, electronics, programming, design, debugging, problem solving and confidence - that are essential for today's world.