Description
DIY Wedding Flower Workshop
Are you creative and getting married or know someone who is? Would you like to be able to get hands on by creating some of your wedding flowers? Then this beginners floral workshop is designed for you.
Walk away knowing how to create a table centrepiece in oasis, a button hole, a greenery garland, and how to create a vase arrangement. What is the satifaction (and the saving) of doing it yourself worth to you? If you're anything like me then you want to get in there and get hands on!
Some people have a fear of flowers but once you understand the basics, which I can share with you, you can walk away from this workshop not only feeling confident but with step by step notes and of course the florals that you have created yourself!
How does the workshop work?
Dee will be hosting the workshop. She is a wedding stylist and florist and also a floral tutor with the UK Academy of Wedding & Event Planning. It's a small group session where everyone takes part and creates 4 different wedding themed floral items. Be prepared to do it yourself, this is a hands on interactive workshop! We work at your pace so that you can ask any questions that you like as we move through each design.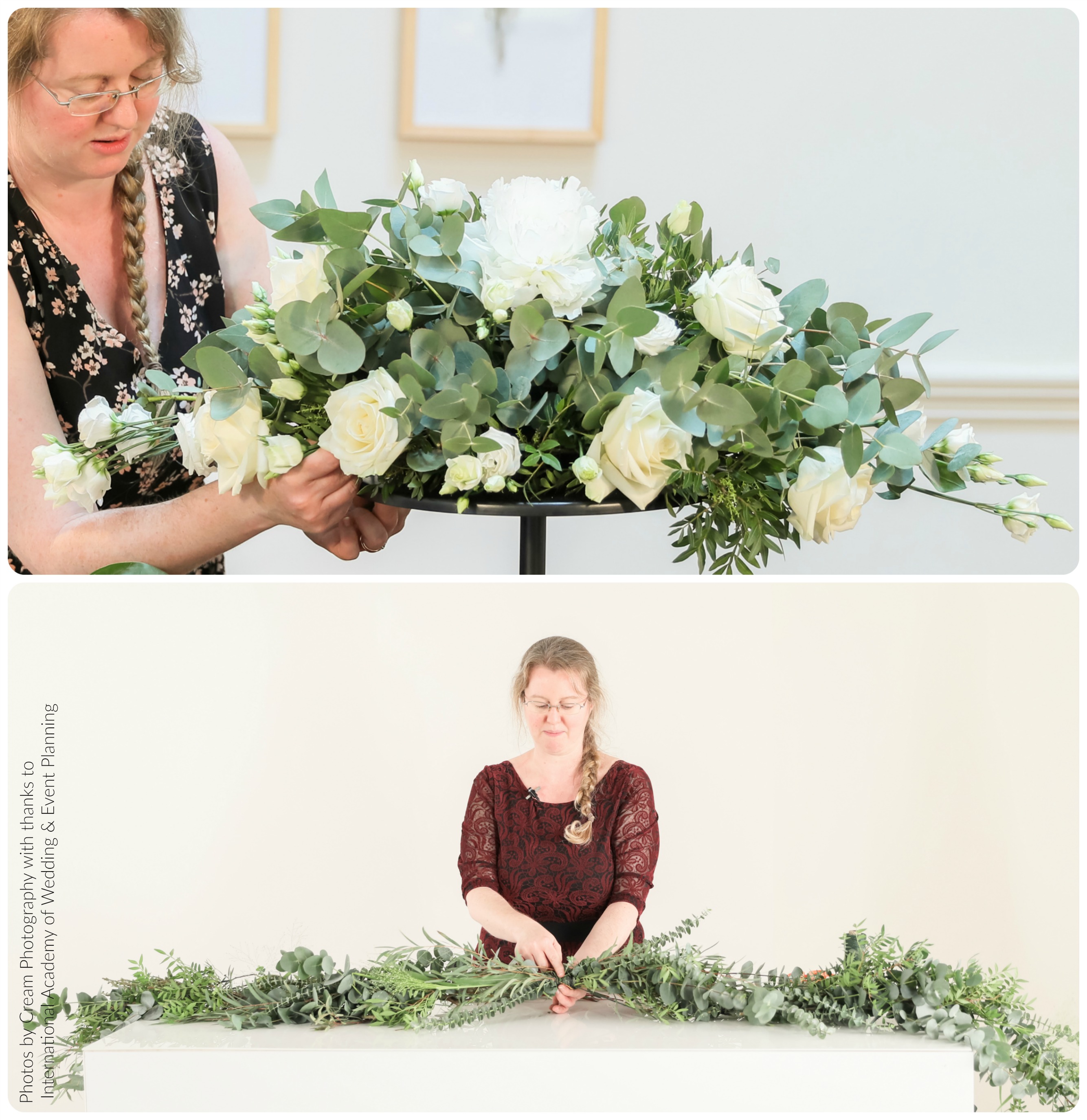 What will I learn?
Firstly, a very quick guide to buying flowers wholesale online - yes you can do this as an individual and have them sent to your front door! And what to do when they arrive - how to store and prepare your flowers like a pro. And we talk prices too!
Then we get hands on and work our way through 4 different techniques you may want to use for wedding reception or ceremony flowers.
You will create a small posy suitable to sit in a vase or other container of water, a gents button hole, a greenery garland (perfect to swag a table, as a long table centrepiece, or ever over a doorway or along a stairs), and finally a traditional long and low top table arrangement in oasis.
With these skills you will learn the basics that can be applied to create almost any type of wedding table centrepiece. Have a specific idea in mind - then ask away and I'll share with you how I would approach it.
Do I need any experience of flowers to take this workshop?
No - none at all. If you have then great. If not then no problem at all.
Do I need to bring anything with me?
A sharp scissors is essential, a pen and notebook for you to take notes, an apron if you think you will make a mess on your clothes! And a camera - or even your phone so that you can take step by step photos to remind yourself how you made your masterpiece.
What's included in the price?
All of your flowers are included in the workshop cost, as are the sundries that you will be using. Your tuiton from Dee and a set of step by step take home notes on the designs that you have created. Tea and coffee is provided at our break time.
TICKET TYPES:
So this workshop has 2 different ticket types.
Individual Ticket:
Entry for one person to one workshop.
Plus One Ticket:
Entry for two people to one workshop where you create one full set of floral designs between you. Designed for you to work as a team on the same flowers together, the price is cheaper because you only have one set of flowers between two people. If you both want to create your own, then you will need to buy 2 individual tickets.