Location
The Media Factory
Kirkham St
Preston
PR1
United Kingdom
Description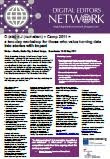 How do you find data for a story? Or the stories hidden in a dataset? What easy-to-use tools are there to collect, analyse and convey compelling stories?
DJCAMP2012 will cover the key stages of data journalism, from spotting leads for data stories, to finding the data in the first place, interrogating it, and visualising it.
Over two days, you'll not only get practical advice, but chances to apply your learning through hands-on exercises with the help of international-recognised digital journalism thought leaders and trainers brought to you by the Digital Editors Network and the MADE project.
If you're keen to build your own data scraper and have at least a basic background in software development languages Ruby and/or Python , you may want to join the linked Scraping Masterclass with Julian Todd from ScraperWikion Saturday, 22 September.

When and where?
DJCAMP2012 runs from 9:30am – 7pm Friday, September 21 and 9:30am to 5pm Saturday, September 22 at the Media Factory, UCLan, Kirkham Street, Preston PR1 2HE

The Scraping Masterclass with ScraperWiki, supported by MADE Project, runs from 9:30-1:30pm on Saturday, September 22, in the Media Factory.
Fees?
Fifteen places for #DJCAMP2012 have been reserved for participants in the MADE project, which is a winner of the International Press Institute's News Innovation Contest sponsored by Google .
An additional 10 spaces are open to others interested in building their data journalism skills.The £200 fee for the two-day workshop includes materials, lunches and wireless broadband.
Please indicate if you will attend the Scraping Masterclass with ScraperWiki. There is no charge for this masterclass, which is supported by the MADE project.

Transport?
Getting to and around Preston is easy and the Media Factory is a short walk ride from the city centre and Preston railway station,
Venue?

Transport? Getting to and around Preston is easy with direct train links from Manchester (40 minutes), Liverpool (58 min) Manchester Airport (60min), London (2h14), Glasgow (2h20). As these directions show, the campus is a 10 minute walk, or 5 minute taxi ride from the station and recommended hotels.

Accommodation?
There is a range of accommodation options available in Preston, including the very conveniently located Legacy Preston International (Code: 'uclan journalism', rate £59.50 b&b sometimes online booking sites offer slightly better rates) and the new Premier Inn Central, which both get very good reviews. The Holiday Inn Ringway and the Travel Lodge Central are only slightly further away.

Food?
Of course, we'll keep you fuelled throughou the day (not evenings). Vegetarian options are standard. If you have any additional requirements, please let us know.


What to bring?
Besides curiousity and creativity, you'll need to bring your own laptop.
Wireless broadband and power outlets will be available.Every participant will also be expected to share in the 1X2X3 session (1 top X 2 slides X 3 minutes) on Friday evening (you'll be offered at least one glass of wine to bolster your spirits).

Dress? Very comfortable.
Questions about #djcamp2011? Contact François Nel at FPNel@uclan.ac.uk or @francoisnelto discuss this workshopfurther.