Description
Diversity Matters Awareness Week at London College of Communication
UAL GEMS MEMBERS: CULTURE, CHANGE AND IMPLEMENTATION
12.30pm - 2.30pm
Join us for a workshop lead by GEMS (UAL black staff network) co-chair, which will focus on addressing key aspects of culture, change and implementation:
First, being a trusted space for discussing issues/concerns currently facing GEMS members/POC at UAL, which might prove difficult raising elsewhere

Participants will then focus on the network's potential to help shape some of the culture and behaviours within the organisation, by tapping into the ideas, passion and knowledge of the people/participants who work here.
FREE. This event is aimed at UAL GEMS staff network members. Light lunch will be provided
Other events during Diversity Matters Awarenes Week at LCC open to all UAL students, staff and guests. Bookable at www.diversity-matters.org.uk/LCC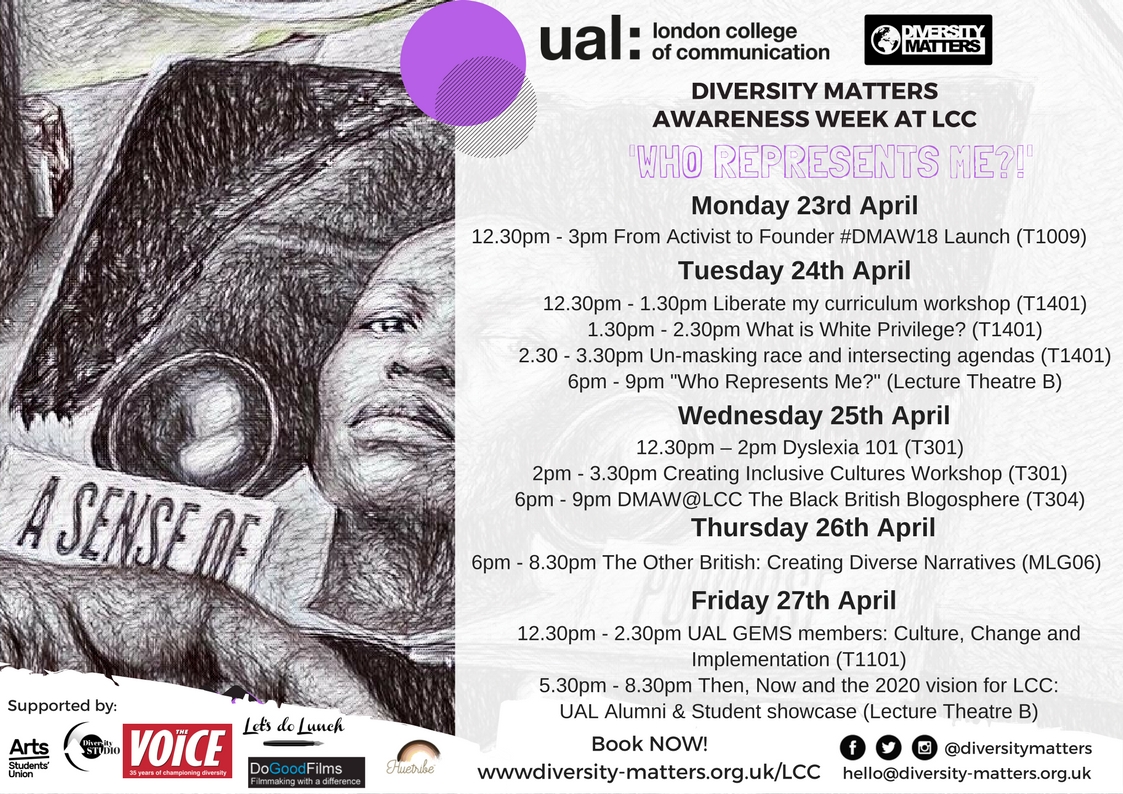 Diversity Matters filming and photography notice
Diversity Matters will be carrying out filming and photography at this event. By attending this event you are deemed to have granted permission to yourself being included incidentally in any such filming and photography.
Please speak to a member of the DM team for more info or if you do not wish to be photographed.
For event enquiries, sponsorship/partnership, speaker opportunities or to request a press release please email Kai kai@diversity-matters.org.uk
www.diversity-matters.org.uk/LCC
www.diversity-matters.org.uk/dmaw18
Organiser of DMAW AT LCC: UAL GEMS MEMBERS: CULTURE, CHANGE AND IMPLEMENTATION