Description
Diversity Matters is back for the second year running hosting Diversity Matters Awareness Week starting with at London College of Communication 23rd - 27th April 2018!
The week's events will focus on issues of race equality in education and in the workplace where significant disparities and inequalities remain. This year's theme is 'Who represents me?' addresses lack of diverse representation from curriculum to descision-making. We aim to tackle these issues through having open and honest dialogue for change to be implemented.
Dyslexia, Selfcare and Creating inclusive spaces:
12.30 - 2pm Dyslexia 101: A Blueprint for Success
Whether you are diagnosed with dyslexia, suspect that you might be dyslexic, or steer towards a more right-brain way of thinking and creativity, this session is for you. It is clearly evidenced that the creative industry attracts a large number of people who are dyslexic, bringing with them a range of talents, including creativity, intuition and problem solving! During this session, Saraswati Truong, author and founder of Radical Intelligence, will guide you through everything you need to know to empower yourself and succeed– but were likely never told.At the end of the session, you will learn:
The power of how your mind works and why this way of thinking is needed more than ever before in the rapidly changing world of AI and Tech
The confidence to feel empowered and live authentically
How to move through common blocks and limiting beliefs such as overwhelmed, having too many ideas, procrastination, low self-esteem, fear and resistance
Self care to perform at your optimum
Accessing your FLOW and SUPERFOCUS state
Living your purpose
Facilitated by Saraswati Founder of Radical Intelligence www.radicalintelligence.co
2pm - 3.30pm Creating inclusive cultures that are Stigma-free
We look at how we can create a culture of trust where managers feel confident to ask students and staff about their wellbeing knowing how this dramatically improves employee engagement, productivity, efficiency and results. Learning outcomes:
We explore what it is like to suffer in silence with a mentalhealth issue in the workplace/learning environment
We look to inspire openness by saying 'its okay not to be okay' and to share vulnerabilities
We explore lots of ideas of how to create a culture that drives energy levels and improves presenteeism.
We look at the importance of using the right language to encourage honest and open conversation about wellbeing.
We understand the importance of setting the tone from the top and what we mean by management education.
Facilitated by David Beeney founder of Breaking the Silence www.breakingthesilence.co.uk
FREE for all (booking essential)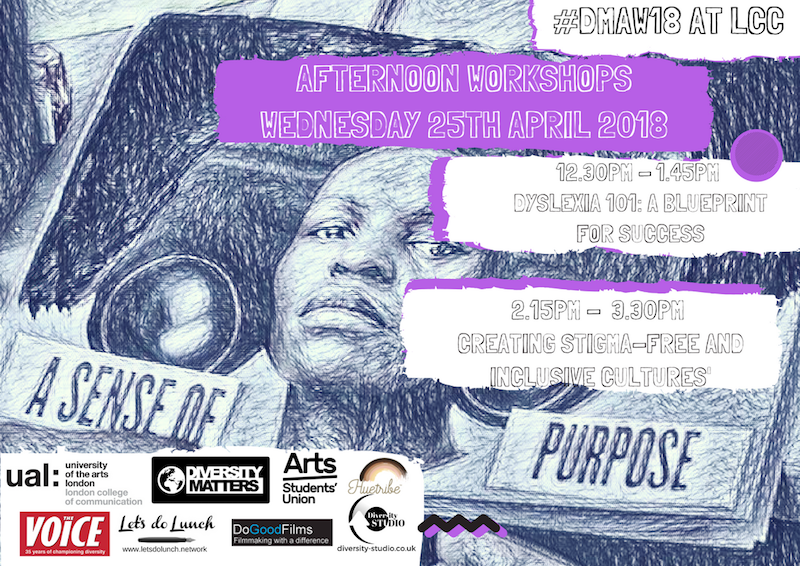 Diversity Matters filming and photography notice
Diversity Matters will be carrying out filming and photography at this event. By attending this event you are deemed to have granted permission to yourself being included incidentally in any such filming and photography.
Please speak to a member of the DM team for more info or if you do not wish to be photographed.
For event enquiries, sponsorship/partnership, speaker opportunities or to request a press release please email Kai kai@diversity-matters.org.uk
www.diversity-matters.org.uk/LCC