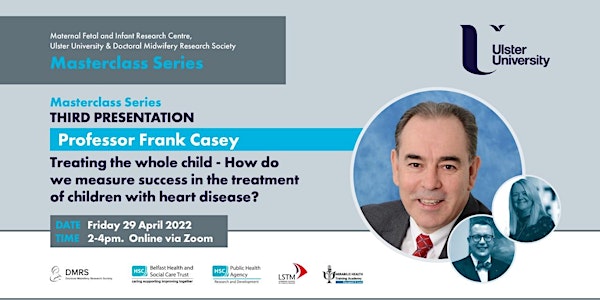 DMRS Masterclass Series: Treating the whole child with heart disease
Third Masterclass in the series for 2021/22 with Professor Frank Casey, Clinical Professor Paediatric Cardiology Ulster University and QUB
About this event
Treating the whole child- How do we measure success in the treatment of Children with heart disease?
Professor Frank Casey, Clinical Professor Paediatric Cardiology Ulster University and Queen's University Belfast; Consultant Paediatric Cardiologist Royal Belfast Hospital For Sick Children
The dramatic improvement in survival of children with Congenital Heart Disease due to advances in surgical and medical treatment is one of the success stories of modern medicine. But survival alone is not an adequate measure of success. In this masterclass, Professor Casey will discuss how we critically evaluate successful treatment in relation to quality of life, including physical, psychosocial and educational outcomes.
The Doctoral Midwifery Research Society is funded by the Health and Social Care Research & Development Division of the Public Health Agency in Northern Ireland and the Ulster University Maternal, Fetal and Infant Research Centre.
Find out more about the DMRS at https://www.doctoralmidwiferysociety.org/
Biography- Professor Frank Casey
On 1st September 2021 Professor Casey took up the position of Clinical Professor of Paediatric Cardiology, a new joint appointment across Ulster University, Queen's University and Belfast Trust. This post was created by the All-Island Paediatric Cardiology Network and the aim is to establish an Academic Department of Paediatric Cardiology and develop research and education in this field on an All-Island basis through collaborative projects.
Professor Casey is a highly experienced Clinician, having worked in the Belfast Trust as a Consultant in Paediatric and Fetal Cardiology since 1996. Since 2015 he has been the Northern Ireland Clinical Lead for the All-Island Paediatric Cardiology network and been a key figure in it's development and implementation.
Frank is recognized internationally as a leader in research of Neurodevelopmental outcomes for children with congenital heart disease and also in the applications of E-Health and Telemedicine applications to the field of Paediatric Cardiology. He has been a key figure in developing the Neurodevelopmental & Psychosocial Working Group of The Association for European Paediatric & Congenital Cardiology (AEPC). Frank has published over 60 publications in peer-reviewed Medical and Scientific journals and has also recently co-authored a book, "Congenital Heart Disease and Neurodevelopment" published in June 2016. He has delivered more than 40 invited lectures at International conferences.
His other main areas of research interest are in quality of life for children surgically treated for congenital heart disease and in the next few years he will also have a focus genomics in congenital and inherited cardiac conditions.
He has secured extensive research funding and supervised many Paediatric Cardiology trainees to completion of M.D. through research. The recently established Academic Paediatric Cardiology Research programme will be funded in 2002-2027 by an investment of £3.4 million from Department of Health Northern Ireland giving an exciting opportunity to initiate new projects.
Frank will co-host the Association of European Paediatric and Congenital Cardiology annual conference in Dublin 2022. He is a member of the organizing committee of the World Congress of Paediatric Cardiology scheduled for 2023.