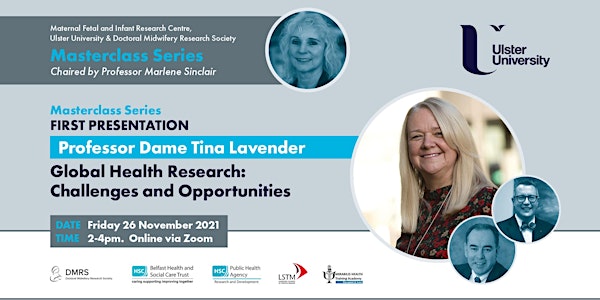 DMRS Masterclass Series:Global Health Research: Challenges & Opportunities
Sales Have Ended
Registrations are closed
Thank you for your interest in this conference. Registration for this event have now ended. The next DMRS Masterclass in this series for 2021 is on the
Sales Have Ended
Registrations are closed
Thank you for your interest in this conference. Registration for this event have now ended. The next DMRS Masterclass in this series for 2021 is on the
The first Masterclass in the series for 2021/22 is with Professor Dame Tina Lavender, Professor of Maternal and Newborn Health
About this event
Global Health Research: Challenges and Opportunities
Prof Dame Tina Lavender
Professor of Maternal and Newborn Health
Department of International Public Health
Liverpool School of Tropical Medicine, UK
This Masterclass will use examples from the field to provide the audience with insight into global health research, including obtaining funding, delivery the research, demonstrating impact, and ensuring sustainability. The Masterclass will be suitable for researchers, regardless of career level, who wish to embark on global health research or enhance their current portfolio.
The Doctoral Midwifery Research Society is funded by the Health and Social Care Research & Development Division of the Public Health Agency in Northern Ireland and the Ulster University Maternal, Fetal and Infant Research Centre.
Find out more about the DMRS at https://www.doctoralmidwiferysociety.org/
Professor George Kernohan Birth across Borders: Culture Shock with Huge Potential
Families that lose a mother in pregnancy or childbirth face many challenges. The gap left by maternal mortality can lead to a loss of income and poverty. It can cause family pressures, especially for girls are left to care for younger children and are not able to go to school. Many of these families come from communities that are already poor, with little infrastructure and limited access to decent healthcare. This can cause a higher risk of death, both for mothers and babies, especially in poor countries. Opportunities are more limited because families lack money and education. Myanmar is a South East Asian country that has had many years of tension and conflict between the different people groups. Many of these groups live in remote mountainous areas where basic resources and infrastructure such as electricity are limited. There is often little healthcare in these areas with very few doctors, nurses or midwives to care for mothers and their families. One in 23 women in Eastern Myanmar either die or come close to death during pregnancy or childbirth. These challenges are all very typical in developing countries across the world today, but a lot can be changed with education that makes sense to mothers and families in their situations. Working together with our local partners we intend to learn more about the specific challenges facing families in four regions of Myanmar. From this we will co-develop three education programmes which will be adapted for each region. Our project will focus on remote regions in Myanmar and together we plan to learn how to find ways to overcome the legacy of many years of poverty and conflict. This project will include staff from our universities in Northern Ireland and local partners who come from or have been working in the region for many years. Through this project we hope to help support the work of all our partners and improve education for mothers, families and communities. A key part of our project is making sure that the education they receive makes sense in their situations and includes their beliefs and customs leading to improved health, social and economic opportunities and accessible healthcare. We plan to share what we do with other organisations working in Myanmar who may also benefit from our research. Finally, it is hoped that our research will contribute to current policies and practices in partnership with the government of Myanmar and the ethnic health organisations.
2.00 – 2.10 Professor Marlene Sinclair
The Maternal, Fetal and Infant Research Centre & Doctoral Midwifery Research Society at Ulster University
2.10 – 2.20 Professor Victor Gault
Welcome to the first MFIR/ DMRS Masterclass
2.20 – 3.20 Professor Dame Tina Lavender
Global Health Research: Challenges and Opportunities
3.20 – 3.50 Professor George Kernohan
Birth across Borders: Culture Shock with Huge Potential
3.50 – 4.00 Professor Marlene Sinclair
Conference closing remarks