An online forum on AI and the public-private sector collaboration
About this event
https://www.nemesventures.com/humanaize
#humanAIze and Data Natives are inviting you to experience a beautiful human-centric performance on Artificial Intelligence & exchange on the public-private sector collaboration: From AI policy to AI adoption in Europe fueled by data and global insights.
At #humanAIze & Data Natives Open Forum, we will explore the nexus of mobility, automation, personal and environmental change in the context of the regional economy. We will connect ideas with practice and address current challenges and future opportunities.
We are inviting you to join the online agenda from 15:00 to 18:00 CET and:
Get thought-provoking content with a multi-disciplinary & cross-functional overview
Connect with diverse leaders that have climbed the mountain of success & challenges in AI
Gather ideas and methodologies that you can put into practice to advance your own AI strategy and execution
Get inspired by the spirit and have fun by interacting with AI innovators
PLEASE NOTE THAT YOU NEED TO REGISTER FOR A DN UNLIMITED TICKET TO SECURE YOUR ATTENDANCE
The discussions will start at 15:00 PM CET and run until 18:00 CET at our virtual event platform.
Who will attend:
Business & Technical Leaders, Government officials, charity and non-profit organizations
Philosophers, Anthropologists, Neuroscientists, Doctors, Artists
Professors, Researchers, NGO & Public Sector Leaders
The talks will be held by the world-renown experts such as Gretchen O'Hara (CVP AI & Sustainability Microsoft USA and Co-Founder Women in Cloud), Darius Semaska (Ambassador of Lithuania in Germany), Andrea Martin (Leader of the IBM Watson IOT Center Munich & Expert Member Commission), Katharina Schueller (CEO STAT UP & Data Scientist) & many more.
The program will combine keynotes, a panel, and an online matchathon (a networking session to connect attendees online as final part of the event).
This event is great source of ideas for communities of AI experts, influencers and advocates, data scientists, developers, business and humanities experts.
Agenda:
28 SEPTEMBER 2020
FROM 15:00 - 18:00 CET
ONLINE
15:00 - 15:15 CET Opening with the #humanAIze & Data Natives Founders
Nancy Nemes, Founder of #humanAIze and Ms. AI, MD Nemes Ventures
Elena Poughia, Managing Director Dataconomy Media & Data Natives
15:15 - 16:00 CET: Keynotes
CEOs Theme: Human & Augmented Intelligence - Megatrends, Challenges and Value Propositions
Gretchen O'Hara, Corporate Vice President for AI and Sustainability Microsoft USA and Co-Founder Women in Cloud
NATO and AI
Mircea Geoana, NATO Deputy Secretary General
The 3 Elements of success for AI Impact
Nancy Nemes - Founder of #humanAIze and Ms. AI
16:00 - 17:30 CET: Anti-Fragile Models for Facilitating AI-based Innovation: Responsibility, Regulation, Trust, Human Wellbeing and Robust Collaborative Models fueled by Data and Global Insights
Panel and Audience Q & A
Katharina Schueller - CEO STAT UP and Data Scientist
Prof. Dr Klaus Diepold - Professor Machine Intelligence Technical University of Munich
Algirdas Stonys - CEO TeleSoftas
H.E. Ambassador Darius Semaska - Ambassador of Lithuania in Germany
Megan Schaible - COO Reaktor Education and Elements of AI
John C. Havens - Executive Director at The IEEE Global Initiative on Ethics of Autonomous and Intelligent Systems, Author of Heartificial Intelligence
Moderated by: Rüdiger Lentz, CEO Aspen Institute Germany
17:30 - 18:00 CET: Why trust will be vital in the next step of AI evolution
About #humanAize:
#humanAIze is a unique platform for exchange and education connecting AI experts from private and public sectors and cross-pollinating with philosophers, anthropologists, doctors, neuro-scientists, psychologists, artists and more to spark new ideas that drive business and societal value. At #humanAIze we are connecting ideas with practice and address current challenges and future opportunities. #humanAIze helps you foster clarity and qualitative execution in your industry. With a focus on Europe, we are driving optimism, courage and ambition to establish the region as a global leader in AI.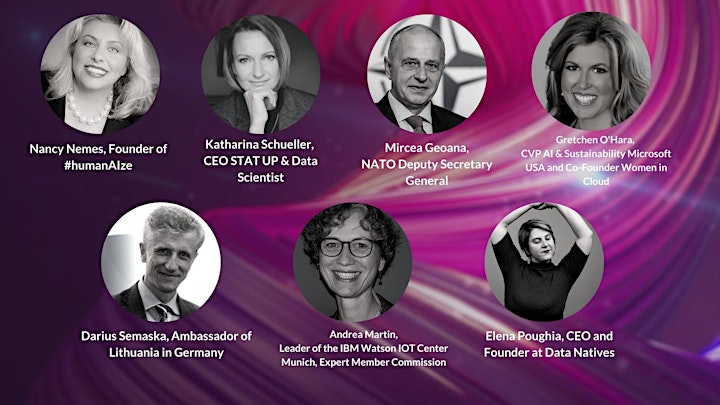 Organiser of DN Unlimited 2020 Open Forum #humanAIze | Special Edition
Data Natives is Europe's leading events platform for the data-driven generation. Born in Berlin, Germany - Data Natives emerged to spur the interaction between startups and businesses within the growing field of within the growing field of Big Data, AI, Machine Learning and IoT. With 7 successful conferences behind us, Data Natives has become synonymous with exploring the key trends of our data-driven generation. In 2019, we hand-selected 182+ thought leaders across disciplines to spark collaboration and inspire our attendees.
In 2020, we are expanding our activities to global audiences passionate about technology, society and enterprise through the lens of data. We invite you to be a part of the DN Unlimited experience.
Join the "biggest and coolest audience" from the tech scene in Berlin & beyond to learn, be inspired, and meet leading data science thinkers across industries.