DNB Allstars and The Blast team up to bring some of the biggest names in DNB to Motion Bristol!
About this event
DNB Allstars comes to Bristol for their biggest event yet alongside local bassmusic pioneers The Blast!
*******************
🌍 THE DEBUT DNB FEST! 🌍
🚀 OVER 30 OF THE BIGGEST NAMES IN THE SCENE 🚀
⚡ EIGHT HOURS OF HIGH-ENERGY TUNES ⚡
💥 CROSSING THE SPECTRUM OF DNB 💥
*******************
We're hyped to announce the rescheduled date for the debut DNB Fest with DNB Allstars! 🙏
Presenting 8 HOURS of heavyweight DNB + unbeatable vibes for DnB Allstars' BIGGEST event to date at the iconic Motion Bristol! For their largest ever event it seemed appropriate to hold it in the spiritual home of DNB, Bristol... so they're teaming up with the city's bass music pioneers The Blast for the debut of DnB Fest, guaranteeing high doses of energy from some of the scene's most iconic players...
Presale tickets SOLD OUT in under 24hrs so make sure you grab your tickets asap as you don't want to miss this one!!!. See you front left! x
*******************
[MOTION]
▶︎ SASASAS
▶︎ DJ Hype
▶︎ Benny L
▶︎ K Motionz
▶︎ Alcemist
▶︎ Georgia
[SPECIAL GUESTS]
▶︎ TNA
[MARBLE FACTORY]
▶︎ Dimension
▶︎ A.M.C
▶︎ Audio
▶︎ 1991
▶︎ Kyrist
▶︎ Jaydrop
[SPECIAL GUESTS]
▶︎ Annix
[THE TUNNEL]
▶︎ Nicky Blackmarket
▶︎ Goddard
▶︎ Kara
▶︎ Zoro
▶︎ [THE BLAST] DJs
[HOSTED BY]
▶︎ Texas
▶︎ Phantom
▶︎ Remidy
▶︎ Jakes
▶︎ Juma
*******************
18+ [No ID, no entry]
Join the Facebook event: https://www.facebook.com/events/2406355412952567/
Make sure to LIKE The Blast & DNB Allstars for updates!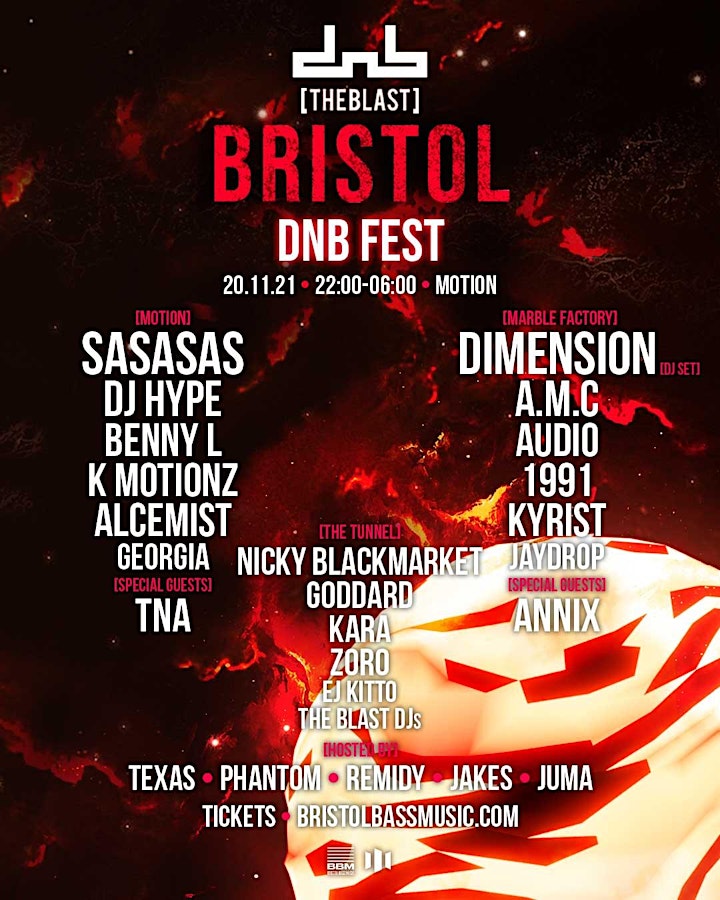 Organiser of DNB Allstars x The Blast present: DNB Fest