Description

B2B Marketing USA in collaboration with Omobono present-
Marti Konstant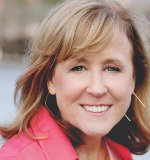 Agility: Career Currency for Marketers
If the times are a-changing, so should you.

The half-life of a marketing job is shrinking. Roles are morphing into new job categories. Marketing titles are changing as fast as trending topics on social media. Technology continues to disrupt the rhythm of our so-called careers.

Come learn about the Agile Career at our September Digital Not Digital networking event. Marti Konstant, CEO of KonstantChange, will explain how optimization of creativity, growth and happiness will fortify your market relevance.

Marti Konstant's is c Her work as a career development innovator led to the establishment of the Career Agility Project, which is based on in-depth interviews with more than 100 leaders who made successful career transitions. Marti has held many roles in her own career, including technology executive, entrepreneur, growth hacker, visual artist and designer. She has also delivered marketing programs for companies like Samsung Mobile, Apple, Tellabs, Clear Communications, and Open Kernel Labs (OK Labs).