Series of workshops exclusively for the DNG community run by members of the Inner Circle: understanding climate science
About this event
Let's face it, understanding the science of climate change can be pretty intimidating! 😰
That's where the Climate Collage comes in! 🤗
You'll be supporting DNG girls in 8 countries as many of them host their first workshop:
Monday 19th 1pm EST/New York | 11am PDT/LA: | 6pm UK: Fern (Allie) Fetherston is hosting her first workshop from Canada with Allison Whitaker - this workshop will have a North American vibe
Tuesday 20th 9am COT | 4pm CEST | 3pm UK: Naira Bonilla wants to reach DNGs in Latin America - she's in Spain
Wednesday 21st 9am CEST | 3pm Bali | 5pm AEST: Andreia Olaru has been delivering Climate Collages for a few months now - she's in Sweden
Thursday 22nd 9am Shanghai/Bali | 11am AEST | 6pm PDT/LA on 21st: Ely Bakouche is in Shanghai and has been hosting workshops for a while - she wants to reach more people on the US West Coast
Friday 23rd 10am UK time | 4pm Bangkok : Alex Turner will be hosting her first workshop from Scotland
Friday 23rd 5pm EDT/New York | 2pm PDT/LA : Federica Bruniera will be hosting her first workshop from Colombia
Saturday 24th 10am CEST | 6pm AEST: Silvia Schmidt will be hosting her first workshop from Germany
Sunday 25th 4pm EEST | 9am EDT/New York: Becky Wong will be hosting her first workshop from Bulgaria
More workshop dates to be confirmed. More can be added if the demand is there. Support your DNG friends as they step up their climate action. The first workshop is always the hardest, so we're looking for warm supportive members who can be encouraging and will still learn A LOT!
What is it?
An interactive workshop to sharpen your climate science knowledge
A systems mapping activity to understand the causes and effects of a complex system
A creative and visual way to understand climate science
A team activity to meet other DNGs who are curious about climate change
Logistics
Workshop is 3 hours long with a 10 min break in the middle
Max group size is 6
You will need to be at a laptop and ready to engage and learn (this is not a passive webinar, your participation is needed and encouraged)
Your Zoom link will be shared by your facilitator 1 day before your workshop
Cost
To confirm your spot, please pay a deposit of £5 - this money goes to With Many Roots to support their admin and to avoid no-shows. No-shows are very tiring and I don't want to let these girls down.
The workshop will be pay-what-you-feel. Your facilitator will share their payment method at the end of the workshop. Your facilitators will have put a lot of time and effort into preparing this workshop. The suggested donation is £25.
10% of all income goes back to Climate Collage NGO
More about The Climate Collage
The Climate Collage is a non-profit organisation that aims to raise awareness and understanding about climate change. It was founded by Cédric Ringenbach in 2018 who is the creator of the workshop having the same name. ​
"The Climate Collage" is an educational tool based on the conclusions of the IPCC* report helping participants understand our climate system and the consequences of its disruption.
So far more than 100 000 people have played worldwide.
Many members of DNG and the Inner Circle have already played, here's what they had to say:
"I played a few months ago and LOVED it. Do it!" Silvia
"Fantastic workshop packed full of information, ideas and facts, but presented in a really engaging way. I've learned a lot and feel very inspired to step up to take action. Sophia presents information so clearly and articulately and is a total master at breaking down big concepts into manageable bite-sized chunks you can actually do something with." Alex
Laura P wrote a blog about it here.
"Definitely recommend this!!! It was a fun, non-judgmental way to learn about the intricacies of the climate crisis that has stayed with me 💚" Melissa
"I wanted to thank YOU again for the amazing event you hosted yesterday! It truly opened up my eyes on climate change and made me learn so much, I'm so grateful for you putting this together 🙌" Ines
Sam interviewed Sophia and talked about it on her podcast.
"I loved the discovery element - it felt like I was building on knowledge that I already had - as opposed to one way learning. It stayed light and fun, though we were dealing with some pretty heavy topics. We had a really genuine lovely chat after - it sparked some good new thought." Katie
"I wanted to thank you for giving me the opportunity to join a Climate Collage workshop. It was such an eye opener!" Mara
"Thanks again for the workshop last night! Knowledge is power and I learned a lot doing the Climate Collage!" Jennifer
We ran 4 workshops for the Inner Circle in 24 hours on Black Friday last year - now we're taking it out to the Facebook community.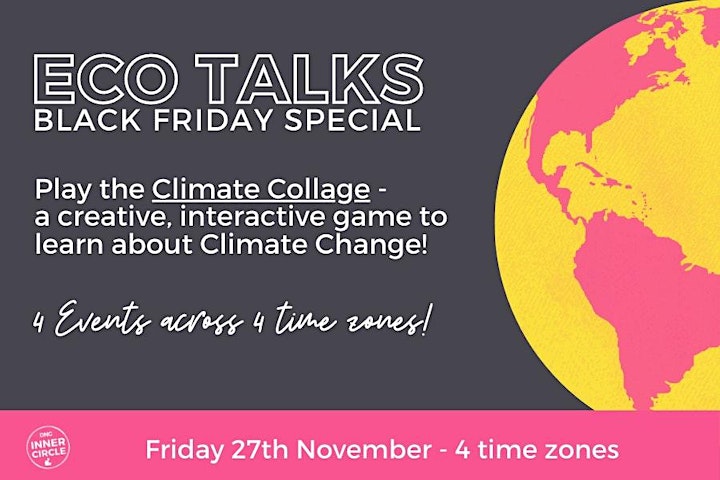 These events have been organised in partnership with Digital Nomad Girls and With Many Roots.
Join the Inner Circle - where the confidence to grow into this project came from
With Many Roots - The climate crisis together with rising inequality is the biggest issue of our time- through workshops, mentoring and words, we'll help you find your place in the movement.
Organiser of DNG Earth Week special -getting to grips with climate science