Event Information
Refund Policy
Refunds up to 30 days before event
Description
Reserve your place for the next workshop.
What is the Grid workshop?
Many people suffer from regular conflicts between their mind, heart, body and spirit. Watch my TEDx talk to find out more.
These conflicts manifest in a lack of fulfilment, inner emptiness, a lost sense of purpose, health issues, and dissatisfaction. In the workplace they contribute to disengagement, loss of focus and lack of productivity as well as poor leadership. Such conflicts can be eliminated using integration work, which is what I specialise in.

The Grid workshop, is an opportunity to experience integration in a practical way.
I have developed this simple and highly effective framework to support you if you're...
a high flyer whose work agenda steals you away from the rest of your life and family,
an entrepreneur, creative or freelancer with a long to-do list desperate to find more time,
a single parent juggling work and children who wants to grow your career,
a person who works in a high pressure, stressful environment and needs to change how you work,
a trainer, coach or therapist passionate about supporting others.

A common thread in all these lives is the desire to balance work, career, life and self-care. Putting this into practice is not easy. In fact, without key insights, tools and good habits - it is impossible.

The Grid helps you balance your key priorities and goals in a way that leaves you achieving more whilst feeling refuelled. This is largely due to the Grid being grounded in how the mind and body actually work together. The approach is simply life-changing and fun.

After many endorsements of the power of the Grid from countless clients, other professionals, fellow practitioners who studied with me in professional masterclasses, as well as many readers of Psychologies Magazine nationwide, I am running practical Grid workshops to help people take back control over their lives and work.
Why not come and learn this useful tool and make 2018 be the year you start to thrive! The Grid is an absolute MUST for the way we live and work today.

Make each day a good day with key neuroscience insights to help you break existing bad habits.

Learn the power of energy surfing, mind clearing, and being more focused.
Break free from the stress and trap of constant deadlines.

Get clear on your larger life goals and start taking concrete steps to realise them.

Rediscover how brilliant and amazing you really are by learning how to use your mind in a way that actually supports your body, heart and spirit.
Don't delay. Book now!
In the meantime, why not join the Facebook Grid community.

Corporate/Workplace
If you would like to book this workshop for your workplace as part of your wellbeing or mental health agena, please contact Madeline Christey - madeline.christey@btinternet.com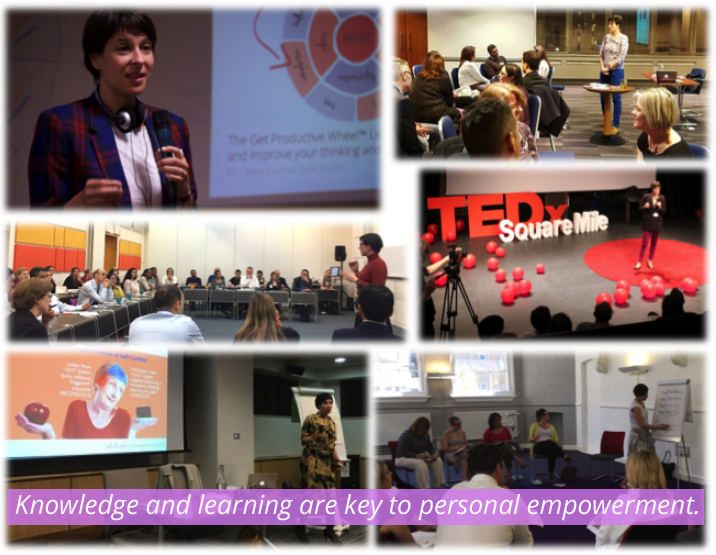 Website: www.maketimecount.com
Twitter: @maketimecountuk
Countercurrent podcast interview with Magdalena and Prof. Roger Kneeborn at the Wellcome Trust
Get results and stop stressing with my FREE mini Da Vinci
Testimonials from other Gridniks!
I was so impressed by the simplicity of Magdalena's approach and inspired by her passion for her work and for helping others to fulfil their goals, that I bought her two books at the end of the session. I have now been gridding since May, using monthly and daily grids and I have achieved so much in these last few months, that people close to me have noticed and commented on it. And all this whilst remaining energised, and not exhausting myself like I have done in the past. - Dr Christelle Kerouedan Associate Partner at Instinctif Partners

To say I came away absolutely blown away is an understatement. I'm already using the method and can feel the benefits of increased focus and energy - as well as identifying areas I'm neglecting and need to work on. If you ever get an opportunity to attend one of her workshops do not delay. Get yourself booked on. It'll be the best investment you make. - Hayley Lewis Founder of HALO Psychology

I found her model easy to understand and apply, both personally and with divorce coaching clients. Magdalena has an ability to effectively summarize and present her knowledge as both a neuroscientist and coach. I highly recommend any course she offers on the Grid Empowerment Formula that she's developed. - Vindy Teja Divorce Coach

FAQs
How can I contact the organiser with any questions?
We are here to help ensure you make the right choice. There are no prerequisites to this workshop. For any other questions please e-mail to info@maketimecount.com.

Refund Policy
Refunds up to 30 days before event