Refund policy
Contact the organiser to request a refund.
Eventbrite's fee is nonrefundable.
Online Virtual Work Experience - A Unique Opportunity!
About this event
Our revamped virtual work experience course is back! For all aspiring doctors, prospective medical students applying to medical school in the coming years.
Experience what it is like to be a doctor through our unique online clinical practice, manage simulated emergencies and learn about the job in way that you can reflect about it in your personal statement!
'Marvellously insightful and helpful by passionate Doctors. Approachable and fun activities/interactions that make it all the while worth it.' - Student Attendee
What will you gain?
Shadow a Ward Round
Tackle Clinical Cases
In-depth Q+A with Doctors
Radiology Masterclass
Tips on Smashing the UCAS application
Relive a Surgical Procedure
Medical Ethics and Professionalism
'A Personal Story'
What My Cancer Taught Me?
Certificate for UCAS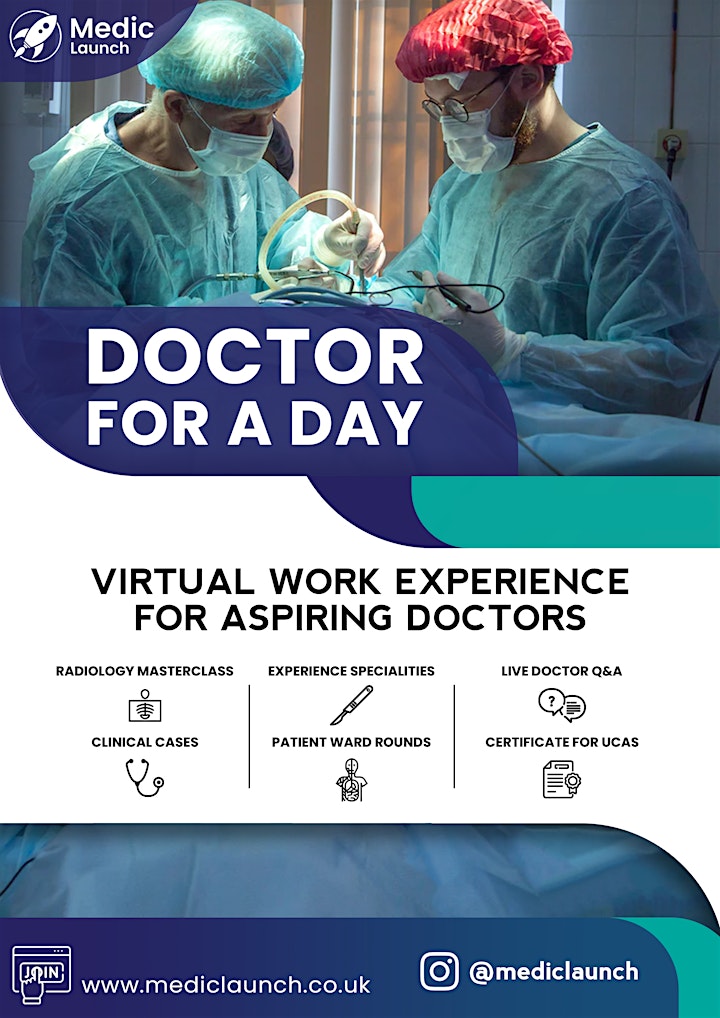 Testimonials:
'It was really good. I thoroughly enjoyed every session especially the advice section. I found it really helpful and I will definitely recommend this course.'
'The Virtual Work Experience Course was a really insightful and helpful course, which made me realise the reason why I want to medicine in the first place.'
'This experience has been so informative about medicine, eye-opening and definitely inspiring! Dr. Saj is so friendly and makes it interactive, definitely worth attending!'
'It was legendary, motivating and really helped me understand why I want to become a doctor!'
'It was very beneficial because it was interactive and detailed. We had a variety of cases to look at which were different from eachother which helped me to be more analytical and understand each case. The course gives a great idea of what it's like to be a doctor and gives more in depth outlook.'
'Great if your work experience has been cancelled and you want to get an idea about what the life of a doctor entails.'
'I loved how personal this was, it didn't feel virtual.'
'Dr Saj was so friendly and the interactive experience he provided through the webinars informative content, q&a and the heartwarming inspiring accounts from a doctors experience made the day fly by. I really enjoyed this work experience and would 100% recommend.'
'It was a great experience although virtual it catered to real-life experiences. Being an international student it gave me real insights into the life of a doctor in the NHS.'
'The Virtual Work Experience Course was wonderful. It was incredibly well organised and jam packed with useful content. It has definitely been a valuable experience for me and has given me so much to reflect on. I really enjoyed it!'