Does your feed help health and well being for your equine? - Free Public Le...
Description
Does your feed help health and well being for your equine? - Free Public Lecture.
DOORS: 7PM TALK STARTS: 7.30PM
Caroline Dickens - Area Feed Advisor for Baileys Horse Feeds.
Could your equine have more or less energy? Could you equine have a better skin/coat or hoof? Come and listen to how easy and cost effective it can be… Emphasising the importance of a balanced diet and particularly of quality fibre, Caroline's message is that horses need to chew for 16 – 18 hours a day due to their anatomy and that denying them this natural behaviour can lead to excess acid in the stomach and accompanying physical and behavioural problems. The key to good management is achieving a balance between concentrated feed and fibre, resulting in a calm but energetic equine of the correct weight and with healthy skin, coat and hooves. Equine obesity and associated health problems, such as Laminitis and joint strain, are causing concern among Vets and Equine Specialists. Caroline herself has experienced a considerable rise in the number of cases requiring specialised diets to deal with the results of overfeeding and over rugging.
Caroline is the Feed Advisor for Baileys Horse Feeds and advises on the diet of all types of equines, from top competition horses to children's ponies, emphasised how feeding correctly affects the working lives of all, no matter what career. Caroline has over 20 years of experience in Equine nutrition and advises our Equine staff and undergraduates on module content. Horse owners should not put off seeking expert advice if they have concerns about their horses' condition, whether over or underweight, as the sooner the situation is rectified, the better it is for both horse and owner. If you would like to speak to Caroline about your Equine before or after the lecture please call her on: 07801 022722.
For more public lectures and events: https://ucreaseheath.ac.uk/public-lectures/
For more info about our Equine degrees: https://ucreaseheath.ac.uk/courses/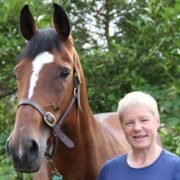 FAQs
What are my transportation/parking options for getting to and from the event?
There is free parking at the event. You will need to use the entrance on the B5074 (Main Road) and park in either in the car park on the left as you first enter the campus (see maps below). The event is being held in Room HE8 University Centre Reaseheath which is accessible via Reception/Centrepoint and will be signposted from the car parks.