Part 3: Doing Business in Portugal is an online how to guide for football agents, sports lawyers and other industry professionals.
About this Event
The European Football Agents Association (EFAA) and the Football Transfer Forum (FTF) team up to bring you the ultimate guide on Doing Business in Portugal.
This is the third part in a webinar series that focuses on how to do football transfer business in some of the world's biggest marketplaces.
Part 3: 'Doing Business in Portugal'.
We are all familiar with Sporting Clube, Benfica, FC Porto and Sporting Braga. We also know the high profile individuals such as Ronaldo, Jose Mourinho and Jorge Mendes. We have seen an influx of players and coaches from Portugal into clubs all around Europe and throughout the rest of the world.
Portugal is also a route into Europe for many South American players.
Presented by Ryan McKnight with Tony Sharkey, Founder of the Football Transfer Forum and Roberto Carlos Branco Martins, General Counsel at the European Football Agents Association, join our experts:
Patrícia Silva Lopes, Senior Legal Counsel, Sporting Clube de Portugal
Ricardo Cardoso, Sports Lawyer, CMB Advogados
for this fast paced webinar.
They will provide you with knowledge and information on the football transfer marketplace in Portugal and guide you through:
* Practical issues
* Do's and Don'ts
* Primera Liga trends
* Representation Contracts
* Tax matters
* Non EU players
* Q & A
Plus you will also receive a report on this summer's transfer activity and any handouts etc.
This webinar is primarily for:
Football Agents / Football Intermediaries / Sports Lawyers
and is also suitable for:
Football Club Officials including Sporting Directors / Heads of Recruitment / Loan Managers / Chief Scouts / European Scouts / Scouts
Representatives of football-related Companies
Students looking to learn more about the football industry
The webinar is delivered in English and is 90 minutes long.
FAQ's
Will I receive copies of the presentations? Yes you will receive a handout which includes the presentations, key information and references.
Will there be any opportunities to network? Yes all participants will be invited to share their Linkedin profile details.
Will I be able to ask questions? Yes we have a Q & A section towards the end.
Is there a student discount? No. We do offer low Early Bird Webinar ticket with 40% off.
What do I need to take part? As it is online you will need a good internet connection, a notepad and pen.
Will I receive any reminders about the event? Yes 1 week ,1 day and 1 hour before.
Do you plan to do more webinars about other countries? Yes, more details to follow.
How can I watch the other parts in the series? recorded versions of the webinars will be available shortly via Eventbrite.
Where can I find out more info on EFAA? Visit www.eufootballagents.com
Where can I find out more info on FTF? Visit https://www.eventbrite.co.uk/o/football-transfer-forum-18105182289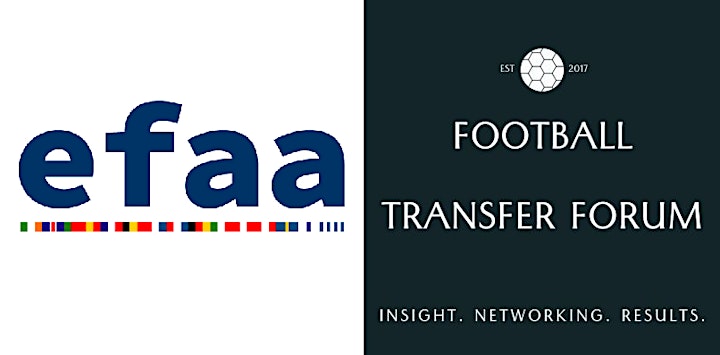 Date and Time
Location
Refund Policy