Description
Latest registrations include*: The Other Palace Theatres, Kenwright Productions, Screen Glue Productions, Arch Sinfonia, Hijinx Threatre, Peter Linnett Ltd (art furniture), GB Times, Glynis Henderson Productions, Jessica Buttons, Secret Cinema, Raleigh International, Punch Drunk Productions, Bright Grahame Murray, Godi and more...
The Chinese Government have publicly announced their intention to invest in the media industry since 2011, opening up to the world market, to encourage the Western audience to open up to the Chinese culture in return towards a future of collaboration.
Companies and projects such as Dalian Wanda and AMC Theatres, Pinewood and Seven Stars, the Chinese edition of the French fashion magazine Numéro and the emerging Chinese creative talents displaying their new collections on the catwalks of Fashion weeks all around Europe are examples of such effort.
Nevertheless, while a lot of research about the factors that shaped the economic and political collaboration between China and the rest of the world has been carried out, not much has been said about the elements that influenced the interaction between this emerging superpower and the rest of the world within the global media market.
Using case studies of Chinese and Western collaborations in the media and fashion industry, we invite you to explore with our speakers, Serin Kasif from The Really Useful Group, the company that manages Andrew Lloyd Webber's complete catalogue throughout the world including theatrical and symphonic works, a requiem mass and countless rock and pop songs including "The Phantom of the Opera", and Sweta Tagliabue, film maker and Master graduate in Chinese language and culture, who did much research into Chinese & Western media collaborations):
The differences in attitude, value and agenda that contributed to successful (and not so successful) collaborations.
How any industry can learn from these to create successful collaborations with Chinese businesses.
Come and learn more about doing business with China and connect with like-minded professionals!
£10 fee including drinks & nibbles - please RSVP here or get in touch with us on info@china-unbound.co.uk
Speaker Profile:
Serin Kasif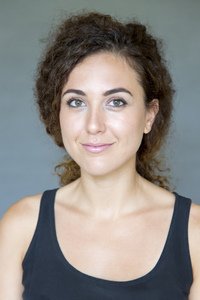 A big haired antipodean, Serin joined The Really Useful Group in 2012. Her skills are heavily skewed towards the touring of live productions. She works closely with producing and licensing teams to oversee the development, planning and execution of global tours. She has a keen knowledge of China and Australasian territories and audiences and is passionate about audience development. She majored in Asian Studies with a particular interest in China, Japan and Indonesia economy and history. She works in business development to foster long term strategic partnerships, maximise presence in changing markets around the globe and works with a wide spectrum of Chinese professionals, companies and institutions.
Most recently Serin has worked with Chinese partners to: produce a 12 city tour of a Chinese language production of Andrew Lloyd Webber's Tell Me on a Sunday; activate an English language tour of Andrew Lloyd Webber's CATS to tour around 10 cities in China; launch a technical skills training program for the development of Chinese theatre technicians; and has facilitated a collaboration with Shanghai Media Group, London's Arts Education and Shanghai Theatre Academy on establishing a musical theatre course in Shanghai with the aim of expanding out a comprehensive school for ages ranging from 4-year olds through to university students.
Sweta Tagliabue
Sweta speaks fluent Chinese and studied Chinese culture with a specialisation in media management at University. She conducted much research into the internationalisation of Chinese films to the Western market and vice versa. In particular, she examined the process companies have undertaken, obstacles they have faced, the reasons behind them, and equally importantly, possible solutions to how companies, both Chinese and Western, can overcome these challenges.
Sweta also worked for an adverstising agency, representing Italian luxury brands on the international press, working with magazines from all over the world including Numero China and InStyle. She saw first hand, collaboration between French and Chinese publishing firms, and how the businesses attemp to localise content for the Chinese readership.
Venue and drinks kindly supported by: Joelson Law https://joelsonlaw.com/

In recognition of the high-quality advice that the firm provides, Joelson has been listed in both the Legal 500 and Chambers and Partners Guide.
These publications are prepared annually by a dedicated team of researchers who spend time speaking with clients and professional contacts to build an appreciation of the firm's services.
The guides are internationally-recognised as a 'who's who' of top solicitors and both are regularly used by in-house counsel, fellow solicitors, businesses and private clients.
The legal 500 guide says that Joelson's Corporate and Commercial team are 'absolutely superb' and describes its solicitors as 'approachable, forthcoming and reliable'.
Corporate and Commercial Partners Sheldon Cordell, Paul Chiappe, Phil Hails-Smith and Philippa Sturt are among its list of recommended lawyers in this area.
The guide also recognises the firm's expertise in gaming, licensing, commercial litigation and employment law.
---
* Please note we may publish your registration so to attract quality attendance of people relevant to your sector and business, if you do not wish us to disclose your attendence, please let us know and we will be happy to remove your name from the list.