About this Event
Doing The Lambeth Walk
'You have to walk The Walk to talk the talk'
If you'er, passing, Lambeth way
Any evening, any day
You'll find us all
Doing the Lambeth Walk
So we make, this Lambeth call
To each and every, one and all
Come, join us all
Doing the Lambeth Walk
The Open Mic, free and easy
The vibes being, darn well pleasy
All, Walks of life, there
We all, share, the space, there
Brixton People's, Kitchen Cafe
Black Prince Road, is, where's it's at
You'll find us all
Doing the Lambeth Walk
By Michael Groce
Inspired by: LyricFind
Songwriters: Richie McDonald / Steve Diamond
Lambeth Walk lyrics © Sony/ATV Music Publishing LLC
We welcome comedy, poetry and music from all walks of life.
Everyone has a story to tell, Let's tell it together!
Brixton People's Kitchen has paired up with award winning poet Michael Groce to bring you Doing the Lambeth Walk. Situated right next to the Lambeth Walk on Black Prince Road.
We welcome everyone to get together on Fridays at our unique setting.
Sign up on the night by 7:20pm to get a slot, pop in from7pm to get a seat.
Drinks and food offers available from the cafe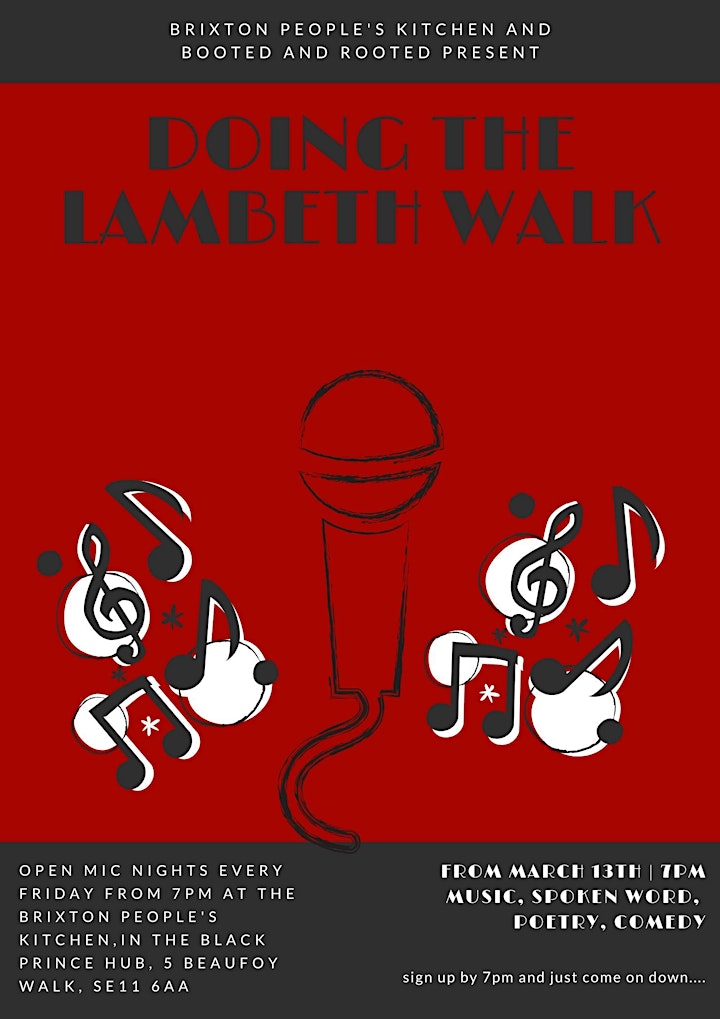 Every Friday at the Brixton People's Kitchen cafe