Doktor James' Akademy of Evil Family show & meal: great Mother's Day Treat
Location
Draper Hall
Newington Butts
London
SE1 6TL
United Kingdom
Description
Some wicked entertainment for the kids and their long-suffering parents?
How to entertain the sprogs and avoid cooking on Mother's day, and STILL provide them with a delicious meal at a ridiculously low price?
LOOK NO FURTHER THAN THE LONDON PREMIERE OF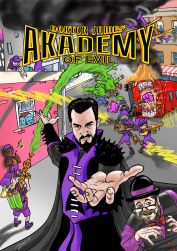 DOKTOR JAMES' AKADEMY of EVIL at Draper Hall on 26th March
An award-winning show followed by a delicious meal, all included in the ticket price!
The show: Doktor James is sick of living at home and not being taken seriously as a super villain. He is really really really mean and he just wants people to appreciate it. The thing is, he needs some help. So he took out an ad...
Wanted: Small minions to join Doktor James' army of evil. Must be clever, naughty, and willing to help take over the world. Prepare for tests and challenges to show how wicked you are.
We want the worst! (Parents allowed).
James Bennison – winner of IYAF Brighton Fringe Stand Up Comedy Award.
The meal: stay after the show and have a meal with us in a safe environment where you can talk to grown-ups and the kids will have space to play.
What a fantastic way to spend a Sunday, especially when it is Mother's Day! Sorted!
Food will be provided by Mamuska Restaurant
THIS THE ENTRANCE TO OUR VENUE