Location
Irish Writers Centre
19 Parnell Square North
D01 E102 Dublin 1
Ireland
The Dublin launch for Dolly Considine's Hotel by Eamon Somers with special guests "Queering the Green" poets Mark Ward and Rosamund Taylor
About this event
Dolly Considine's Hotel "A strange, original and unusual novel, which takes two unlikely worlds and yokes them together. Remarkable… I've never read anything quite like it.'" Carlo Gébler
Anne Cunningham – review in the Meath Chronicle: "In June 1983, young Paddy Butler is waiting in Busárus for the feeder bus to take him to the ferryboat and on to London. Through a series of accidents, Paddy's bag gets mixed up with that of a young IRA activist and Paddy is destined to spend the summer in Dublin, but not at home in Cabra. He gets a live-in job in Dolly Considine's Hotel, changes his name to Julian Ryder and the caper begins.
Dolly Considine inherited the hotel in the 1950s and it's been a haven for actors and TDs since – and the antics of the parliamentarians put the bohemians to shame. She is the daughter of a Fianna Fáil TD and so she's done what women like that do – married another Fianna Fáil TD. It's the summer of the Pro-Life Amendment campaign and also the one where Julian finds his feet as a writer and as a young gay man.
It's quite a tome, this Bildungsroman, and quite the literary feat. Somers' depiction of '80s Dublin is pin-point accurate. But this is no hymn of affection for the rare oul' times, rather it's a portrait of Ireland at the very pinnacle of its hypocrisy. And while it's extremely well-written I found nobody I could, as Kurt Vonnegut recommends, 'root for'.
Everyone is tainted in this story, including both protagonists, who are surely just playing the world at its own game, but this leaves the reader with nobody to like.
There's a seam of bitterness, lodged as firmly in Dolly as it is in Julian, as well as in the big players within the church state battleground. It's a trip down memory lane, but without the rose-tinted glasses. Meath Chronicle
To buy a copy now: Books Upstairs
Eamon Somers grew up above the small corner shop run by his parents in an area of central Dublin, known at the time as "little Jerusalem." His early experiences helping in the business gave him a deep sense of connection to his native place. After a series of short-term jobs in motorcycle servicing, courier deliveries, boiler maintenance, bar work, and community development, he joined a window installation company where he held a variety of posts. While there, he became a campaigner in the fledgling gay liberation movement, serving three terms as spokesperson for Ireland's National Gay Federation. He moved to London in the mid 1980's following the collapse of the window company. After two years working with Haringey Council's Lesbian and Gay Unit (including on the anti-Clause 28 campaign) he became involved in social housing development, which became his chosen career.
Eamon began his lifelong interest in learning about storytelling with classes at the People's College in 1970s Dublin, before going on to study at London's Goldsmiths and later Birkbeck College. he attended summer schools at the Irish Writers' Centre, and more recently joining masterclasses with admired American poet Diana Goetsch (via Paragraph Workspace in NY).
Eamon's short stories have been published in literary magazines including Tees Valley Writer, Automatic Pilot, and Chroma. The Journal of Truth and Consequences nominated his Fear of Landing for a Pushcart Prize, and Nataí Bocht was included in Quare Fellas, a collection of LGBT+ fiction published by Basement Press . He is currently working on revisions to his novel A Very Foolish Dream (the name will change) which was Highly Commended in the 2019 Novel Fair sponsored by the Irish Writers' Centre in Dublin. lInstagram
Rosamund Taylor is a winner of the London Magazine Poetry Prize 2020 and the Mairtín Crawford Award for Poetry 2017. Lyrical and inventive, Rosamund's work looks at marginalised identities, such as being queer and neurodiverse, and how being marginalised in one way can lend insight into the destruction and dismissal of the natural world. She has been inspired to look to historical figures to understand what it means to challenge expectation and tradition. Her attention is drawn to women in science, such as Caroline Herschel, the 18th-century astronomer, who was told reading was almost as bad for her as witchcraft, and to Joan of Arc, who was killed because she was so far outside of accepted norms.Widely published, her work has recently appeared in Butcher's Dog, Fourteen Poems, Magma, Mslexia, The Rialto and Poetry Ireland Review, and been broadcast on BBC Radio 4. A selection of her poems is included in Queering the Green: Post-2000s Queer Irish Poetry (Lifeboat Press). Her debut collection, In Her Jaws, is published by Banshee Press. Instagram www.rosamundtaylor.com. Instagram
Mark Ward is a poet from Dublin, Ireland. He is the author of the chapbooks, Circumference (Finishing Line Press, 2018), Carcass (Seven Kitchens Press, 2020), the prose/haiku/hybrid HIKE (Bear Creek Press) and the online Choose Your Own Adventure sonnet, Faultlines (Voidspace, 2022). His first full-length collection, Nightlight, is forthcoming from Salmon Poetry in early 2023.His poems have appeared in The Irish Times, The Irish Independent (forthcoming), Poetry Ireland Review, Banshee, Crannóg, Southword, fourteen poems, Softblow, Ropes, The Honest Ulsterman and many more. Recent anthology appearances include Queering The Green (The Lifeboat, 2021) and Hit Points: An Anthology of Video Game Poetey (Broken Sleep, 2021).He was Highly Commended in the 2019 Patrick Kavanagh Poetry Award and in 2020 he was shortlisted for the Cúirt New Writing Prize and selected for Poetry Ireland's Introductions series. He was awarded a Literature Bursary in 2021 and an Agility Award in 2022, both from the Arts Council of Ireland. He has recorded poems for RTÉ Radio 1's Arena and The Poetry Programme, Lyric FM's Poetry File and the podcast Words Lightly Spoken. He is the founding editor of Impossible Archetype, an international journal of LGBTQ+ poetry, now in its sixth year. Instagram
The Irish Writers Centre requires visitors to wear masks when they are moving around the building. Masks and sanitising gel will be provided.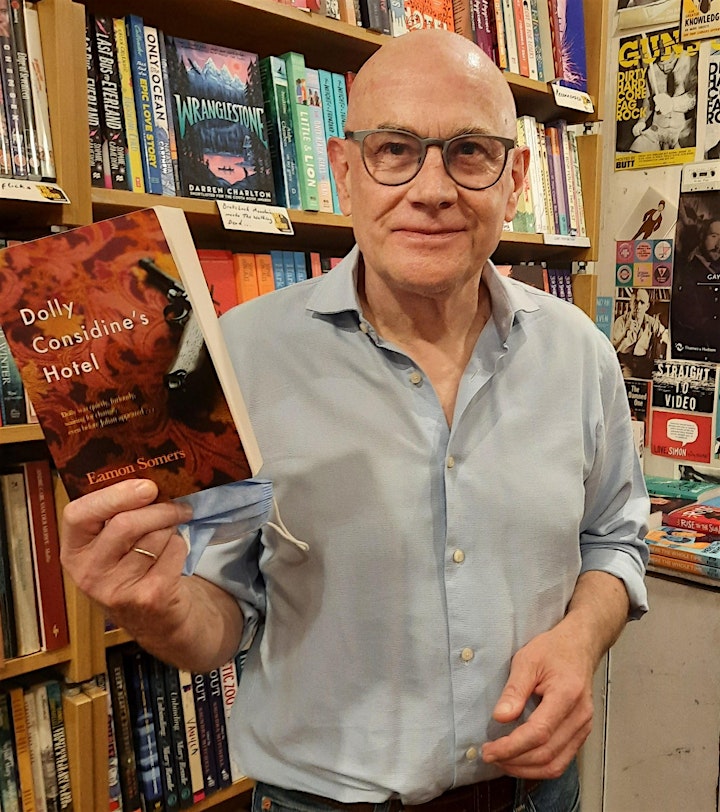 Dolly and Eamon visit Gay's the Word bookshop in London