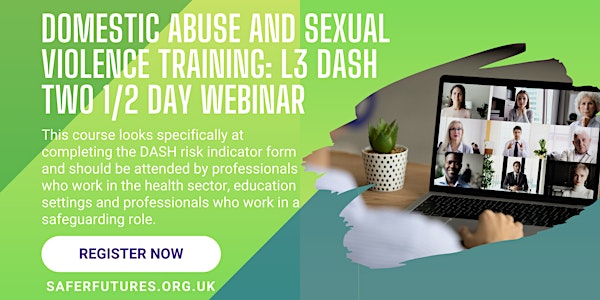 Domestic Abuse and Sexual Violence Training :L3 DASH - Two 1/2 day Webinar
Sales Have Ended
Registrations are closed
We are fully booked for this event, please join our waiting list to be notified when future dates are added or see alternative dates
Two 1/2 day online webinar training. Cornwall and Isles of Scilly (UK ) residents only: 14th & 15th June 2022 09:00-12:30
About this event
Please read through course descriptions prior to booking to ensure your professional experience, responsibility and previous training will support the level of learning of each session. All sessions are free of charge. (Late cancellation fees do apply).
This course is delivered across two mornings: 14th & 15th June 2022 09:00-12:30, you need to be available to attend both sessions.
Level 3: Completing the DASH risk indicator checklist. This course looks specifically at completing the DASH risk indicator form and should be attended by professionals who work in the health sector, education settings and professionals who work in a safeguarding role. This is for those who will be completing the DASH form, as a part of their job role and have responsibility for directly dealing with disclosures of domestic abuse and sexual violence.
Previous domestic abuse training or relevant professional experience before attending this session is recommended. Please see details of our Level 1 and Level 2 training days and attend prior to Level 3 if relevant.
Covered within this full day course is how to identify, assess and respond to risk using the DASH risk indicator checklist. Building from lessons learnt within previous training this day includes;
• The scope of domestically abusive behaviours.
• The signs and indicators of domestic abuse.
• Stalking, harassment and Honour based abuse.
• Completing the DASH risk indicator checklist.
• The MARAC process
• The importance of appropriate information sharing.
At the foundation of all our DASV training is an understanding and awareness of controlling and coercive behaviour in an intimate or family relationship.
You will receive further details of this event prior to delivery date.
Not the right course for you? Please see our Barnardo's – Safer Futures Eventbrite page for additional training, dates and venues.
Please note you will require access to Zoom to complete this training.
Please can you ensure that if you are on the course with others from your own workplace, that you each have a laptop and that these are not being shared.
Cancellation Policy
Places are limited so please ensure you are able to attend before booking.
If you have been allocated a place and are unable to attend please email: healthyrelationshipscornwall@barnardos.org.uk 48 hours before the event so your place can be re-allocated.
Failure to do so will result in a £25.00 per person charge.
Barnardo's, Safer Futures recognise that people are affected by domestic abuse or sexual violence exist in all areas of society. We provide training for all professionals across all sectors.