About this Event
ABOUT
***Please note that the applications for this event close on 14th February at 4pm***
Innovate UK is looking for innovators whose expertise, approach or technology might help address some of the major challenges faced by UK cities. The Domestic Missions programme is looking to bring innovators and cities together at a Mission Event in March or April 2020 to help you to:
Gain a better understanding of the urban challenges
Start conversations with City Authorities about the part that your business could play in addressing the urban challenges
Meet potential future collaboration partners (amongst the other innovators)
Understand how to collaborate well with City Authorities
Learn about specific procurement routes and funding opportunities, and how to write strong and relevant proposals
12 challenges are being hosted by 5 cities across the UK, namely - Bristol, Nottingham, Exeter, Cardiff and Derry. These challenges are detailed below.
Innovate UK's Domestic Missions programme is currently a PILOT, and has been convened so that UK Local Authorities and SMEs can learn from each other about the nature of urban challenges and the potential benefits of new technology, products and services. Experts will also be on hand to present information about local government procurement processes, and routes to access funding to develop and test innovative technologies.
Please note that this is not a ticket for the Domestic Mission Events. This is a competitive process, and applications will be reviewed against the criteria below.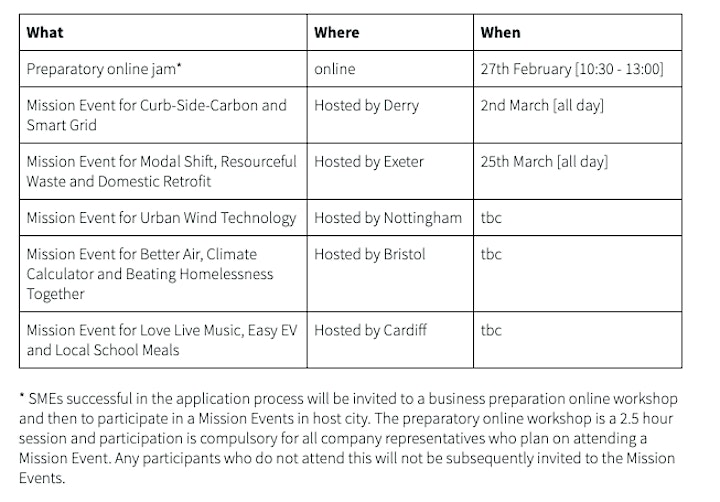 CHALLENGES
12 urban city challenges - hosted by 5 UK cities
Love Live Music, Easy EV and Local School Meals hosted by Cardiff City Council
LOVE LIVE MUSIC - How can you help us double our city's live music audiences?
Cardiff has developed a reputation around the arts but like all cities, funding pressures means that it is difficult to provide direct support to the sector. Live music in Cardiff is affordable however and therefore should be accessible to all. We are looking for a bridge to connect musicians to venues and performance opportunities as well as effectively communicating cultural experiences and events to members of the public.
EASY EV - How can you help us to make electric vehicles accessible for every street?
Cardiff City Council aims to improve the city's air quality and address carbon reduction by supporting and encouraging the transition to electric vehicles. Cardiff is a densely populated city where around 60% of households have a lower than average income. As a result, many households don't have off street parking so there is a need for public charging facilities to make EV more accessible. The Council has installed a small fleet of EV chargers in the inner urban streets. However, they have come across numerous physical barriers and practical issues that constrain installations. These include existing underground service, street trees, rainwater drainage systems and the need to maintain equality of access and movement on pavements. The Council is interested in engaging with novel new installation and connection methods that will overcome such issues and make installations simpler, more flexible, and more cost effective.
LOCAL HEALTHY SCHOOL MEALS - How can you help produce our healthy school food locally?
The school lunch break is essential for students to refuel with a healthy lunch and be prepared to continue learning through the afternoon. Cardiff Council has 97 primary, 18 secondary and 7 special schools across the city educating almost 55,000 children. Schools catering provides over 30,000 meals per day with the rest of the pupils either bringing a packed lunch or leaving site. Cardiff Council wish to provide healthy, tasty and sustainable food for all primary and secondary school pupils in the city. The desire is to improve food choice and quality with a preference for local produce as well. Additionally we'd like to increase the number of children choosing school meals.
Modal Shift, Resourceful Waste and Domestic Retrofit hosted by Exeter City Council
MODAL SHIFT - Can you help us encourage modal shift to more shared and active forms of transport in a way that replaces our car parking revenue?
The City of Exeter aims to be carbon neutral by 2030 and reducing road congestion is seen to be one way of achieving this. Peak-time congestion is a particular problem as around half of Exeter's workforce live outside of the city in dispersed rural communities and rely on their cars to get to and from work. Revenue from council-owned car parks is around £8.8 million per year and the city council relies on this income. Therefore in scope solutions that reduce road congestion will be affordable for users, encourage behaviour change on a city scale and will also provide the City Council with income to replace the lost car parking revenues.
RESOURCEFUL WASTE - How can we use local food waste as an energy source?
Exeter City Council are responsible for collecting all domestic waste & recycling and have a large number of commercial contracts to collect trade waste & recycling within the city. Going carbon neutral means that they wish to collect waste using electric vehicles and where at all possible, repurpose, resell or convert it into energy. Exeter are already sufficiently managing their plastic recycling but are now focusing on domestic and trade food waste solutions.
DOMESTIC RETROFIT - Can you help us retrofit 5000 City Council owned homes by 2030 to make them climate resilient?
To achieve net-zero, low-carbon heating must replace gas in all domestic properties across Exeter - this is one of a number of changes required to make our housing stock, energy efficient, climate resilient, low carbon and comfortable. We are seeking a retrofit model that minimises upfront investment but can be replicated, financed and rolled out across the City Council's housing stock and into the private sector. Solutions should be sustainable, as well as accessible and affordable by all.
Curb-side Carbon and Smart Grid hosted by Derry City Council
CURB-SIDE CARBON - How can we make waste collection more carbon efficient?
Derry and Strabane Council aim to reduce the city's carbon footprint by increasing efficiency across all of their services. They are seeking a software/hardware solution to facilitate the improved management of a number of services it currently delivers including, but not limited to; refuse collection, street cleansing, grounds maintenance. The solution will provide the means for managers to review alternative options for the delivery of current services and the goal is to reduce the number of vehicles and miles travelled.
SMART GRID - How can we use local renewable energy generators to deliver cost effective energy to electric vehicle users?
Local individuals have installed PV panels on the roofs of their houses over the last number of years. The majority of these people use the energy in their own homes as it is generated, while selling excess energy back to the grid at a very small fee. An alternative would be to invest in battery technology to store excess and use when needed, but this can prove to be extensive. There is plenty of EV infrastructure in the city but currently no mechanism for charging EV users for payment in exchange for recharging their cars with electricity. So, we are interested in technology for individual renewable energy generators to connect and sell their excess energy to electric vehicle users through the existing grid and infrastructure at a competitive price.
Urban Wind Technology hosted by Nottingham City Council.
URBAN WIND TECHNOLOGY - Can you supply wind-based energy technologies for use in cities?
Nottingham City Council declared a climate emergency in January 2020 and launched an ambitious sustainability pledge, to become the first Carbon Neutral City in the Country, reaching this target by 2028. New methods for generating energy is a key focus of both the Nottingham City Council 2028 Carbon Neutral Plan and wider D2N2 Local Enterprise Partnership Energy Strategy.
Small scale Urban Wind innovation is an opportunity for Nottingham to explore how this technology can be deployed in a built up urban environment. Infrastructure required to harness wind has not lent itself well to urban environments and some barriers identified are:
The size of conventional wind turbines is not congruent with urban design
Considered by some to be eyesores and obstructions to the visual landscape.
Energy outputs are often low in comparison to other renewable energy sources
Urban Wind can be noisy, cause disconcerting shadow flickers, and require consistent, non-turbulent winds of certain speeds that are uncharacteristic of urban environments
Nottingham City Council is keen to talk to innovative SME's that have expertise in the following fields:
Feasibility Assessments – SME's that can work with the Council to undertake a Urban Wind feasibility studies e.g. Environmental Assessments, Cost Benefit Analysis
Manufacturing – SME's that have expertise in manufacturing wind turbine technology
Energy Metering – SME's that have expertise in energy metering
Data Analytics – SME's that have expertise in developing and managing integrated energy data platforms
Energy Generation, Storage & Distribution – SME's that have experience in energy generation, storage & distribution technology
Sustainable Tourism, Climate Calculator and Beating Homelessness Together hosted by Bristol City Council.
SUSTAINABLE TOURISM - Can you help us reduce Bristol's visitor CO2 emissions?
Bristol is committed to achieving Carbon Neutrality by 2030 – a challenging target that will require transformative change in a range of sectors including energy, housing, transport and business. To achieve carbon neutrality, the city will need the buy-in of both residents and visitors, and key to this will be making sure that inclusive and sustainable economic growth is delivered in tandem with carbon neutrality. Continuing to grow the visitor economy and our global connections is of particular importance for our diverse local communities, in a city with 187 countries of birth. How can we reduce the CO2 emissions of visitors to Bristol and reconcile these two competing priorities?
BEATING HOMELESSNESS TOGETHER - How might we encourage the public and private sectors to provide affordable housing options?
In line with the challenge nationally, Bristol has seen an increase of people sleeping rough over the past five years and the last quarterly counts have found an average of 117 sleeping rough on the street. House prices in Bristol have risen by more than 56% in the last decade, growing faster than any other Core City, and housing affordability has plunged, with the cheapest homes now costing more than nine times the annual earnings of lower income households, up from three times in 1999, while it's also more expensive to rent in Bristol than any other Core City. The council is working with a range of partners to tackle homelessness in the city, but ultimately the only way to truly end homelessness is to provide enough affordable housing.
CLIMATE CALCULATOR - How can we help people make climate-friendly buying decisions?
Energy use and driving directly impact Bristol citizens' carbon footprint but more of it comes from consumption of other goods and services - from food and household goods to aviation and hotels. Supporting our citizens to use their purchasing power to make climate-friendly buying decisions could make a major difference to the city's 'Scope 3' carbon dioxide footprint – indirect emissions that result from our use of goods and services. We want to empower people to use these everyday decisions to reduce their carbon footprint by providing information and choices.
BENEFITS
If you're interested in developing new relationships with UK City Authorities then the Domestic Missions programme could be very beneficial for your company for the following reasons:
Understand funding programmes and upcoming opportunities
Promote your business and expertise to council decision makers
Explore the potential to develop or test your technology in the city and sell it to the world
Hear the city's analysis of where their key issues lie
Meet and potentially collaborate with other businesses working in the challenge area
LOCATION
Each Mission Event will take place in the city that is hosting the challenge/s. Specific venue details will be announced shortly.
APPLICATION PROCESS
Please complete the application form by 16:00 on Friday 14th February.
Any information we collect about you or your business will be shared only with 100%Open, our delivery partner, and the city/local authorities involved.
You will be notified of the status of your application by Monday 24th February.
Selection will be based on suitability of an SME to address a need, to learn from the experience, and to help the City authorities understand the potential of innovative technologies to address their challenges. Applications are welcome from SMEs anywhere in the UK and Northern Ireland. If you are local to any of the cities mentioned above, that is great, but will not itself guarantee selection to take part in the Mission Events.
Applications will be reviewed using three main selection criteria as follows:
PRACTICAL - do you have the knowledge, technology, resources and time to make this happen?
PROFITABLE - how much commercial potential does your technology have?
PIONEERING - technology that is new and different stand a better chance of breaking through.
If you are selected Innovate UK will reimburse your (standard class) travel costs to attend the event.
Please note that at this stage this is not an opportunity to pitch or sell a specific solution, but is rather a chance to learn more about city challenges and to help authorities see how innovative technology might have a role to play in solving those challenges. .
CONTACT US
If you require any further information, please contact Francesca at francesca@100open.com or +44 (0)203 889 5560.