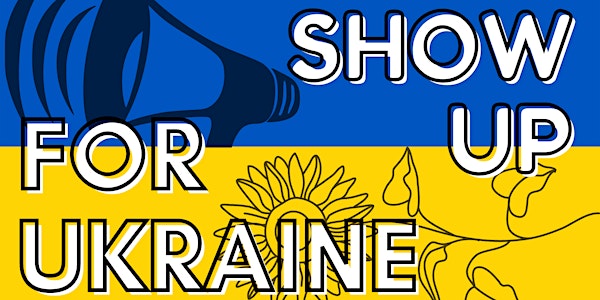 Donate to Show Up for Ukraine
Location
Bloomsbury Central Baptist Church
235 Shaftesbury Ave
City of London
WC2H 8EP
United Kingdom
Make a donation for our spectacular night of cabaret in aid of vulnerable communities living in, or escaping, conflict.
About this event
*PLEASE NOTE THAT THIS EVENT HAPPENED ON 7TH MAY 2022*. Donations can still be made to our causes via the ticket link.
Original event description:
In aid of OutRight's emergency appeal, the Coalition's GoFundMe, and EAPPI, a motley crew of musicians, comics and dancers are giving their all on Saturday 7th May 2022 at Show Up for Ukraine. The stellar line-up includes sell-out cabaret icon Aidan Sadler, award-winning writer and drag star King Hoberon, comedy sets from the searingly funny Alex Beighton and Fraser Brown, and much more.
In the heart of London's West End, Show Up for Ukraine will be a one-off benefit with some of the newest and freshest stand-up comics, burlesque dancers, cabaret stars and musicians of the moment. The more you clap, cheer, shimmy, giggle and guffaw, the more we want you to dig into your pockets and give.
Your ticket price will go straight to the charities we support. Our chosen charities are:
- 40% to OutRight Action International Emergency Appeal: OutRight is determined to assist LGBTIQ people remaining in or fleeing Ukraine in their fight to survive this brutality. We are also determined to support the LGBTIQ people and groups in the region who are coming to their aid while facing severe discrimination in their own countries.
- 40% to the Coalition To Support Black People In Ukraine: a coalition made up of, at the time of writing, ten African and Black organizations worldwide, collaborating via GoFundMe to support Black people leaving Ukraine. The Coalition aim to cover relocation fees, provide phonelines, and give food and other essentials.
- 20% to EAPPI: in an effort to recognise that many people worldwide suffer, and have been suffering, the effects of conflict and war, one fifth of the funds raised will go to the Ecumenical Accompaniment Programme in Palestine and Israel. EAPPI provide humanitarian work in Israel and Palestine, aiming to offer a protective presence to vulnerable communities, monitoring and reporting human rights abuses. They join Palestinians and Israelis who work in nonviolent ways for peace, and they interact with a myriad of international, Israeli and Palestinian partners.
Thank you for supporting Show Up for Ukraine.