Description
"My humanity is bound up in yours, for we can only be human together"
- Desmond Tutu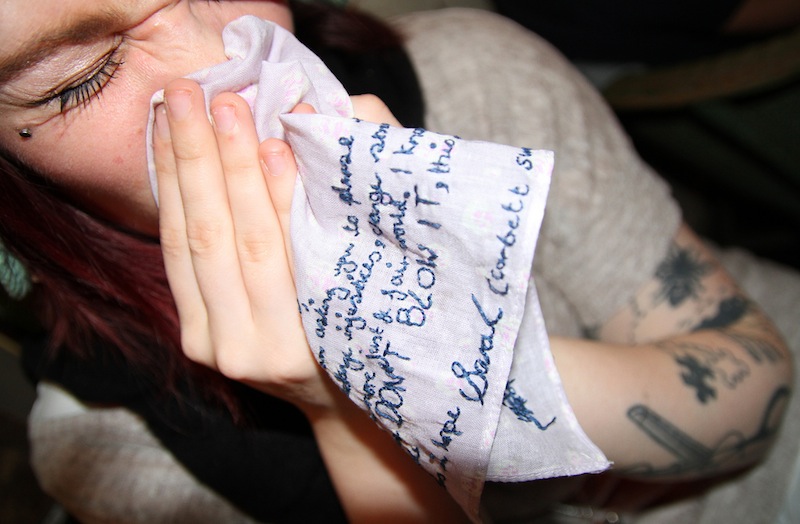 This project is a chance to slow down and - in the safe environment that craft creates - sneak a message under the nose of someone who could seriously influence positive change and help them to do so.
With this projects, you can embroider a personal and timeless message on a handkerchief, which you can then give to an influential person such a a politician, journalist or religious leader, to encourage them to use their power and influence to make a positive difference.
The hanky kit includes: a handkerchief, needle and thread, instructions, suggested content, a little Craftivist Collective label, a postcard and a Craftivist Collective flyer.
Limited to 15 attendees.
Led by Founder of Craftivist Collective Sarah Corbett Deposit of 100SEK will be reimbursed on your arrival at the workshop (the remaining 10SEK is the fee eventbrite charge).
Buy kits and tools here if you cannot attend the event here
Svenska:
'Don't Blow It' hanky
18:00 - 20:00 onsdag 2a september.
Sy ett meddelande på en näsduk som du kan ge som gåva. Ge bort din gåva och budskapet kommer att användas under någons näsan, och kan fungera som ett verktyg för förändring och en lätt knuff på vägen.
Organiser of 'Don't Blow It' handkerchief workshop
We are a social enterprise that believe craft can be a tool for gentle activism
aimed at influencing long-term change
.
By using the quiet, reflective time it gives us to explore global issues and how they affect the world around us, we can create something beautiful, considered, positive and poignant.
We provide kits, tools and services for individuals and organisations around the world to do effect craftivism. 
Join us, together we can change our world, one stitch at a time…