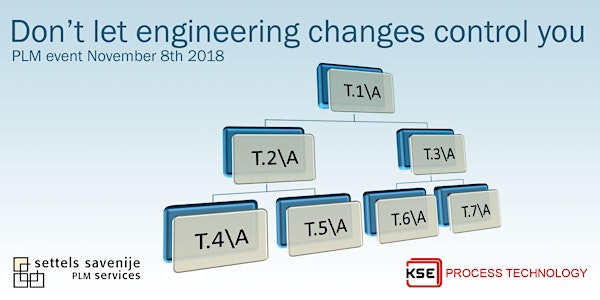 Don't let engineering changes control you
Location
TAQ Building
Achtseweg Zuid 211
5651 Eindhoven
Netherlands
Description
We would like to invite you to attend our event: Don't let engineering changes control you. This event will take place on November 8th, 14:45 - 17:30 at our TAQ premises in Eindhoven. If you are interested to know how to save engineering resources, feel welcome to join us at our event.
Getting in control of engineering changes is a challenge for many engineering department. It all starts with understanding the basic Technical Product Documentation (TPD) concepts such as revisioning and dampening of changes and how to translate this to your PLM application. At our event we show you how to realize improvements in an understandable way.
Michiel Willemse, Manager R&D at KSE Process Technology will share his experiences with redefining the rules for revisioning and releasing TPD in KSE's Teamcenter environment..
Agenda
14:45 - Welcome
15:00 - Introduction PLM Services
15:15 - The importance of TPD management
15:30 - TPD management basics and best practices
16:15 - Implementing change management at KSE
16:45 - It all starts with functional design
17:00 - Q&A and drinks
17:30 - Closing

The presentations are in Dutch, the handouts in English. We hope to meet you the 8th in person
The Settels Savenije PLM Services team.
Plan your route to TAQ
If you have any questions contact Wim Ottenhoff, +31 6 2215 87 20, wim.ottenhoff@sttls.nl