Event Information
Refund Policy
Contact the organizer to request a refund.
Eventbrite's fee is nonrefundable.
Her ay farklı bir konu ile, kişisel Dönüşüm Yolculuğunda ihtiyacın olan her şey, 1 aylık tek bir programda bir araya geliyor!
About this Event
Kendine daha yakından bakmak, görmek ve değişmek istiyorsun. Bu isteğini gerçekleştirecek etkili yöntemi bulmakta zorlanıyor musun? Kitaplar okuyor ve belki farklı programlara katılıyorsun.
Ancak kendini hep başladığın noktada, istediğin sonuçtan uzakta mı buluyorsun?
Dönüşüm Kulübü tam da bu nedenle var!
En dönüşümsel teori ve uygulamaları, grubun dönüştürücü gücü, bilgi birikimimiz ve tecrübemizle harmanladık. İhtiyacın olan her şeyi, senin için bir araya getirdik.
Sen sadece kendine odaklan!
Dönüşüm Kulubü'nde seni neler bekliyor?
Olmak istediğin sana, seni her hafta biraz daha yaklaştıran,
Hayatında senin için gerçekten anlamlı ve önemli olanı olmayanlardan daha kolay ayırabildiğin,
Sende iyi, güçlü ve etkili olanı fark edip onurlandırdığın,
İstediğin hayata ulaşmaktan seni alıkoyan engellerini fark ettiğin,
Hayatındaki belirsizlikleri daha net görmene yardım eden,
Kendini her hafta yeniden bulduğun,
Odaklanmana ve odağını korumana ve hedefine ulaşmana yardımcı,
Destekleyici, yargılamayan, samimi ve kendini güvende hissedeceğin bir ortamda; teori bilgi, uygulama, tecrübe temeline oturan, grubun diğer üyelerinin derinliği ile beslenen, seninle tamam olan bir alan.
Dönüşüm Nasıl Oluyor?
Her ay farklı bir konuya odaklandığımız,
Grup Çalışmaları
Pratik Teorik Eğitimler
Derinleştiren, İyileştiren Egzersiz ve Uygulamalar
Kapalı bir iletişim grubu üzerinden sürekli destek
Altın Program
Gümüş Programa ek olarak:
1 Isınma ve oryantasyon seansı
3 Seans Grup Koçluğu
4 Derin Farkındalık Egzersizi
Dönüşüm Ortaklarınıza Direk Ulaşım
Gümüş Program
2 Teorik-Pratik Eğitim
2 Kafama Takılanlar Soru/Cevap Seansı
Haftanın Pratiği Egzersizi
Kapalı İletişim Grubu ile Sürekli Destek
Sınırsız Dönüşüm Kulübü Üyeliği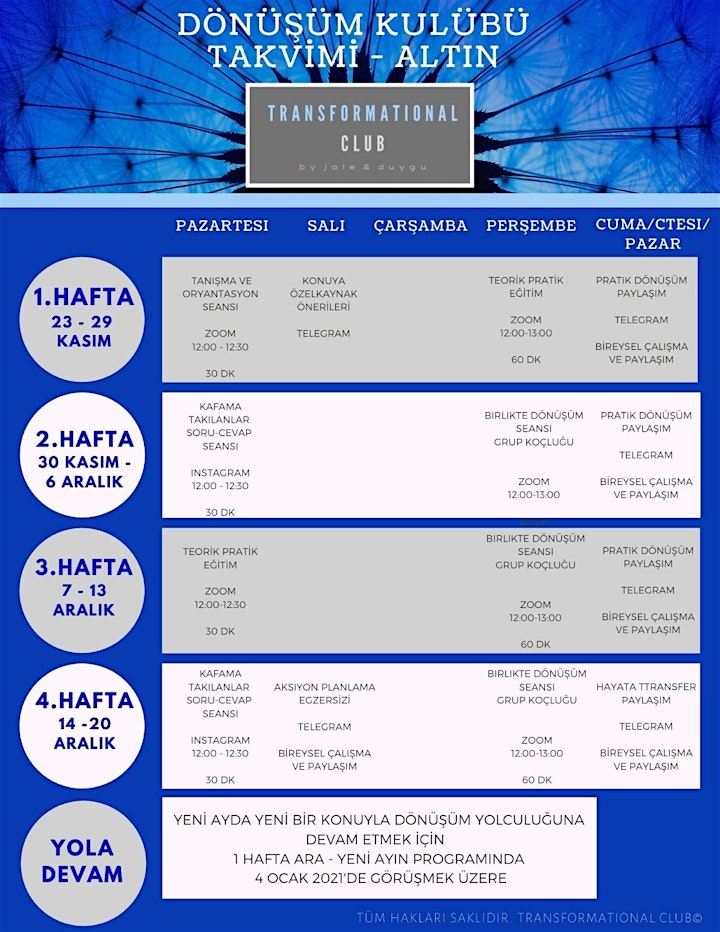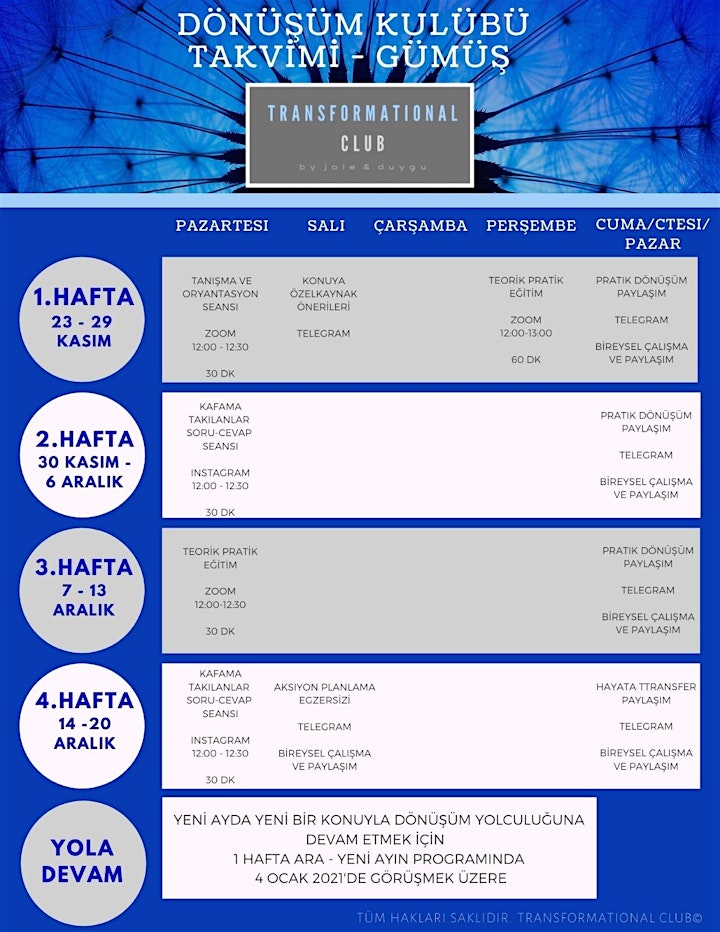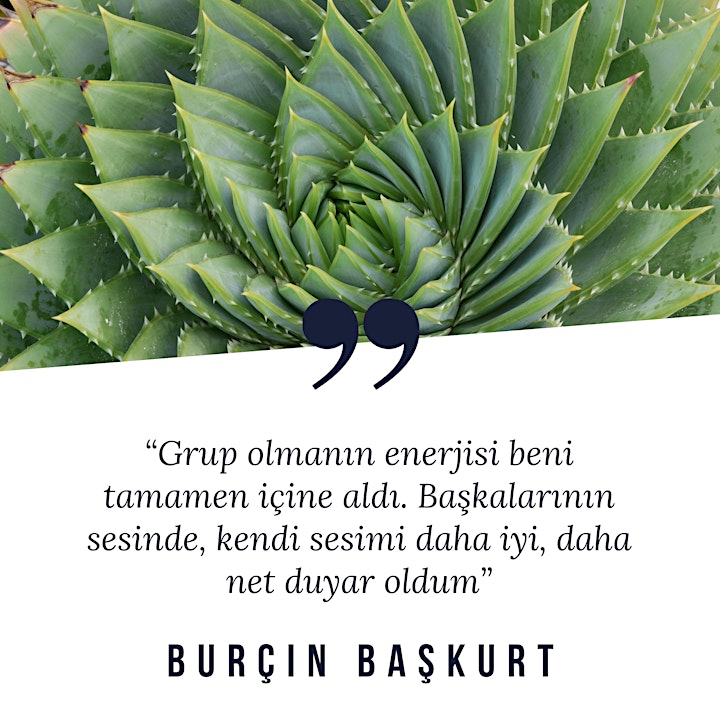 Date and Time
Location
Refund Policy
Contact the organizer to request a refund.
Eventbrite's fee is nonrefundable.