Description



Think 2 hrs of pure fun, creativity, interactive drawing games, new friends, using your right side of the brain (the more adventurous one:), drinks & snacks and amazing space.

If you say 'I CAN'T DRAW!' we say 'nonsense'. 'Every child is an artist, the problem is staying an artist once you grow up.' - Pablo Picasso
WHY: we're bored with regular networking. Meet people through fun and creativity! Limited space so you don't get lost in a crowd, be creative and draw again! Now in 20 cities around the world on 5 continents!
WHAT YOU GET: new friends, 2 hrs of drawing, natural way of meeting people, creativity to the fullest, interactive drawing games, nibbles, drinks, amazing space and art materials heaven.
DOODLELEDO FAMILY: (want to partner up with us? Ping us here.)
Huckletree This time thanks to Gest (mecca for meeting room space in London!) we've partnered up with the awesome Huckletree right in the heart of Finsbury Square. We can't wait to get in there and add some creative mischief :)
Gaest is Northern Europe's largest online marketplace for listing, discovering and booking unique meeting spaces. These folks believe by today's just-a-click-away standards, booking a meeting room should be on par with the ease of booking a flight, hotel or rental car. Lovely people to talk to as well!Their mission is to #MakeMeetingsMATTER.
Virtue Drinks is the UK's only naturally sugar-free energy drink. Our mission is to provide positive energy to as many people as possible. Each can naturally contains zero sugar, zero calories, with no sweeteners and has the same amount of natural caffeine as a cup of coffee (80mg). Our energy comes from natural sources including yerba maté, guarana and ginseng. For every can sold, we donate 500 litres of clean drinking water.
Popchips Yummy popping snacks we can all indulge in during the event: 'we believe in the freedom to snack. that's why we created a new chip. one that's deeply satisfying but never deep fried. so you can 'enjoy more'.
Artefact Cards fun, visually pleasing, small cards for us to play with ideas and have a great time. Draw on them, write, doodle up to you!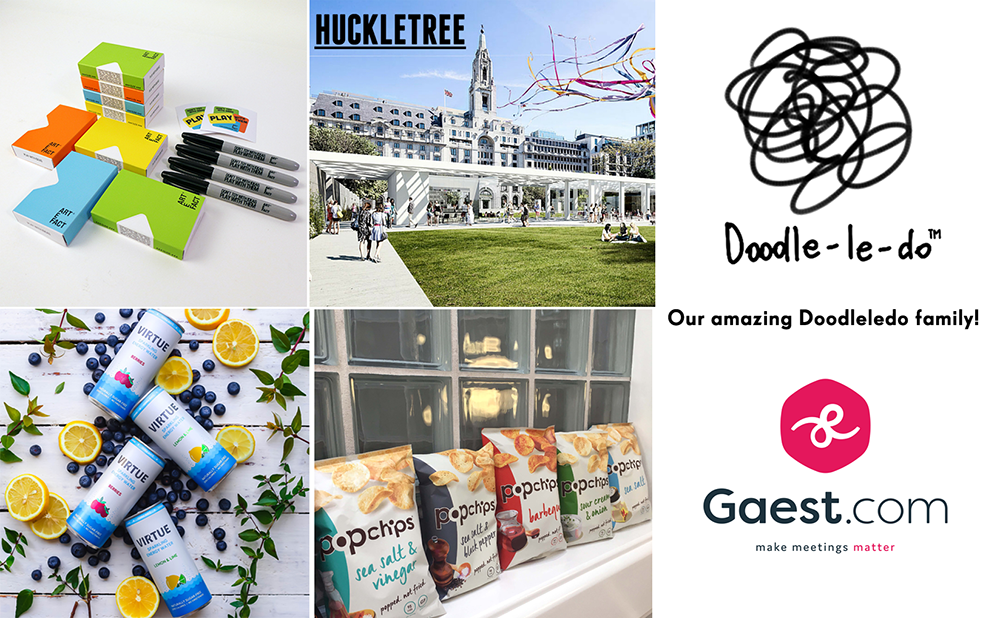 Doodleledo is a Natalka Design venture - creative agency specialising in visual storytelling. Want a private Doodleledo for your team or clients? Ping us here.
SHARE SOME LOVE ONLINE: #Doodleledo #DoodleledoLondon @Doodleledo @gaestdotcom @huckletree @virtuedrinks @popchipsuk @Artefact_Cards
Want to launch Doodleledo in your city? Check out this page :)