Join Southwark Cathedral online as we reflect on the first anniversary of the passing of Doorkins Magnificat and the first year of Hodge
About this event
Hosted by staff from Southwark Cathedral including the Deans Verger Paul Timms and Cathedral Education Officer Revd Lisa Bewick and Catcuddles Sanctuary this light hearted presentation via Zoom will look back at the passing of Doorkins Magnificat in September 2020 and the amazing feedback and messages of condolence and support we received from around the world after hosting her Service of Remembrance online during the covid crisis.
This event will also give us the chance to reflect on the arrival of her successor Hodge, who was rescued from the streets of South London by Catcuddles Sanctuary and has gone on to become a much-loved part of the Cathedral community as well as a social-media sensation!
This event will give you the chance to ask us anything about Doorkins and Hodge and we look forward to welcoming you as we celebrate their very different lives.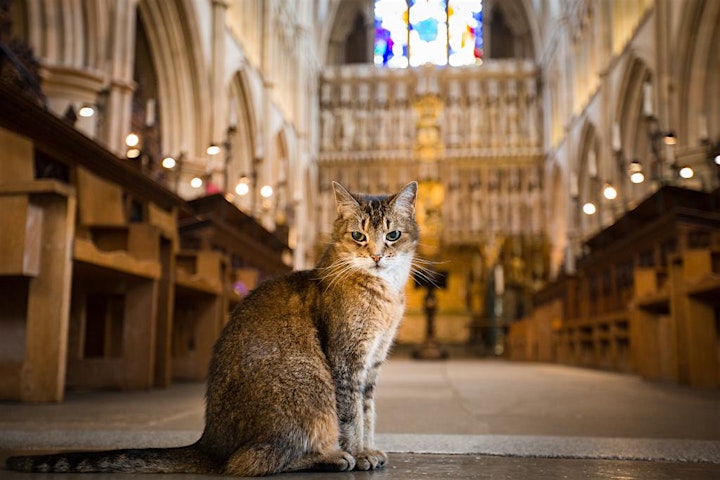 Organiser of Doorkins Magnificat and Hodge - An Online Talk by
Southwark Cathedral has been a place of Christian worship for over 1000 years. Established as a small convent, it grew over the centuries into a priory, which became a parish church and then, in 1905, the Cathedral for the newly created Diocese of Southwark which serves the whole of London south of the river.
The Cathedral's patchwork architecture bears testament to its past as do the many monuments and memorials inside and outside the church. These are reminders of the rich history of this part of London and our association with such major figures in our creative history, including Chaucer, Shakespeare and Dickens.
Southwark Cathedral is a place of worship, welcome and friendship, to rejoice in or find rest when you're weary. We are London's community Cathedral striving to live the example of Jesus, seeking to be a spiritual home for all and set at the heart of Bankside, buzzing with people and activity, a vibrant cultural and commercial destination.