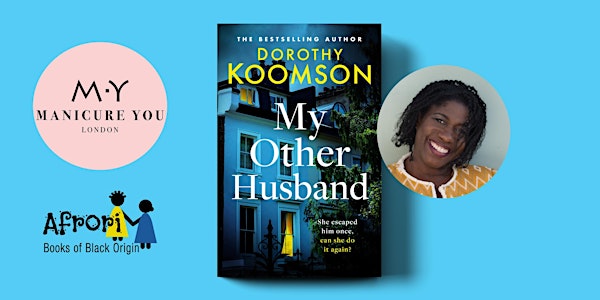 Dorothy Koomson & Headline Books invite you to the My Other Husband launch!
Refund policy
Contact the organiser to request a refund.
Eventbrite's fee is nonrefundable.
Dorothy Koomson & Headline Books invite you to a unique launch party for My Other Husband!
About this event
In My Other Husband, Cleo's best friend Trina is a nails connoisseur, so we've teamed up with Nicola from Manicure You, a toxin-free and cruelty-free nail care company to learn how to take of our nails, too!
The ticket price includes a signed hardback copy of My Other Husband as well as access to the event where Manicure You's founder Nicola will teach us how to give yourself a home manicure.
The first 25 people to buy a ticket will receive a FREE Manicure You manicure kit, which includes a beauty bag, nail colour, base coat, top coat and nail file worth £42.* If you're not one of the first 25 people to buy a ticket and receive a manicure kit, you can still order the items you'll need from Manicure You here: www.manicureyou.com
We hope you can join us for an evening that promises to be full of frolics, laughs and polishy fun.
Ticket price: £19.99
Signed books will be sent by Brighton-based Afrori Books.
*Only one manicure kit will be sent per ticket order – i.e. only one manicure kit will be sent even if you order two, three or five tickets.
*No monetary amount will be offered in exchange for the manicure kits.
About the book
Someone's trying to frame me for murder. But I can't prove my innocence. Because then I'd have to confess about... my other husband.
Cleo Forsum is a bestselling novelist turned scriptwriter whose TV series, 'The Baking Detective' is a huge success. Writing is all she's ever wanted to do, and baking and murder stories have proved a winning combination.
But now she has decided to walk away from it all - including divorcing her husband, Wallace - before her past secrets catch up with her.
As Cleo drafts the final ever episodes of the series, people she knows start getting hurt. And it's soon clear that someone is trying to frame her for murder.
She thinks she knows why, but Cleo can't tell the police or prove her innocence. Because then she'd have to confess about her other husband . . .
A series of terrifying murders. A set of complex lies.
And a woman with no way to clear her name.
And a woman with no way to clear her name.
My Other Husband is the latest gripping thriller from the Queen of The Big Reveal.
About Dorothy: Dorothy Koomson is the award-winning author of several novels including the Sunday Times bestsellers My Best Friend's Girl, The Ice Cream Girls and Goodnight, Beautiful and I Know What You've Done. Dorothy's novels have been translated into over 30 languages, and a TV adaptation based on The Ice Cream Girls was shown on ITV1 in 2013. After briefly living in Australia, Dorothy now lives in Brighton. My Other Husband is her 18th novel.
About Manicure You
Manicure You is created and designed for nails that want to be cared for and kept looking beautiful at all times. We are all about enhancing the beauty of nails for all and achieving a flawless manicure at home.
Our formulas are free from the 10 major toxins usually found in nail polish, cruelty free and includes a fashionable modern colour palette that is inclusive of all skin tones. This means that your manicures can still look good whilst allowing your nails to grow strong and healthy.
About Nicola
"After years of biting my nails and having acrylic nails, which damaged my nails, I decided to start to look after my natural nails (which I hoped would also save money and time as I was on maternity leave). As I loved to have nail polish on my nails at all times, I wanted to create a product that is inclusive of all skin tones, toxin free and would allow my nails to breathe, be nurtured and grow whilst still rocking the latest shades. I also wanted the product to show LUXURY WITH AFFORDABILITY and this is why in 2018 I created Manicure You. We are a black owned brand and all the colours are created by myself FOR EVERYONE."
About Afrori Books
Afrori Books is Brighton-based, independent Black-owned book shop that opened in October 2021. According to founder and owner Carolynn Bain: "We have a mission statement, which is: Support Black authors, create diverse bookshelves, and be a voice for justice." You can order Dorothy's books and other books at www.afroribooks.co.uk