A double feature from Birmingham Indian Film Festival showcasing short film Natkhat (The Brat) and Roam Rome Mein (Every Inch Of My Being).
About this event
Birmingham Indian Film Festival presents a unique double bill in partnership with Millennium Point. For one time only, see the short film Natkhat (The Brat) and Roam Rome Mein (Every Inch Of My Being)for the first time in Birmingham on the giant screen in Millennium Point's auditorium (formerly an IMAX).
We've taken measures to ensure our screenings are safe which includes limited and assigned seating, cashless and contactless experience, social distancing measures and PPE for our staff. Please read "Additional Information" for more details.
Natkhat (The Brat) (33 mins)
Synopsis
Shaan Vyas' debut short film stars Vidya Balan, known for pioneering a change in the portrayal of women in Hindi cinema, as a doting mother trying to stop her seven-year-old son, Sonu, from taking on the same machismo ideals and beliefs of the male role models in his life. The film premiered on YouTube as part of the We Are One: A Global Film Festival and the majority of the cast members had no prior acting experience.
Shubhra Gupta of The Indian Express labelled Natkhat a "valuable addition to the films which call out patriarchy, and how utterly damaging it can be." Jyoti Sharma Bawa of Hindustan Times credited Vyas for effectively portraying a world in which "women are shorn of agency and men get their power from displaying naked machismo"; she praised Vidya for bringing "simplicity and nuance" to her role and Patel for matching her vulnerability.
Details
Hindi with English subtitles
India | 2020Director: Shaan Vyas
Starring: Vidya Balan, Raj Arjun, Atul Tiwari, Sanika Patel, Aruraj Patel and Nivedita Baunthyal
Roam Rome Mein (Every Inch of my Being) (107 mins)
Synopsis
The directorial debut from Brick Lane and Parched actress, Tannishtha Chatterjee is a psychological drama that follows Raj (Nawazuddin Siddiqui), who goes to Rome, in search of his sister Reena (Tannishtha Chatterjee), who has left her home in search of freedom to escape their strongly traditional conservative father. In the process, he deconstructs the deep-rooted patriarchy of the society he had lived in, and suddenly finds himself questioning all the values that he's held sacred, and also taken for granted. The film which has a strong Italian and Indian ensemble cast, had its world premiere at Busan International Film Festival, European premiere at International Rome Film Festival and Indian premiere at Mumbai Film Festival MAMI and is now arriving in Birmingham for a special one-off screening.
Details
India / Italy | 2019
Director: Tannishtha Chatterjee
Starring: Nawazuddin Siddiqui, Tannishtha Chatterjee, Valentina Corti
Hindi, English & Italian with English subtitles
Doors will open 45 minutes before the start of the first film. Please note there are no trailers. Refreshments will be made available at our fully licenced bar.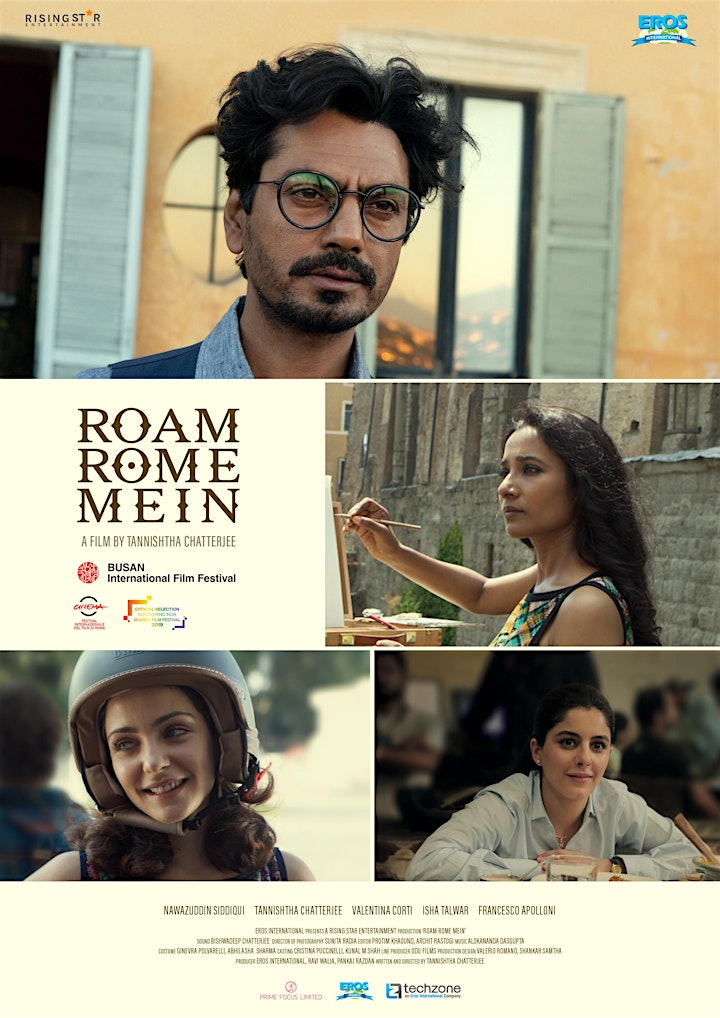 Ticket pricing and seat allocation
Tickets are priced at the equivalent of £10 per person (plus eventbrite booking fee). Tickets are only available to purchase in bundles of two, three or four. Tickets must be purchased in advance of the screening. The price chart below shows the overall cost of tickets per bundle.
Party of 2 bundle = £20 (plus fees)
Party of 3 bundle = £30 (plus fees)
Party of 4 bundle = £40 (plus fees)
If you or a member of your party has symptoms of COVID-19 then do not attend the screening; your tickets will be refunded if within our refund policy. You can check symptoms of the virus here.
Seat allocation
To adhere to social distancing measures, we have limited the number of seats available for each performance. Tickets are only available to buy in bundles of two, three or four to enable you to select adjoining seats for people in your party.
Please arrive at least 15 minutes before the film to ensure time to be seated. On arrival, you will be required to sit in your designated seat.
Where is Millennium Point?
Millennium Point is in the Eastside of Birmingham City Centre just 5-minutes walk from Moor Street and 15-minutes from Grand Central and the tram. There is also limited parking on-site which means we're easy to find regardless of how you travel.
Accessibility
If you or a member of your party has accessibility requirements then please call or email our team to discuss before purchasing tickets.
COVID-19 - Safety, Cleanliness & Social Distancing Measures
Your safety and the safety of our staff is our primary concern. We have taken steps to ensure the screenings are safe, clean and compliant with the latest government guidelines:
Limited seating - As described above, we have limited the number of seats available and tickets are only sold in blocks with allocated seating to ensure social distancing.
Signage - Signage will be in place around the building to remind customers of social distancing measures.
One way system - There will be a one-way system in and out of the Auditorium.
Deep cleaning - Our auditorium and foyer on level 1are deep cleaned before and after each viewing including seats, bar and toilets.
Contactless/cashless experience - Registration on arrival and any purchases made at the bar will be contactless. Drinks will be served in bottles or cans where possible or single-use disposable plastic glasses which will be recycled at the end of the showing.
PPE & training -Our staff will be wearing facemasks and gloves at all times. Our staff have received the latest training and will be washing their hands regularly.
Cleanliness - Hand sanitiser will be freely available in and around the space for you to use.
While things may feel a little bit different, we want to assure you that these measures have been put in place to provide a safe and welcoming environment for you. We thank you in advance for your cooperation and support in helping us to minimise risk.
Organiser of Double Bill: Natkhat & Roam Rome Mein at Millennium Point
Millennium Point is a multi-award-winning event and conference venue in the Eastside of Birmingham City Centre. Our versatile range of both public and private spaces can deliver almost any event, any way you want. Bookings include a dedicated event manager and AV technician. Our landmark building is conveniently located with on-site parking and is just a short hop to major transport links. Additionally, when you host an event with us you will be helping to fund our charity work, which supports science, tech, engineering and maths (STEM) across the West Midlands.