Description
Please join us to celebrate the launch of Rosanna Mclaughlin's collection of essays, Double-Tracking, for an evening of readings, discussion and drinks. Refreshments will be available for purchase from the bar, and copies of the book will be on sale. Please let us know you can make it by reserving a free Eventbrite ticket and visiting the Facebook event.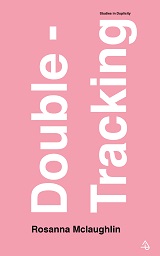 Tom Wolfe coined the term 'double-tracker' as a way of describing the duplicitous character of the successful artist: to double-track is to be both bohemian and establishment, rich and poor, an ingénue and an initiate of high-culture. Today, double-tracking is a full-blown commonplace of the middle-classes. From pink-washing to poverty chic, it enables the privileged to see themselves as they would like to be seen, allowing those with the financial resources the cultural benefits of leaning left with the economic benefits of leaning right. Comprising essays, fiction and art criticism, this is a merciless yet hilarious satire of the middle classes.
Rosanna Mclaughlin lives in London, where she was born. Her essays and reviews have featured in publications including ArtReview, BOMB and Frieze. She was shortlisted for the Fitzcarraldo Essay Prize 2016; in 2017 she was the TAARE British Council writer in residence. She is an editor at The White Review.
This event is free to attend, but please reserve a place via Eventbrite. There is also a Facebook page. The event will begin at 19:30 and include reading by Rosanna Mclaughlin, and there will be the opportunity to ask questions. Please direct any queries to jazmine@carcanet.co.uk, or direct to Burley Fisher Books on 020 7249 2263.