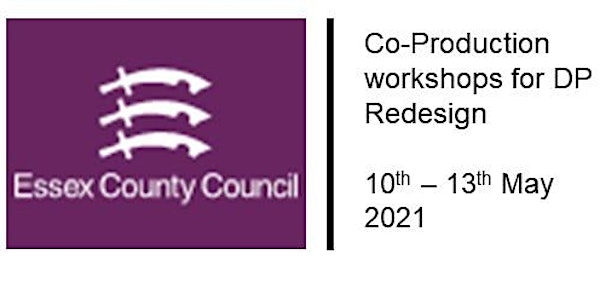 DP Co-Production Workshop - Practice and Processes
Our last Co-Production workshop which will see us come together as a group to action ways going forward with our DP Practice and Processes
About this event
13th May – DP Co-Production Workshop - DP Practice and Processes
Hello and welcome to our new Co-Production workshops taking place from the 10th to the 13th May. We are extremely grateful that you have put your name forward to be part of DP Co-Production work in Essex and we envisage that by working collaboratively and as equal partners we can all share power, expertise and have influence on how the new DP offer in Essex is shaped and commissioned.
For these sessions we have turned a number of key feedback points into statements so that whilst it still portrays the need for change it can be done in a tangible way going forward.
A set of post it note statements have been created (please see image below for Practice and Processes workshop) and we will talk through each statement and define what we believe is:
• In Scope – Something which is particular to the work of the DP redesign
• Out of Scope – Something which needs actioning but needs to be included in the wider realm of Social Care
• Still to decide/Unsure of – Not certain where this fits or whether it is relevant going forward
The sessions are 1 ½ hours long and we plan to use as much of this time discussing these statements and how they can be implemented into Essex's DP commissioning intentions.
A detailed pre-read and agenda for each specific session will be sent out to you closer to the date of the workshop.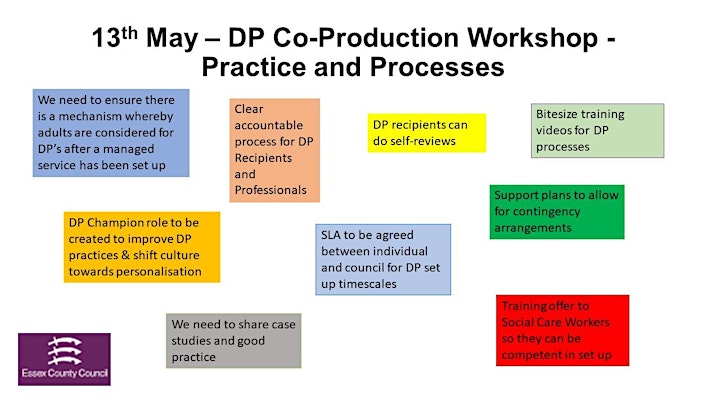 Please read - Important information relating to consent towards recording the workshop
Please note that we will be recording these workshops to ensure that we capture all the key information and learning from the session. The recording will be stored for a maximum of 6 months and will only be used to ensure the key points are captured. It may also be shared with ECC staff who could not attend the sessions. It will be used to improve how the council delivers direct payments and personalisation.
By registering to the event on Eventbrite you are giving consent to having the workshop recorded. If you have any questions concerning this, please do not hesitate to contact us
This will be a virtual workshop hosted via 'MS Teams' and a link to the online event will be sent onto you closer to the event date.
If you have any questions leading up to the workshop please do not hesitate to contact me or my colleague Debbie Kirk on the following email addresses:
Tom.Henry@essex.gov.uk
Deborah.Kirk2@essex.gov.uk
Organiser of DP Co-Production Workshop - Practice and Processes