Sales Have Ended
Registrations are closed
Thank you for obtain a Tesside Skeptics In The Pub ticket, please review our website for future events http://teesside.skepticsinthepub.org/
Sales Have Ended
Registrations are closed
Thank you for obtain a Tesside Skeptics In The Pub ticket, please review our website for future events http://teesside.skepticsinthepub.org/
Description
A Psychological Examination of Magical Beings and Imaginary Friends

Event: 1900 for a 1930hrs Start
The notion of other-worldly creatures, spirits, and magical realms appears to span the past several thousand years. Yet, for all of the attention from Hollywood and other forms of popular culture, elucidating a psychological understanding of the phantasmagorical has proved to be almost as elusive as the subject matter itself.
In this talk we will look at the challenges of examining the otherworldly, but more importantly, the cognitive and social benefits and detriments from 'excessive' imagination, or auditory-visual hallucinations. Where pertinent, themes from the psychedelic literature will be drawn on to highlight the disruptive impact of rapidly adopting or rejecting hallucinations.

Dr Andrew Dean is a natural and social scientist, specialising in biophysics, linguistics and psychology. At present he is examining the impact of psychedelics on mental states arising from otherworldly hallucinations and visions. This is increasingly orientated towards those claiming to see and hear God, demons, and magical fairytale creatures.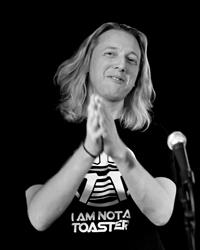 Skeptics in the pub Teesside is a voluntary organisation. We take donations on the door before and after the show to help bring interesting speakers to Teesside. Currently the event will occur on the first floor of O'Connell Pub, via stairway door next to the toielts. There is currently no disabled access to the first floor. Please Note: If you are attending the event by vehcile, DO NOT park your in the car park enclosure next to the road, this is a private car park, ran by NCP, you will be fined. There is on-street parking but it is limited. There is parking next to the Art Gallary, and areas around the Middlesbrough Centre.

Skeptics in the pub Teesside accepts no liability for any damage, loss, theft, etc., incurred at this event to yourself, your property, or your transport used, throughout the universe, and connecting interspace dimensions in perpetuity. We hold the full right to block and prevent entry, and remove with the assistance of the Pub manager anyone who wishes to attend the event and cause trouble, alarm, or criminal behaviour. On obtaining this ticket you accept fully all the terms listed, if you are obtaining tickets for someone else you also incure the liability as written.